12 Weirdest Beers In The World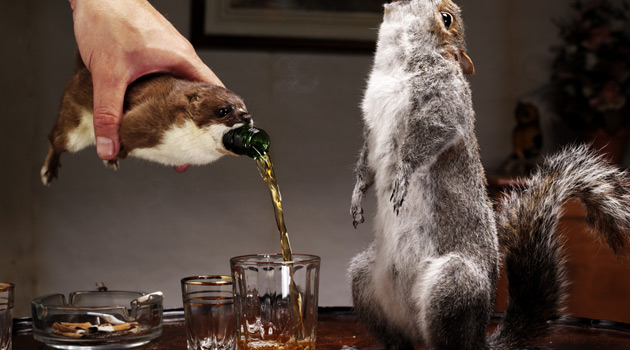 The recipe for beer is the oldest known recipe known to man. In fact, there is a 3900-year-old stone tablet which records a Sumerian song that gives praise to Ninkasi, the Sumerian goddess of brewing. The song records the beer recipe of its time. It also describes beer production from barley.
The craft of brewing has been pushed beyond the limits of human ingenuity, imagination, and Sunday morning hangovers. With a few million breweries and microbreweries constantly redefining the brewing landscape, the recipe for beer is not all water, hops, and barley as it once was.
Between beers stuffed in dead squirrels, beers specifically made for kids, and beers fermented with weasel droppings, here are 12 of the strangest brews humanity has concocted over the recent years:
1. Mama Mia Pizza Beer
While most people agree that pizza and beer perfectly go together, Tom Seefurth and his brewing team might have understood it a little differently. Mama Mia Pizza Beer is brewed with tomatoes, garlic, basil, and oregano that give it its full pizza flavour. Seefurth and his culinary approach to brewing also lead him into developing salsa beer, curry beer, and oatmeal raisin cookie beer.
2. Kids Beer
We all know how kids are obsessed with everything the adult world has to offer, and that includes beer. For this reason, Tomasu Co, a Japanese beverage company, manufactures Kids Beer. Shipping 75,000 bottles per month, Kids Beer is a non-alcoholic beverage that is designed after the real thing. "Even kids cannot stand life unless they have a drink.", says the slogan of the product.
From Brew Dog, the brewing company that continuously breaks world records for most alcoholic beer since 2010, comes The End of History. With 55% alcohol content, this beer currently ranks as second strongest beer in the word. Only 18 bottles of these bad boys have been put on sale. Not only that, The End of History is stuffed and served in the bodies of dead stoats, squirrels, and hares.
Reserve for only the more adventurous, Beer Greek Brunch from Mikkeller is flavoured with coffee beans harvested from the droppings of civet cats. Civet coffee is not just weird coffee cat poop. It is in fact the most expensive and arguably the finest coffee in the world.
5. Happy Tail
Happy Tail is especially brewed for man's best friend. Now, even your dog can have a cold one after a long day of playing fetch. This non-alcoholic dog beer is flavoured with beer and malt and was originally created in the Netherlands.
It's a golden rule in drinking to never mix grain and grape unless you want to wake up with a monster hangover. That is until now, when grain and grape have essentially been brewed together to create a beer with a wine-like taste, not to mention a champagne-like price at ₤32 per 75cl.
7. Bilk
The Japanese have always been known to push the limits of human ingenuity and creativity. Their beers are no exception to this. A brewery in Hokaido brews a low malt beer using milk. With 1/3 of the beer actually being milk, Bilk is said to have a fruity flavor. People who chug down this milky malt remark that it goes especially well with sweets.
It's not like blind people need a special kind of beer to get hammered, but this doesn't stop the Germans from finding a yet unexploited niche in the beer market. Among the world's finest beers, Dusseldorf's Uerige now comes in bottles with Braille labels. To this, blind activist and a beer enthusiast Joanna Zimmer exclaims, "You often have no idea what's about to go into your mouth. But with this bottle you are clearly told what it is and that's fabulous."
9. Duff Beer
Homer Simpson's favorite Duff beer is now available outside the fictional town of Springfield. Mexican brewer Rodrigo Contreras Diaz first distributed the limited edition Duff lager via the internet. It instantly became a success selling more than 200 bottles in less than 2 weeks.
10. Start the Future
Created by the Dutch brewing company 'T Koelschip, Start the Future is what ended the reign of BrewDog's End of History as the strongest beer in the planet. At 60% APV, this beer is meant to be enjoyed in a small shot glass and definitely not from a beer mug.
Based on an ancient Peruvian corn beer recipe, Dogfish Head Chicha is essentially corn-spit beer. Central to the manufacturing process is the actual chewing and spitting of more than 40 lbs of maize. The resulting pulp is then boiled thoroughly.
12. Rocky Mountain Oyster Stout
Originally meant to be Wynkoop Brewing Company's April Fools prank, Rocky Mountain Oyster Stout is brewed and fully flavored with bull testicles. Manufactured with 25 lbs of roasted bull balls, Rocky Mountain Oyster Stout is sold nationwide in – wait for it – 2 packs.