2020 Toyota RAV4 TRD Off-Road Is Ready To Tackle The Great Outdoors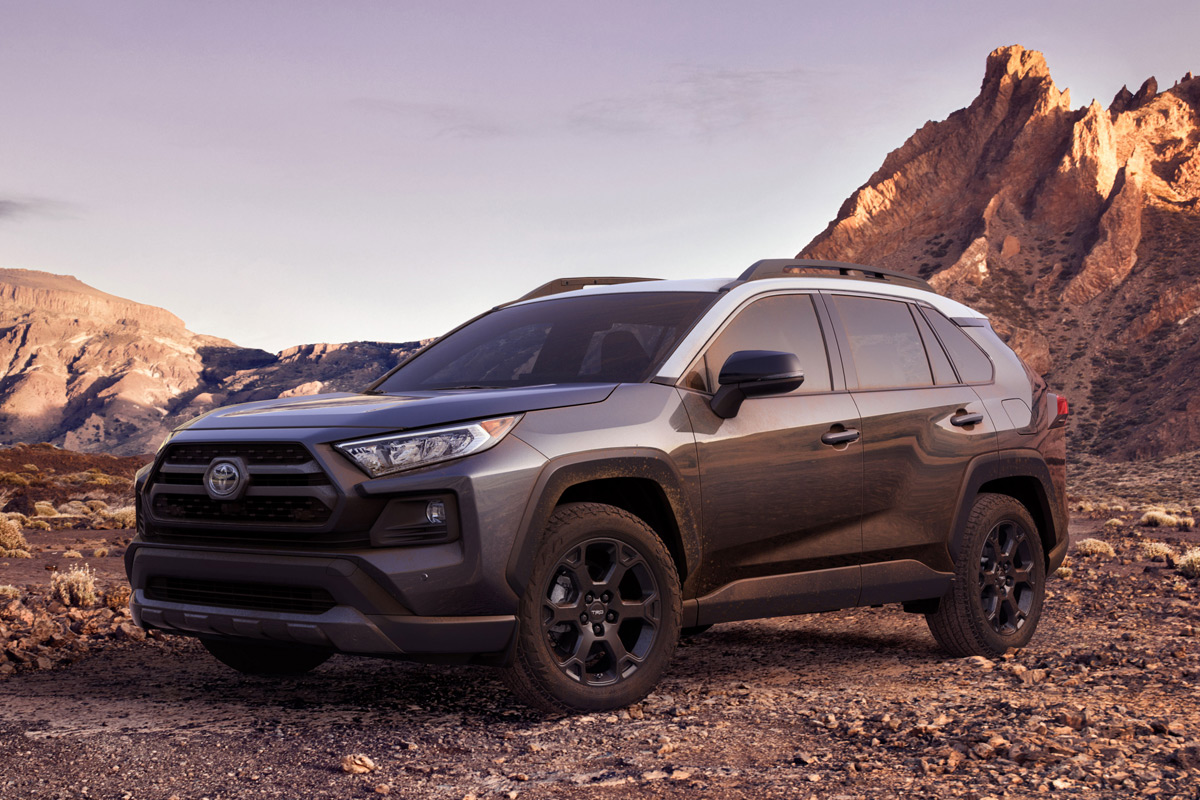 When Toyota introduced the Adventure grade for the previous-generation RAV4, most people assumed that this would be about as rugged as their little compact crossover would get. After all, this isn't a pickup truck or a body-on-frame SUV. We did look askance, wondering why this consumer-grade machine was put into the rally circuit without seeing any trickle-down from there to showrooms. Maybe Toyota had to prove something first. But we certainly thought it was capable enough when we took a rally-prepped RAV4 to Team O'Neil Rally School.
So when the all-new 2019 Toyota RAV4 was introduced with new, more contemporary design and a better interior, we sighed a breath of relief to find out that Toyota hadn't tried to further emasculate the crossover with a continuously variable transmission (CVT). Instead they upped the number of gears in the auto transmission. And now, they've made it off-road ready with the introduction of the 2020 Toyota RAV4 TRD Off-Road edition at the Chicago Auto Show.
After seeing it in person and talking to an engineer about what they really did to the new 2019 RAV4 TRD Off-Road, it became clear that the RAV4 TRD Off-Road isn't just some trim level upgrade. Toyota actually learned something from their rally team and used it.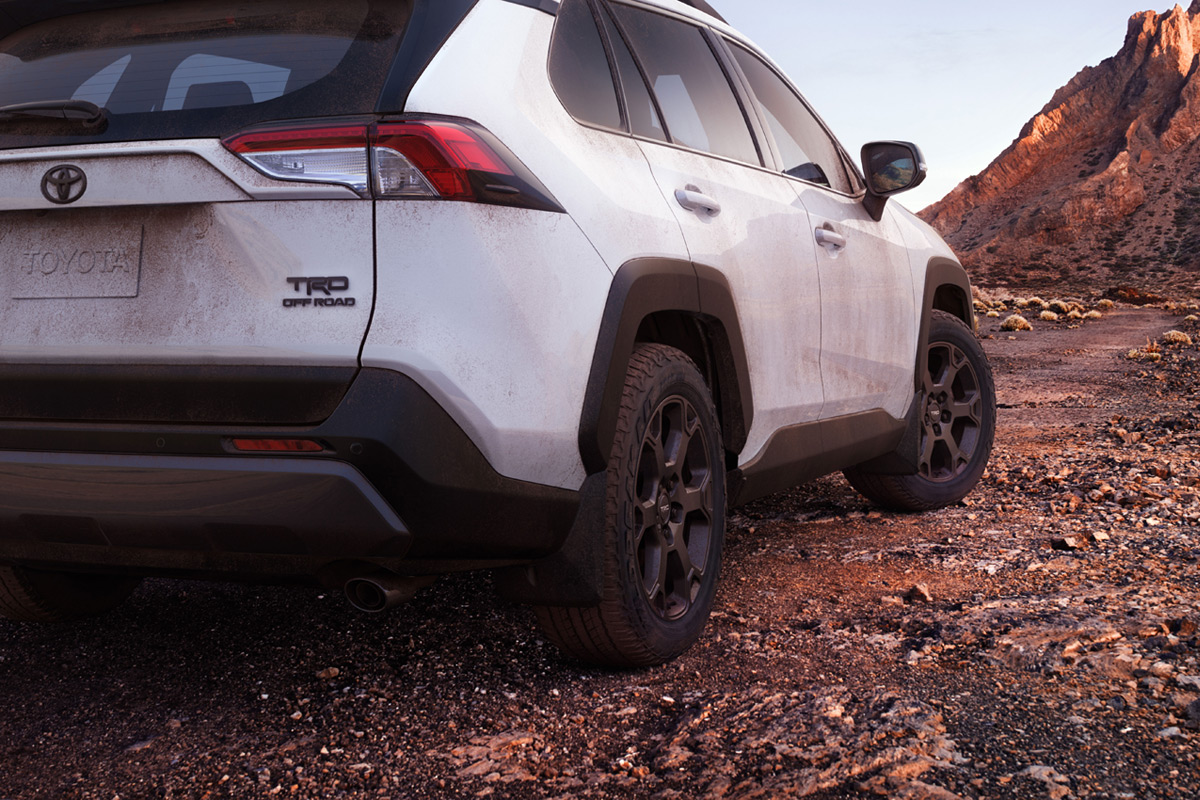 The TRD Off-Road edition of the RAV4 builds on the Adventure grade, which will sit lower in the tier pile with a matching lower price point, adding a lot behind the tires of that model. The RAV4 TRD Off-Road replaces the stock coil springs on the Adventure with off-road-ready coils and shocks with twin-tubes and internal rebound springs. These stiffen the ride and add more ground control to keep the tires pushed down by recovering more quickly from bumps and smacks. Bump stops maximize the compression direction wheel travel to further improve body control.
Going with all of this, Toyota also put lighter weight and more rigif matte black TRD-designed wheels on the RAV4 Off-Road and clad those in specially-engineered Falken Wildpeak A/T Trail all-terrain tires. These tires feature a square shoulder design to protect against punctures and have a severe snow rating as well. Their open shoulders shed both mud and snow debris.
The suspension profile for the RAV4 TRD Off-Road rides at about the same ground clearance as the Adventure model and the drivetrain does not change either, keeping the same 2.5-liter four and eight-speed automatic. All-wheel drive is standard in the RAV4 Off-Road, of course, and the differential, as with the Adventure grade, can send up to 50% of the engine's torque to rear and both axles can distribute up to 100% of torque to either wheel.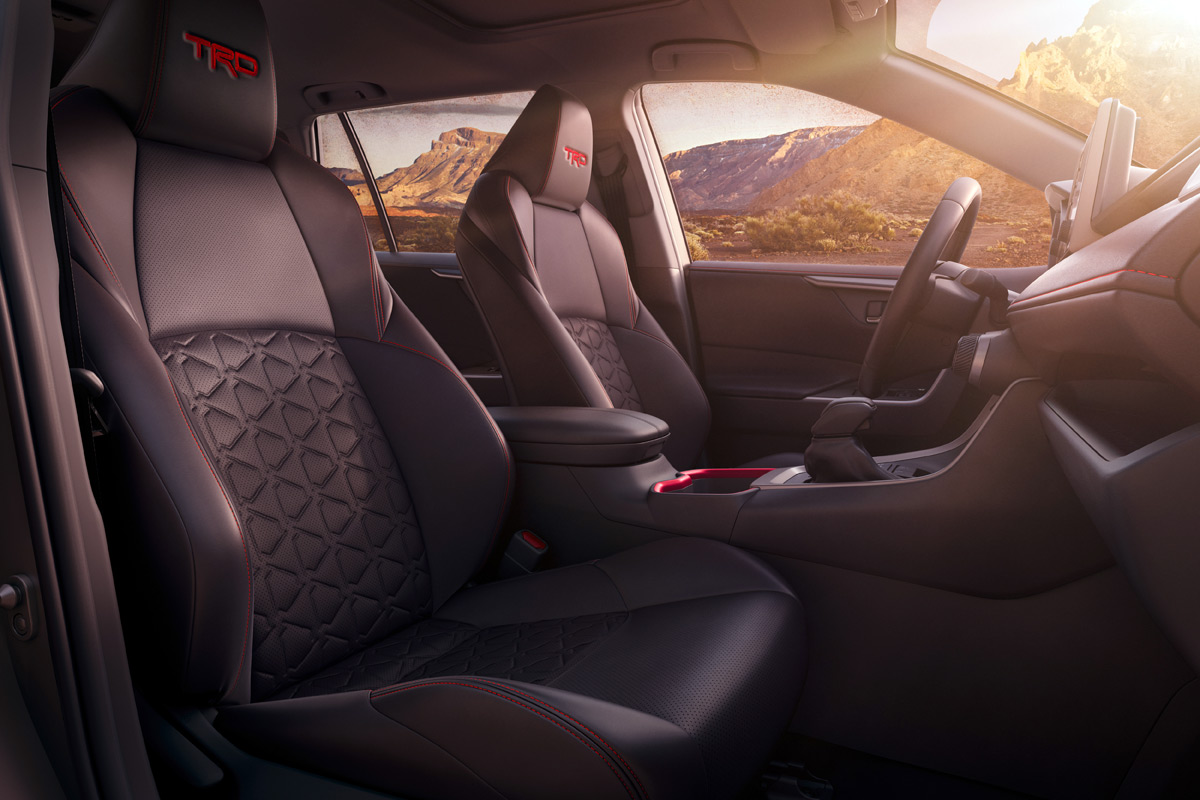 Changes for the 2019 Toyota RAV4 Off-Road are otherwise cosmetic, to denote its upgraded design, with TRD bading and inside and out. An exclusive two-tone Magnetic Gray Metallic with an Ice Edge Roof is available for this model. LED fog lamps are standard on RAV4 TRD Off-Road models, as are dark gray front and rear lower fascias.
Toyota hasn't announced price points or when the TRD Off-Road will enter showrooms, but it will be more expensive than the RAV4 Adventure already in dealerships.
What do you think about Toyota's decision to offer a TRD Off-Road RAV4?