7 Watches You'll Be Asking For Over The Holidays
Are you guilty of checking the time on your phone? I know I am, and as someone who cares when it comes to personal style, I'm well aware that it's not an attractive habit. A wristwatch is the most versatile and stylish accessory you can purchase to turn your trending level up a few notches, and for that reason I strongly suggest investing in a handsome but approachable watch (one that can be worn anywhere from the office to the bar). But if you find yourself strapped for cash, a watch might seem like an expensive investment.
With the holiday season approaching, maybe now's the perfect time to add a signature timepiece to your ChrismaHanuKwanzika list? To get an idea of the suave, business casual-style watches you should be asking for, check out these seven pieces that caught our attention this season.
7. Gunmetal with Brick Link Strap from Kenneth Cole, $150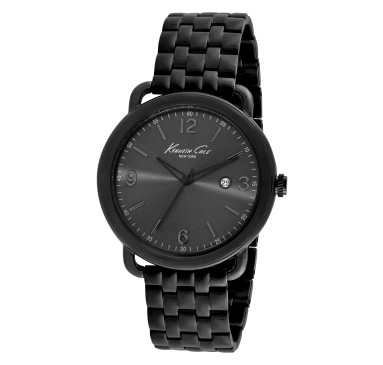 This watch has a simple sporty/industrial look that closely resembles an exponentially pricier Hublot with similar styling. Kenneth Cole is a respected menswear brand that can be trusted to provide quality accessories — and, as evidenced by the limited lifetime warranty this watch carries, they stand by their products. This watch is a matte black color that Kenneth Cole ever-so-coolly named "gunmetal," with silver accents on the face. Its features include a date counter next to the gunmetal push/pull crown, and a seconds tracker on the edge of the face near the bezel. As a plus, it's also water resistant up to 90 feet. Wear this watch with darker colors, be it a navy or charcoal suit, or black jeans.
6. Invicta Specialty Elegant Quartz Stainless Steel in Rosetone from EVINE Live, $170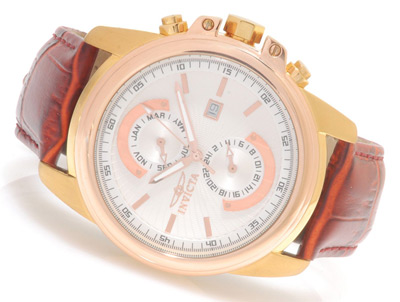 This watch from Invicta is motored by Swiss quartz crystal, so it will never fall behind. The piece pictured has a case of stainless steel in a gold color; with an elegant rosetone bezel (blue or gold bezels are available with a silver colored case). A genuine brown-leather strap polishes off this fine watch. On its face, hovering over the charming Invicta logo are hour, minute, and second hands that match the bezel color; with a sub-dial indicating the Month and a sub-dial showing the time in 24hr format. In between the sub-dials, next to the push/pull crown is a date window. Finally, you will notice around the perimeter of the face is a seconds tracker. This watch is water resistant to 330 feet, and comes with a 1 year limited warranty. Pair this watch with a navy blue blazer, a bright shirt, and jeans for an effortless, classy look.
5. Nate Twist Stainless Steel from Fossil, $205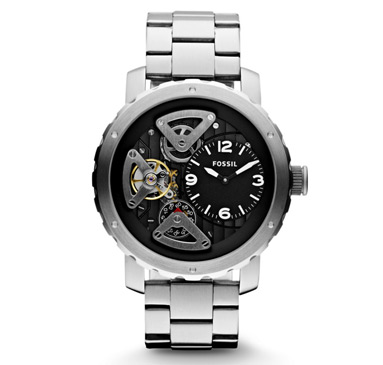 The Nate Twist from Fossil is a cool looking watch. All brushed stainless steel, a black face with white accents AND VISIBLE GEARS! This is an analog quartz watch: the gears that you can see on the dial actually move to power the crystal that keeps time. In addition, the face has a main dial with the time and a sub-dial keeping track of seconds. Water resistant to 150 feet, this watch comes with an 11 year limited manufacturer's warranty — not to mention, Fossil has great customer service if needed. The futuristic look may be a bit too industrial to wear with a business suit; but would be great for a night on the town with the boys and will serve as a great talking piece with the ladies.
4. Stainless Steel Runway Three Hand Watch from Michael Kors, $250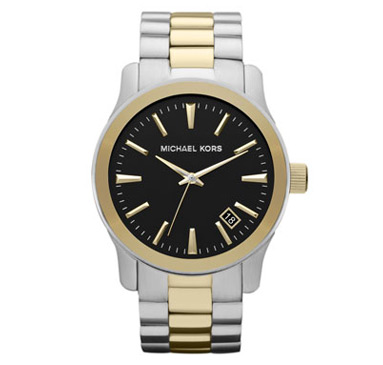 Do you like the look of Rolex but don't have the required load of cash to drop on one? Check out this timepiece from Michael Kors — it has the sophisticated look and classic simplicity of a Rolex at literally a fraction of the price. The black face contrasts nicely with the gold colored hands and time markers; not to mention the stainless steel two-toned band and gold colored push/pull crown. Attention to detail is maintained with the date window— it has matching black and gold colored accents. This watch is water resistant to 90 feet and comes with a 2 year limited warranty.
3. Seiko SKX781 Orange Monster Automatic Dive Watch from Amazon, $475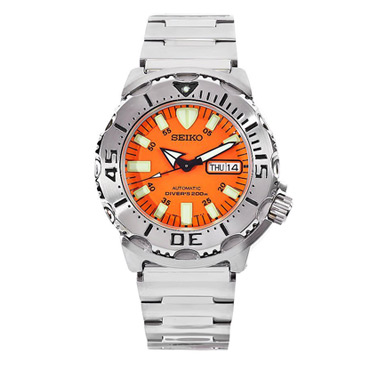 This watch was designed for divers, so you know it is tough and durable, resistant to 660 feet! The polished stainless steel will not rust and looks sharp and clean. The bright orange is not only a bold fashion choice, but also helps the hour, minute, and second hands to stand out, making for great visibility — oh, and those hands/hour markers will glow in the dark. This watch does not require a battery; it winds automatically with the movement of your wrist. A screw down crown, one-way rotating elapsed timing bezel and day-and-date function complete this workhorse. This watch is designed for casual and sport wear; accessorize it with a blue jean, casual V-neck tee, and slick pair of shades.
2. Burberry Round Leather Strap Watch, 42mm from Nordstrom, $695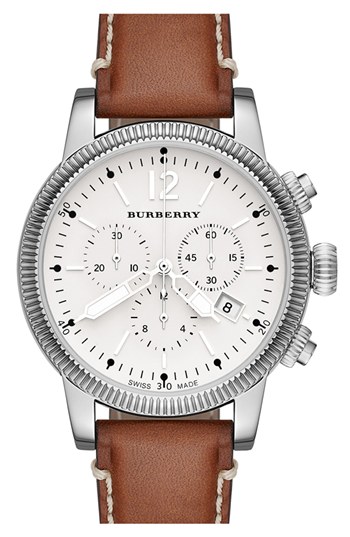 This Swiss-made watch from Burberry is a true beauty. The polished stainless steel and top-stitched leather strap compliment the clean, white face of the watch perfectly; and the delicate black time indicators and sub-dials are striking and easy to read. On either side of the crown are two buttons to control the three sub-dials. The first sub-dial is at the 9 o'clock position and can be used as a 30 minute stopwatch. The next dial is at the 3 o'clock position and is a stopwatch tracking seconds, and the last dial is at the 6 o'clock position and will track hours elapse. Don't be fooled by its charming looks, though —with Swiss quartz movement, a hard crystal face, and water resistant to 300 feet, this watch performs tremendously. Wear this watch with pretty much anything but a tuxedo, as it's well-equipped to dress up laidback attire but attractive enough to compliment business ensembles, as well.
1. Coupé Collection, Large Version from Gucci, $995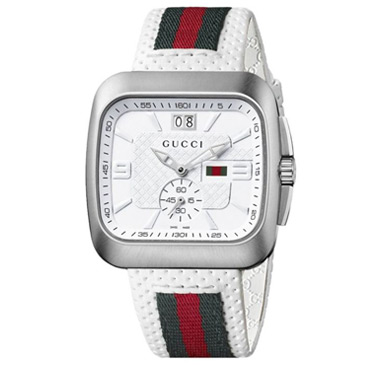 Rounding out our list is this stunning Swiss-made Gucci Coupé. Powered by quartz crystal, the craftsmanship and attention to detail is apparent throughout this piece, from the textured white leather strap with inlaid red/green webbing, brushed stainless steel case and bezel, to the white diamond-patterned face. Gucci even included the added touch of a red/green accent on the face next to the push/pull crown, while the date counter and stopwatch sub-dial ensure you'll never lose track of time. Gucci backs this watch with a 2 year warranty and water resistance up to 160 feet. You should show off this watch whenever the colors will coordinate with your clothing… and since it has highlights of red and green, it is just perfect for the holidays!
Whether you are looking to update your wardrobe with a few well-placed, attention-grabbing accessories, or are simply searching for the next timepiece to add to your collection, you can never go wrong with the gift of a good watch. Hopefully this assemblage has provided some inspiration as to the awesome models and styles of watches that are currently on the market. Now let's get started on those holiday wish lists!