Happy Hour Timepieces – Watches For The Drinking Man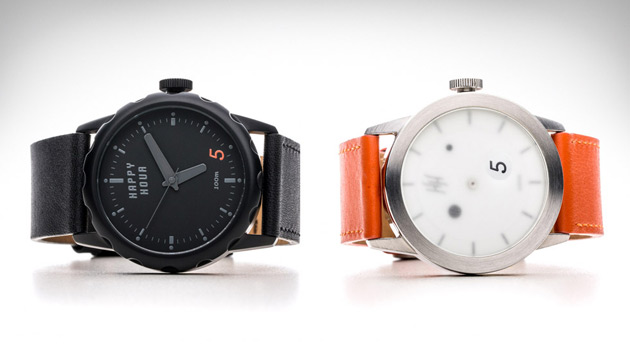 Happy Hour Timepieces is a lifestyle accessories brand that specializes in unique men's watches. What makes them unique? Well first off, all of their watches have a patented Happy Hour buckle that doubles as a bottle opener. And secondly, you'll see that the 5 on the watch face is highlighted, letting you know when it's 5 o'clock, happy hour!
Think about it.. How many times have you been at a party where the bottle opener's gone MIA? With a Happy Hour timepiece on your wrist, you'd never have to deal with that again!
This video shows you exactly why you need a Happy Hour watch:

Happy Hour currently offers three watches: The Lightweight (pictured above left), The Ish (above right), and the Bottoms Up. I went with The Lightweight in the Night Moves color, and I couldn't be happier with it.
Prices range from $80 to $150, and you can view their whole collection at happyhourtimepieces.com.