Andrew Comrie-Picard On How To Stay Safe In Rainy Weather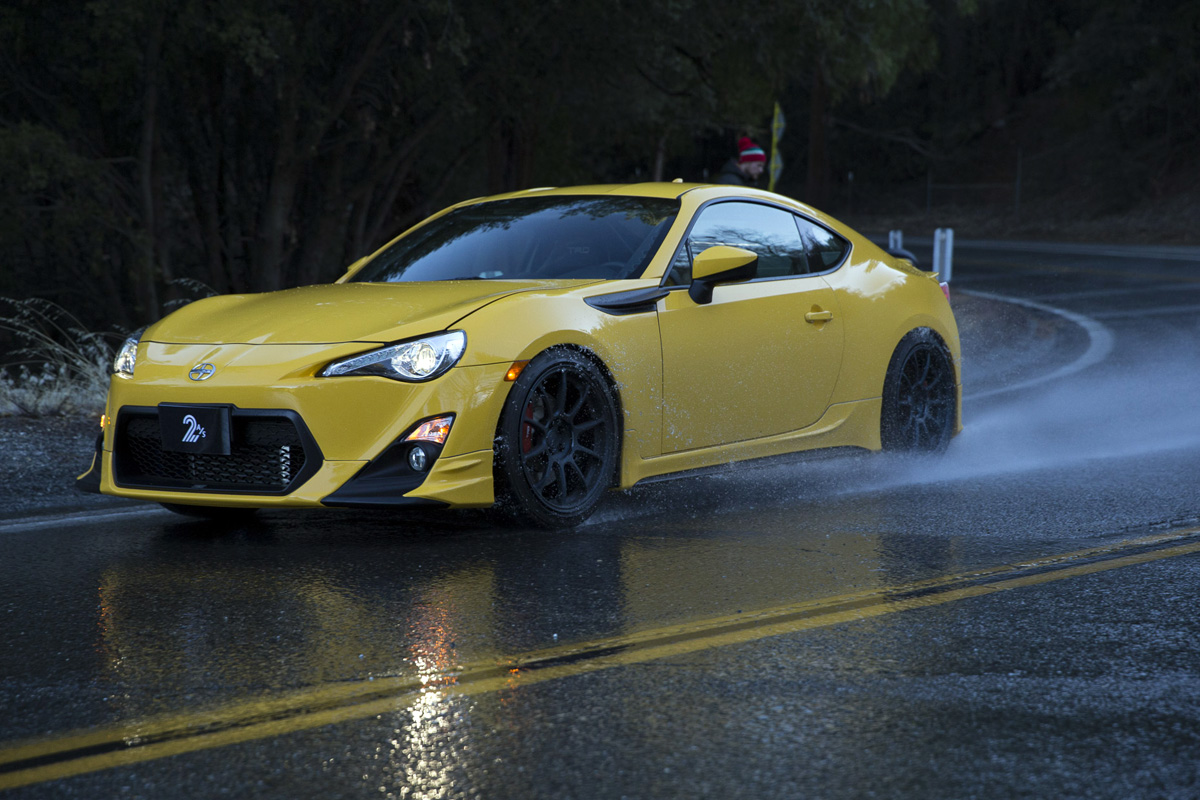 Andrew Comrie-Picard is a bad-ass, leaving his job as an entertainment lawyer in New York City to pursue his passion for racing. These days, he's a professional racecar driver, stunt car driver, and X Games Rally Car medalist who is absolutely living the dream!
We recently spoke with ACP about the anatomy of hydroplaning, the process of preventing skids through tire-technology and his tips on how to conquer wet weather driving while not sacrificing speed/performance. He's driven all across the globe in every weather condition imaginable, so he knows a thing or two about this..
With winter snow turning to spring showers, you can get standing water on the road, which poses challenges both for a tire and a driver. And if you're going at speed into an area where there's standing water, it can lead to hydroplaning, where the tire loses contact with the road and you feel some numbness in the wheel.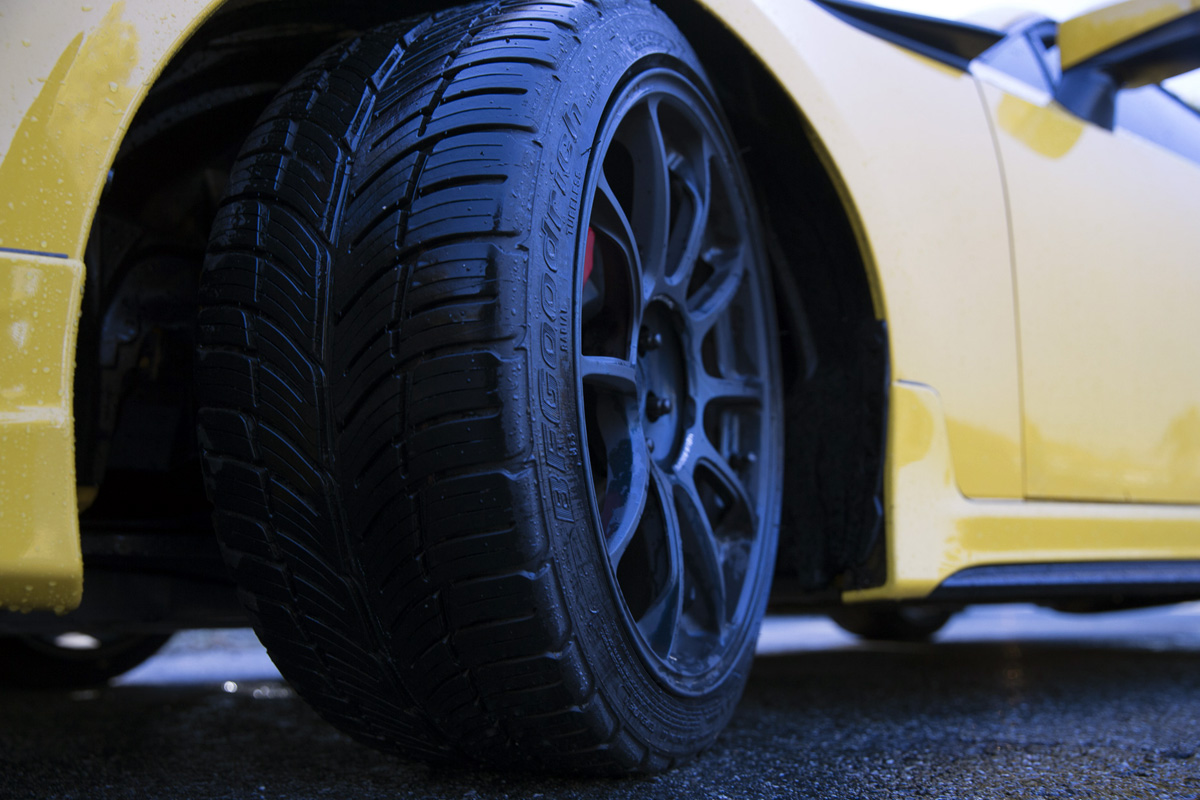 If this happens to you, you just need to keep calm and drive as smoothly as possible: smooth control inputs, no punching the brakes, no swerving around. Think about it like you're driving on snow or ice.
To avoid having this happen to you, it's important that your tires have plenty of tread depth left. An easy way to check this is to do the "penny test", where you place a penny in the tread block of your tire, with Lincoln's head pointed down. If the top of his head disappears between the tread, you're good to go.
Otherwise, you should probably replace all of your tires. Why? Because if your tires don't have enough tread depth, the standing water you're driving through can't effectively get channeled out, compromising your traction and potentially leading to a dangerous situation at the worst possible moment.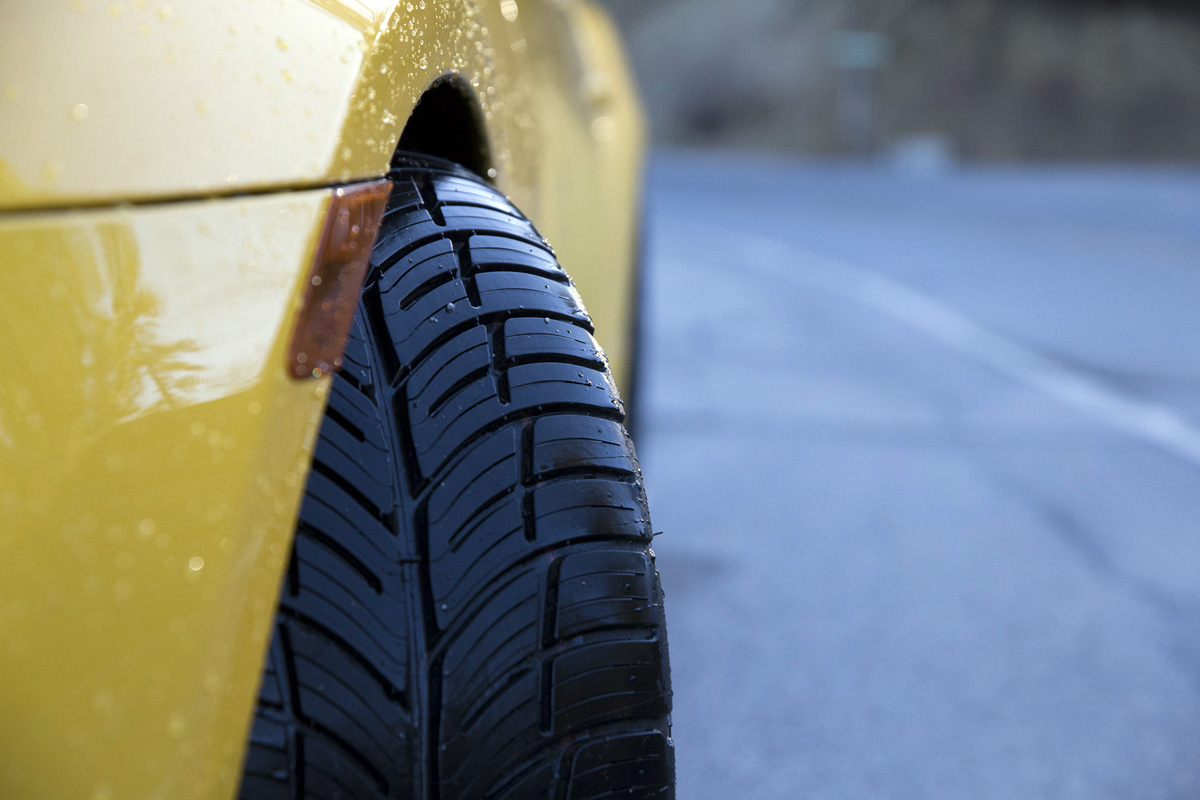 If you're replacing your tires, Andrew Comrie-Picard recommends the BFGoodrich g-Force™ COMP-2™ A/S, BFGoodrich's best ultra-high performance all-season tire ever. Yes, now I know what you're thinking, a high performance all-season sounds like an oxymoron. And while that might have been true in the past, the rubber and tread technology has made huge strides in multi-seasonal performance in recent years.
Using BFGoodrich's UltiGrip Technology, the g-Force™ COMP-2™ A/S features a high-silica cold-weather flexing tread compound that's been molded into an aggressive V-shaped directional tread pattern. Angled lateral and longitudinal grooves, squared off shoulders and wraparound tread blocks deliver consistent block rigidity that combines dry, wet and wintertime traction with long-term wear. This helps the driver accelerate faster, brake shorter and provide more control, regardless of what the forecast calls for.
So if you're looking for a high performance all-season tire that you can run year-round without worry, these g-Force™ COMP-2™ A/S tires sound like the obvious choice!