Arsenio Hall Has Epic Meltdown On Celebrity Apprentice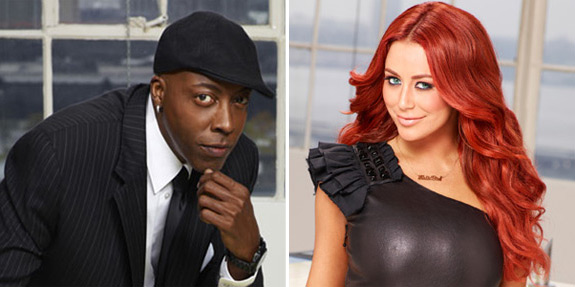 On last night's 3 HOUR Celebrity Apprentice, former talk-show host Arsenio Hall went on a verbally abusive tirade against Aubrey O'Day that was actually pretty uncomfortable to watch. Even more troubling is that Donald Trump Jr. tweeted that the fight was even worse than what we saw, with producers editing it down for television.
I won't spoil it for those who haven't watched it yet (I imagine most people DVR'd it to avoid the endless commercials that come with a 3-hour show), but I will tell you that Hall's behavior made me lost any respect I had for the guy. While O'Day is definitely a handful, she's arguably one of the strongest players in this game, and I'll be shocked if I don't see her and Lisa Lampanelli face off as the final two.
What surprised me is the amount of support Arsenio received on Twitter, making me question what's wrong with society today. Since when is misogyny acceptable practice, especially in front of millions of viewers? What kind of an example is that setting for people?
Thankfully, I'm not alone in my feelings about Hall. Here are a few quotes I came across from other disgruntled viewers:
Arsenio showed his true colors tonight–which were UGLY and misogynistic. He will see how manipulative he was when he went back to the apartment and was trying to make everyone as hateful as he was. He should be ashamed of himself when he sees this. Aubrey did overpower and manipulate—BUT he LET her, because he wanted a scapegoat in case he lost. She DID write everyone else's quote except his (and even his she helped with) but he tried to take all credit away from her. As a father of a daughter, if I saw him being as hateful, spiteful and mean to her as he was to her, he would have to walk into another room with me to have quite a "discussion" about his unacceptable, nasty and mean behavior. I used to be a fan, but I would not walk across a 3 foot room or accept a free ticket to see him ever after this. He is a nasty piece of work! I am glad he never had a daughter, because he obviously does not like or respect women.
I liked Ars-hall until tonight. He showed tonight who he really is. A disgusting, disrespectful JERK. He was not only disrespectful to a woman, but to everyone present. He could have gotten all that across without taking the lowest road possible. What a fine spokesman for Walgreen's ?? I know Aubrey has a lot of faults, but for him to act like that was inexcusable. Then after the X rated harangue, he cries like a little girl. To me now, he is trash. Go back under your rock where you belong, Hall. I liked you until I found out who you really were.
Arsenio got butt hurt because Aubrey called him a has-been. As if it's untrue. Still, he should've called her out on being a never-was. Crazy bitch is still hot though (and probably a total freak in bed).
The disrespect you showed toward Aubrey…. A WOMAN! Guess you do not have a mother or sister. You had to throw in a quote of google her name and see a naked picture, big gut. Untrue.
Arsenio – I hope you see this! You are a disgusting. To talk to a women and act the way you did towards a woman is shameful. And to continue to attack someone when they are not around is even more disgusting. You are no asset to any of the teams you've been a part of. Your show ended b/c you didn't have the talent to sustain it and you certainly don't have the talent to beat out these women. I hope you are ashamed of your behavior and QUIT shaking your arm its annoying.
What do you think? Was Arsenio in the wrong?