BMW i3 Electric Vehicle Pricing Announced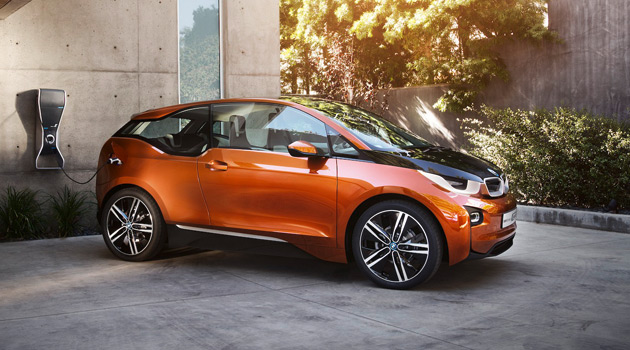 BMW today announced pricing for their ground-breaking BMW i3 electric vehicle, and it's starting price is a very reasonable $41,350 (before federal or state incentives). That's quite a bit lower than many anticipated, making a compelling argument for electromobility.
The BMW i3's 170 horsepower and 184 lb-ft of torque hybrid-synchronous electric motor is powered by a 22-kWh lithium-ion battery, with a range of 80-100 miles. Designed from the ground up to be an electric car, the BMW i3 uses the Industry's first mass produced carbon fiber reinforced plastic passenger cell mounted on an aluminum chassis.
The BMW i3 will offer interior space comparable to the legendary BMW 3 Series on a shorter overall body. Its 32.3-foot turning circle and a relatively long wheelbase make it agile and engaging to drive, yet ideally suited to driving in dense urban areas.
Quick and convenient charging is possible either with the home charging station supplied by BMW i or at any public charging station that uses a Level 2 SAE J1772 charging system. DC fast charging, using the SAE DC Combo-Fast Charger, will be available as an option. From a public fast-charging station, it will provide an 80 percent charge from a fully depleted battery in just 20 minutes.
The BMW i3 will make its world debut at three simultaneous events in New York, London and Beijing on Monday, July 29th. It will arrive in US showrooms in the second quarter of 2014.