Celebrating The Return Of 'Necessary Roughness'

Where my Necessary Roughness fans at? TK and the New York Hawks return to the field in five new episodes, kicking things off next Wednesday, January 23rd at 10pm.
Here's a sneak peek of the new season:

If you're not all caught up from the summer season, you can watch season two in its entirety online right now at http://www.usanetwork.com/series/necessaryroughness/.
In celebration of the new episodes, USA Network is giving away a "Necessary Roughness Prize Pack" to one of our lucky readers. The pack includes the following items: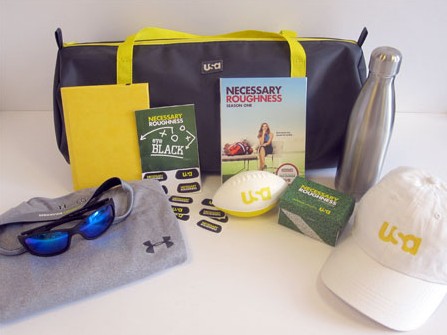 USA Roll Gym Bag
S1 Necessary Roughness DVD
White "88" Jersey
Eye Blacks
Swell Water Bottle
GAME PLAN Notebook
Necessary Roughness Shoelaces
Mini Football
Sunglasses with Croakie and Case
Under Armor Shirt
USA / Necessary Roughness Hat
Want to be entered to win? E-mail us and put "I love Necessary Roughness, pick me!" in the body of your e-mail. We'll pick a winner at random next Wednesday.
Good luck!
The prize was provided by USA Network, but USA Network is not a sponsor, administrator, or involved in any other way with this giveaway. Contest open to US residents only.