AXE Wants To Send You To Space!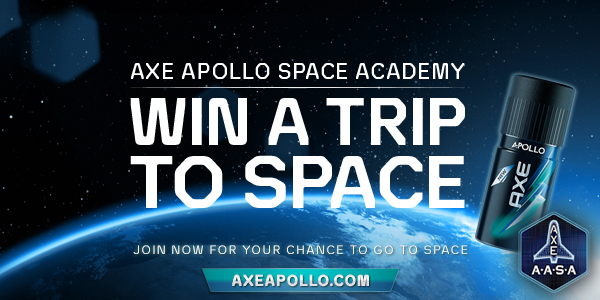 Last night, men's personal care brand AXE hosted an "out of this world event" at the American Museum of Natural History in New York City. We knew the event was space themed, as they sent us an astronaut helmet with the invitation.. But we sure weren't expecting to see famed moonwalker Buzz Aldrin there!
Turns out that Aldrin has teamed up with AXE to send 22 people into space, and make sure they smell nice while doing it. (Did we mention how great the new Apollo line is??)
AXE announced their new AXE Apollo Space Academy, an online contest that promises to send 22 winners to the edge of space and back aboard a private spaceship. The winners will launch aboard a suborbital Lynx space plane built by XCOR Aerospace and operated by the tourism firm Space Expedition Curacao.
The contest is open to men and women in more than 60 countries, who can sign up on the AXE Apollo Space Academy website. The deadline to enter is February 3rd, 2013.
Winners will fly, one at a time, aboard Lynx space planes once Space Expedition Curacao begins operational flights. The reusable space planes are designed to fly two people (one pilot and a passenger) to an altitude of 62 miles during suborbital flights. The rocket plane is built to take off and land horizontally on a runway. Space Expedition Curacao will oversee commercial Lynx flights from the Caribbean island of Curacao. Tickets for a flight are set at $95,000.
"The AXE Apollo launch is the biggest and most ambitious in the AXE brand's 30-year history," AXE's global vice president Tomas Marcenaro said. "For the first time, we're simultaneously launching one global competition in over 60 countries offering millions of people the opportunity to win the most epic prize on Earth. A trip to space — yes, actual space."
So if you've ever dreamed of going into space, here's your chance to make it a reality..
And remember, astronauts always get the girl!