Celebs Toast w/ Exclusive New Crown Royal Whisky at Miami Art Basel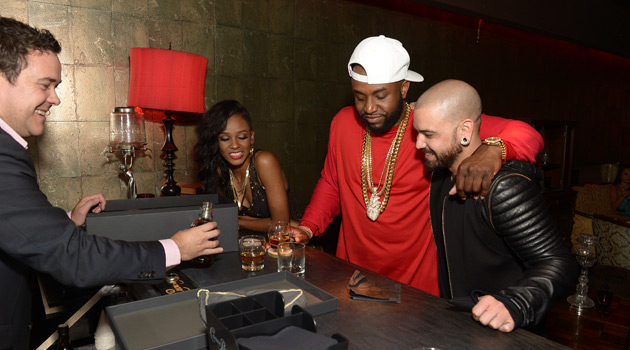 Miami has turned into the art capital of the world with Art Basel well underway in the city notorious for sandy beaches, hot sun and glittering nightlife.
Drawing 50,000 visitors each year, Miami Art Basel is not only known for leading international galleries showcasing artists' work (paintings, sculptures, drawings, installations, etc.), but also the swanky and sexy celebrity-filled parties including an annual birthday dinner and after-party for record producer, Rico Love (most notably known for his work with Beyoncé, Nelly, Kelly Rowland and TI).
In recent years, Love has celebrated his birthday during Miami Art Basel with a select group of his celebrity friends ranging from Diddy, Kelly Rowland and more. This year, his celebration was made extraordinary by legendary whisky company Crown Royal. Guests attending Love's party were among the first in the world to try the new Crown Royal XO – an extraordinary whisky finished to perfection in cognac casks.
Pictured above is singer/songwriter Tiara Thomas, producer Rico Love and designer Ashton Michael sharing an extraordinary moment as they relish the newly released Crown Royal XO with Master of Whisky Gerry Graham during Love's birthday soiree at Cafeina in Miami.
Crown Royal XO sounds great, and I can't wait to try it out for myself. Who's with me?
Photo credit: Gustavo Caballero/Getty Photos