Clarion Unveils Tricked-Out 1991 Acura NSX Restomod At CES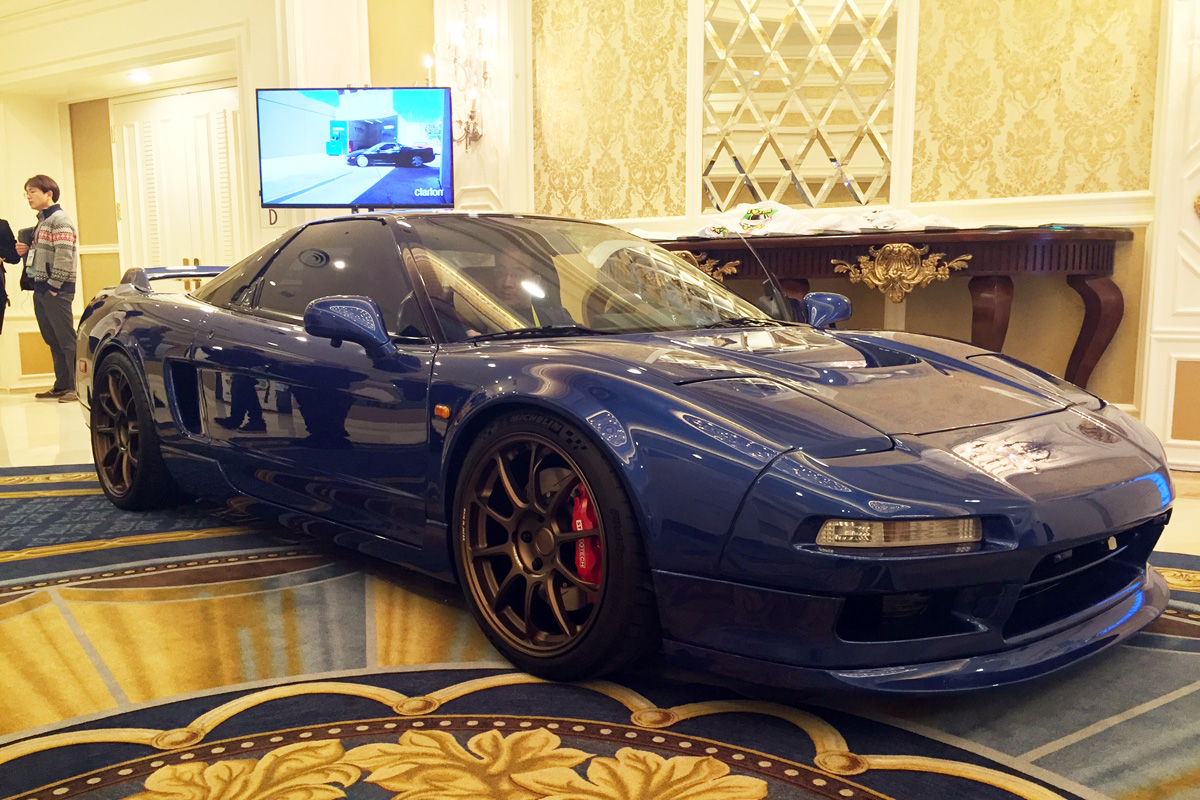 Back in July, Clarion announced that they'd be transforming a worn out, high-mileage daily driven NSX into a reawakened supercar for their next Clarion Builds project, and we couldn't wait to see what they did with the iconic sports car. And now, after six months of blood, sweat and tears, we finally got to see the fruits of their labor when the car was unveiled at CES.
Fully restored and tastefully modified, the Clarion Builds Acura NSX is packed with 21st century technology, including Clarion's high-resolution Full Digital Sound system that's fit for an audiophile, along with countless engine and performance upgrades. Thankfully, they didn't mess with the iconic style and classic lines of the original design, leaving them principally intact.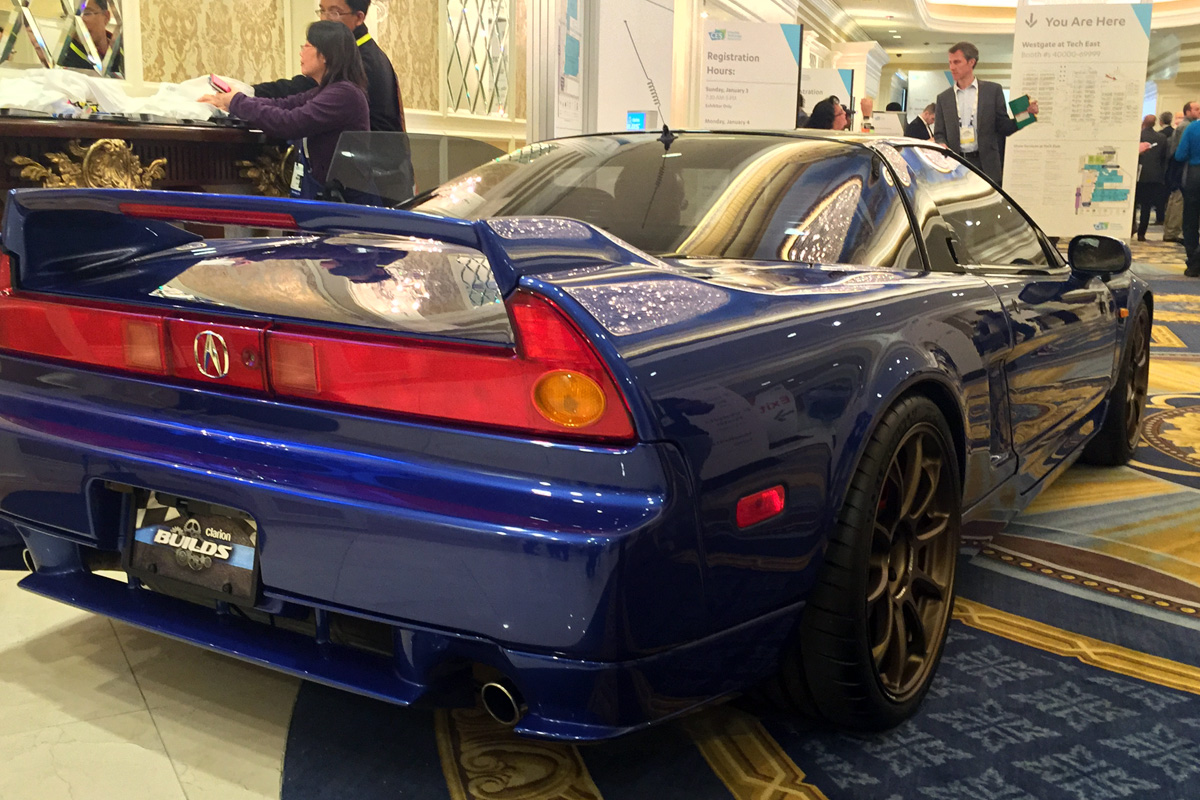 "With the original NSX hitting classic status this year and the reimagined 2017 Acura NSX on the horizon, we wanted our Clarion Builds NSX to serve as a tribute to the car's remarkable history and celebrate the upcoming arrival of its long-awaited successor," said Allen H. Gharapetian, Vice President of Marketing and Product Planning at Clarion and Chief of the Clarion Builds Program. "When building a car that has a fanatic following and a plethora of aftermarket parts readily available, it's easy to be tempted to go overboard with upgrades. However, we stayed true to the Clarion Builds' theme of tastefully modifying and upgrading iconic classics while paying homage to the car's classic beauty. We maintained the car's gorgeous factory design and added subtle aerodynamic upgrades to accentuate its lines, and focused our attention on improving its already stellar handling and performance while giving it electronics upgrades that even the most expensive super cars on the market would be jealous of."
When it was originally acquired, the Clarion Builds NSX project car had traveled 230,000 trouble-free miles with no more than a scratch and chip here and there on the paint. The car was cared for and physically in good condition, though with such high miles on the odometer, the suspension and drivetrain were in dire need of attention. The desperately outdated electronics and a completely worn interior, offered a chance for Clarion to showcase its latest innovations in audio, infotainment, and safety electronics in a worthy vehicle.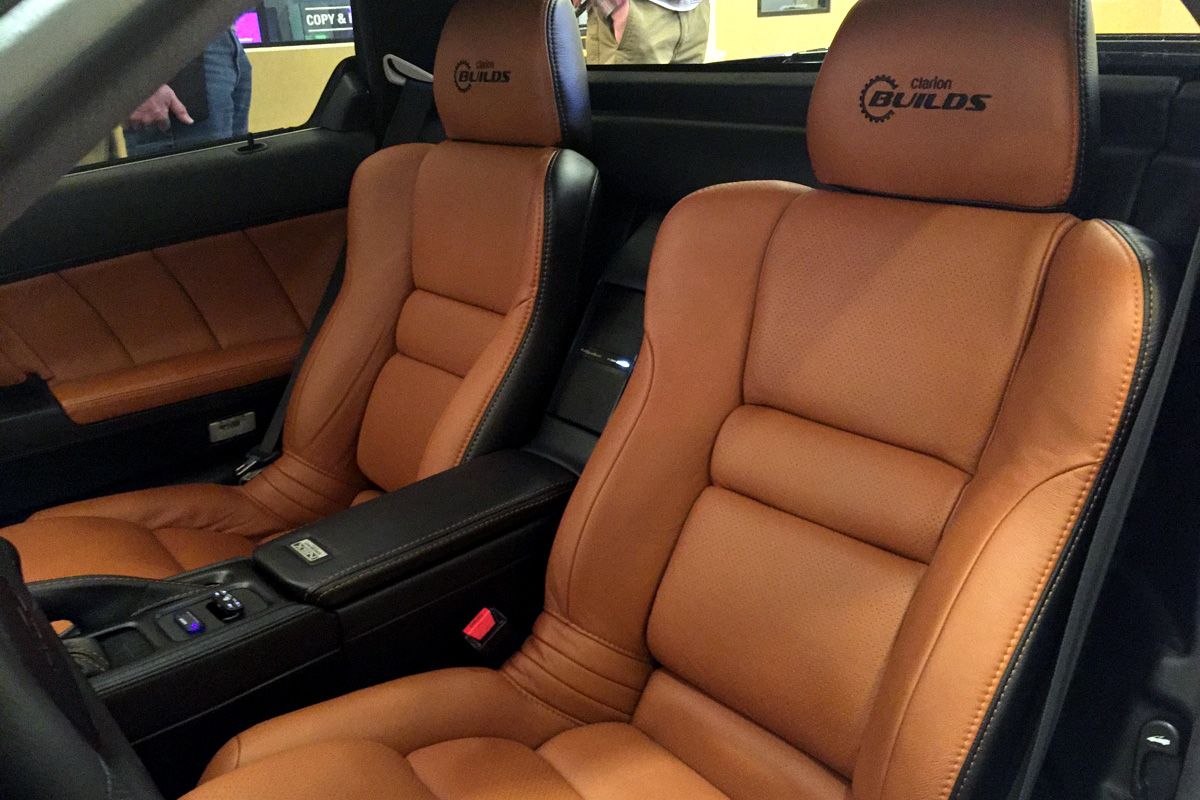 Working with a collection of well-known automotive industry brands who all share the same fascination and passion for iconic classic cars, the build plans for Clarion Builds' NSX were strategically laid out to make a car that was praised as being perfect 25 years ago become perfect again by today's standards.
Upgrades to the Clarion Builds NSX include:
Electronics: Clarion outfitted the NSX with its new Full Digital Sound (FDS) audio system featuring the new 7″ NX706 touchscreen source unit. The audio system within the car is the only one of its kind capable of faithfully reproducing high-resolution digital audio without ever converting it to an analog signal, delivering precise high-performance sound of the highest quality. The system is composed of a Z3 FDS processor and pair of digital tweeters, two Z7 full-range speakers and a Z25W 10″ digital subwoofer. The car was also equipped with Clarion's four-camera SurroundEye panoramic vision system, allowing the driver to see exactly what's around the vehicle while driving. It also features an integrated radar detection system from Escort and a state-of-the-art security system from Viper.
Body: The NSX was stripped down to its bare all-aluminum monocoque and properly prepped for a full color change. The fenders, hood, front and rear diffuser and spoiler were replaced with some more aggressively styled parts from Downforce. The "Blu Caelum Ad Personam Metallic" paint, laid down by Diamond Hills Collision, was provided by Clarion Builds partner Glasurit, a brand of BASF.
Drivetrain: The tired high-mileage 3.0 liter naturally aspirated VTEC V6 and 5-speed manual gearbox were swapped in favor of a later model 3.2 liter VTEC V6 outfitted with a Comptech supercharger and 6-speed manual gearbox.
Suspension, Brakes, and Tires: The factory suspension was upgraded with KW coilovers to offer more cornering grip. The rims are staggered 18/19″ Volk ZE40s in Bronze from Clarion Builds partner Ray's Engineering. To keep everything on the road, Clarion Builds partner Michelin provided a set of supercar-worthy Pilot Sport Cup 2 tires. To improve stopping power, all four corners of the NSX were upgraded with StopTech's Big Brake Kit.
Interior: The finish of the factory interior was completely upgraded with materials of the highest quality. The worn out ivory interior was scrapped in favor of a luxurious black/cinnamon brown combination perforated leather. The factory seats, shift knob and boot, and emergency brake handle were trimmed with expertly crafted skins from LeatherSeats.com. The factory NSX steering wheel was customized with flat bottom and bolstered sport grip to look and feel more like a modern supercar. The headliner and A-pillars were reskinned in black alcantara. The carpets were replaced with a black loop carpet kit designed to match the look of the original NSX-R.
The Clarion Builds NSX will spend most of 2016 in the limelight hitting various industry events and car shows.