Daisy Lowe On The Cover Of Playboy's September Issue!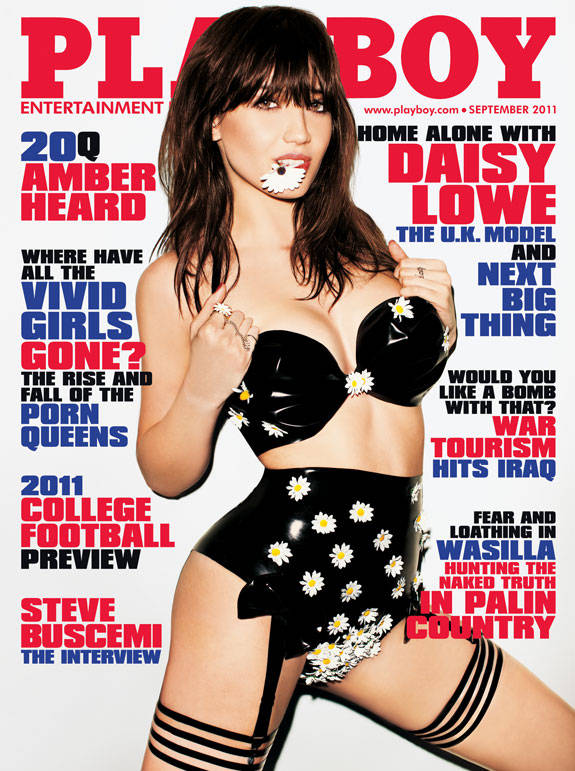 Famed British model Daisy Lowe is showing off her curves in Playboy's September issue.
The 22-year-old fashion model, who is the daughter of English singer-songwriter turned fashion designer Pearl Lowe and Bush frontman Gavin Rossdale, appears on the cover of the magazine as well as in a playful yet seductive 8-page nude pictorial.
Daisy is a rising star in the British fashion world. She has modeled for high-end brands including Chanel, Burberry, Vivienne Westwood, Agent Provocateur, Marc Jacobs, Pringle and DKNY. In fact, she was labeled by Westwood as a "new style icon of her generation: beautiful, sexy, and one of those girls who doesn't have to try and be anything except herself."
In addition to posing for Playboy's September issue, the brunette bombshell sat down with Contributor Martin Deeson to discuss her rock and roll roots, her father and her future. Following are selected quotes from the interview:
On discovering at age 15 that her father is Gavin Rossdale, not Danny Goffey, the drummer from Supergrass: "My whole life I thought my father was someone different. But Gavin and Gwen [Stefani] are really good people, and I value so much the time we get together. After seven years we've worked out how to be a family. I guess you can't deny my rock-and-roll heritage! Both my parents – or all four of them – have done well in the music scene."
On her mother's drug addiction in the 1990s: "She was very good at hiding it from me. I had no idea. When it comes to drugs I just think, Cool, thanks for learning that lesson for me, Mom, because I don't want to have to learn it myself."
On her misunderstood identity: "I've grown up with rock and roll, but that's not who I am. People think rock chick is code for 'parties hard' – but I don't. In reality I'm a homebody. I love going to bed at midnight – apart from when I'm in Paris for fashion shows."
On her future: "I like being creative, and I guess I'll just go where the wind takes me."
The September issue will be available on US newsstands Friday, August 12th and available on UK newsstands during the week of August 15th.