'Disckreet' App Makes Sure That Your Sex Tape Doesn't Get Leaked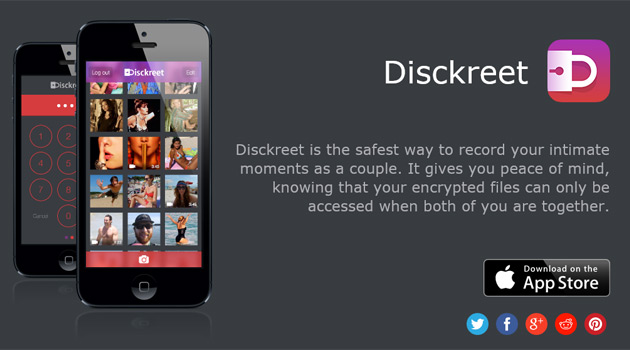 Let's be honest, we all love a good celebrity sex tape. In fact sex tapes are so common these days that there is even a new Cameron Diaz movie about accidentally sharing one. Yet still, many couples who might want to try it, don't. Have you or your partner said no, fearful of the sex tape or raunchy photos becoming public as a result of a lost phone, an indiscreet partner, or a bad break up? Well now both of you can stop worrying and start having fun.
Introducing Disckreet, the app that allows you to capture intimate moments with your partner with complete peace of mind. The app ensures your photos and videos are protected and can only be seen by the two of you, together.
Here's how it works:
Your personal files are safely stored behind two different passcodes, yours and your partner's. The files can only be accessed while the two of you are together and both enter your individual codes. So if your partner breaks the trust and tries to share your latest escapade with others, you are safe.

Disckreet stores all your files on your device – nothing gets uploaded anywhere, ever! For even greater peace of mind all your files are encrypted, ensuring ultimate security, even if your smart device is stolen, or hacked. Nobody is ever going to see your files without your approval.

Disckreet builds upon the trust you already have in your relationship by adding another layer of security for both you and your partner. It offers you the freedom to try things that you have always wanted to with complete control and peace of mind.
Honestly it's a pretty ingenious idea, and it might just give your g/f the security she needs to embrace her wild side. So download your copy today (for the introductory price of just $0.99, regularly $1.99), and see where the night takes you.
Just don't tell Kate Upon about Disckreet, as that's one sex tape we definitely want to see!