E! Serves Up New Culinary Series 'Playing With Fire'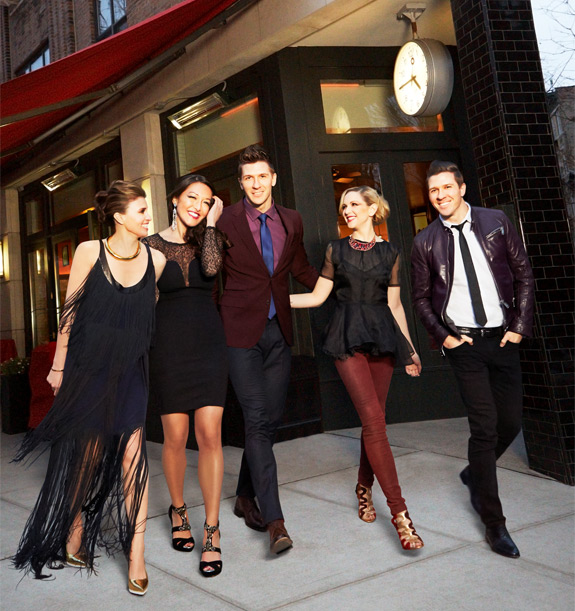 Now that Top Chef, The Taste, and Kitchen Nightmares are over, it's time for this foodie to find another show to watch. And wouldn't you know it, E!'s got a new series Playing With Fire that premieres on March 17th!
The unscripted show focuses on the movers and shakers of New York's exciting restaurant industry as they work to strike a balance between busy professional and personal lives in a city known for its cut-throat competitiveness, vigorous pace and of course delectable cuisine.
The 6-episode, one-hour series features a cast of New York's star "foodies" that includes Chef Boyardee heiress, brand ambassador and cookbook author Anna Boiardi; nightlife impresarios-turned-food-entrepreneurs Derek and Daniel Koch; Julie Elkind, a pastry chef extraordinaire with a little edge to go along with her sweet touch; Candice Kumai, a former model and Top Chef competitor who aims to keep foodies' waistlines trim with her calorie-conscious cuisine.
Actress/baking connoisseur Jennifer Esposito and celebrity chef/restaurateur Todd English will also make appearances in the series.
This fascinating bunch is a cross section of players who reside atop New York's glamorous food scene. Reservations at an elite chef's dining room are as sought after as tickets to the hottest Broadway show, and writers covering food, gossip and business wield tremendous power as they keep close tabs on the volatile professional and personal lives of the revered leaders. This all results in a city that brims with a variety of delicious food choices, from haute cuisine to simple fare that inspires the palates of food lovers around the world.
Playing with Fire illustrates what New York City's food scene is known for – big helpings of high energy and the drive for success, with a side of drama.
I'll be tuning in this Sunday.. Will you?