Experience Competition BBQ From Your Living Room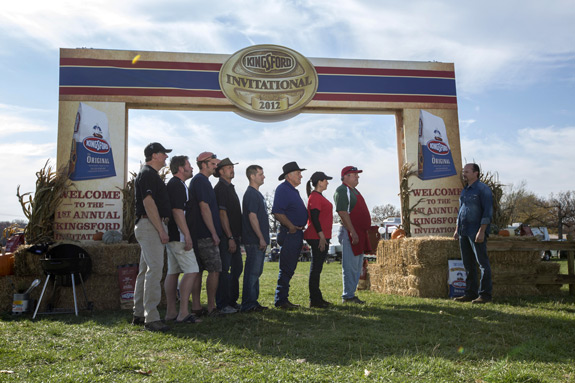 For all the excitement of barbecue minus the sting of smoke in your eyes, tune in this Sunday to the Kingsford Invitational, an epic BBQ battle and the first airing of competition 'que ever on Destination America.
The show is hosted by champion pitmaster Chris Lilly, and it features a heated competition as the world's top barbecue teams compete for a $50,000 prize and the title "Best of the Best" in the world of competition barbecue.
And if you're hosting a viewing party, give your guests a taste of the winning 'cue! We've got the recipe for the single bite that won barbecue legend Melissa Cookston $5,000 in the "One Bite Challenge". Cookston and her team, Yazoo's Delta Q, channeled their Memphis roots to create this unique twist on a regional specialty – Grilled Bacon-Wrapped Stuffed Shrimp.
The recipe for succulent gulf shrimp with jalapeno and cream cheese is the ultimate spicy-sweet combination, and it's a great dish to serve while watching the Kingsford Invitational on Destination America this Sunday!
Grilled Bacon-Wrapped Stuffed Shrimp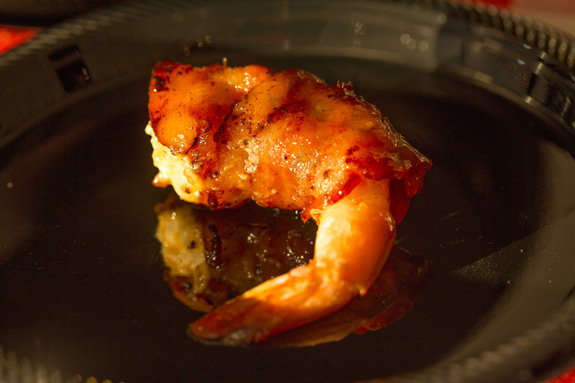 Makes: 20 servings
Prep time: 30 minutes
Cook time: 5-10 minutes
YOU'LL NEED:
20 Gulf shrimp
20 slices pepper-cured bacon
1 8-ounce rectangular package cream cheese
1 jar whole pickled Jalapeños
Thai sweet chili sauce
INSTRUCTIONS:
Preheat a grill to medium-high heat using Kingsford® charcoal. While grill preheats, peel and devein shrimp, leaving tails on.
Cook bacon directly on the grill grate until it is close to being fully cooked, but is not crispy. Set aside.
Slice cream cheese into 1/4 x 1/4 x 1/2-inch long slices. Select pickled jalapenos that are roughly the same dimensions as the cream cheese. Remove stems and seeds.
Place one strip of cream cheese and one jalapeno piece on each shrimp, then wrap with a slice of grilled bacon. Secure with a toothpick, then place the shrimp with tails on the cool side of the grill so they won't burn.
Cook for 2-3 minutes until bacon is crispy and the shrimp is pink throughout. Remove from fire, brush liberally with Thai sweet chili sauce and serve.
Recipe created by the Yazoo's Delta Q competition barbecue team for the One Bite Challenge category of the Kingsford® Invitational.