Four Of The Weirdest Vacation Spots
Whether you are headed to the sea side or the mountain, there is always a more interesting and entertaining place that you can visit. If you want to go to a weird and unusual place, here is a list of some of the weirdest ones you can go to:
1. Hotel de Glace : Quebec, Canada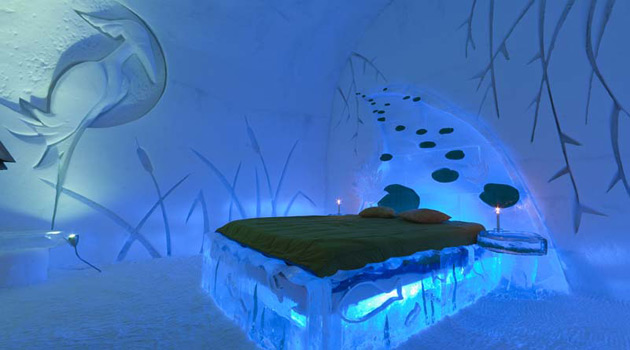 The Ice Hotel opened on New Year's Day in 2001. It takes about a month and a half to build with 60 workers, and is made from 15,000 tons of snow and 500,000 tuns of ice. The cold palace is 32,000 square feet and offers 32 rooms that can accommodate up to 80 tourists per night. The Ice Hotel has an ice chapel where you can get married, an ice bar with a night club for hot experiences at the temperature of between -3°C and -5°C, and its own art gallery where ice figures are exposed. Guests of the hotel can ski, go fishing in a hole on the ice floor, shoot with a bow, walk around in snowshoes, or to take a ride on a dog sled. Unfortunately, the hotel is only open between January 1st and April 1st, because the ice and snow start melting after that.
2. Malmaison Oxford Castle : Great Britain

Malmaison Oxford Castle was a prison from 1870 to 1996. Nowadays, it's a hotel. You're not going to be behind bars though: you're going to be sipping the coolest cocktails in the free world at MALBAR. And don't worry about doing porridge. Mal Brasserie serves an eclectic mix of classic dishes with a twist, from freshly caught fish to the famous Mal Burger. So who wants to escape? After all, good behavior gets you privileges like free Wi-Fi, drench showers, plasma TVs and even toiletries that are just begging to be nabbed by light-fingered guests. This is one hotel in Oxford city centre where you'll be happy to get a long stretch.
3. Ariau Amazon Towers Hotel : Manaus, Brazil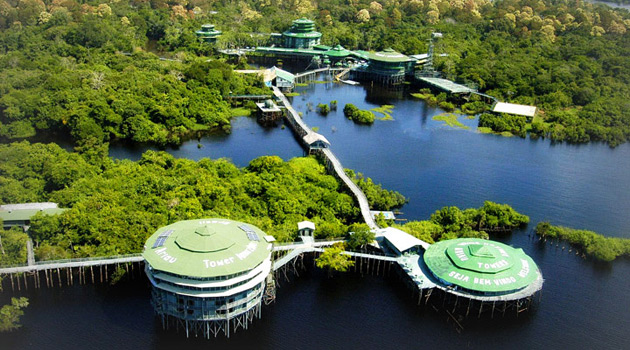 Imagine a hotel built among Amazon treetops. Catwalks 70 feet up leading from a great circular dining room of polished tropical woods, a bar like an eagle's nest, a honeymoon suite built 110 feet up a mahogany tree, and friendly monkeys, macaws, sloths, and parrots scampering, fluttering, and dangling all over the place. In addition to the beautiful natural surroundings, you can also partake in a number of activities, including a walk in the jungle, swimming with dolphins, safari trips, and piranha-hunting.
4. Yunak Evleri : Urgup, Turkey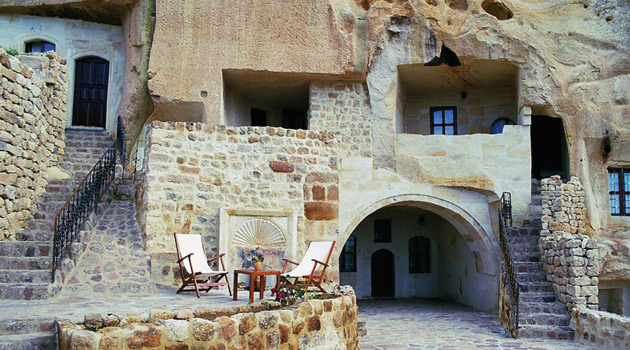 In Cappadocia's magical landscape of fairy chimneys, in the ancient village of Urgup, is a unique hotel carved into a mountain cliff, the Yunak Evleri. This hotel includes six cave houses, 39 rooms dating back to the 5th and 6th centuries and a 19th century Greek Mansion. The rooms date back to the Ottoman Empire, and are presented with their own private patio and balconies, which offer a stunning view to the mountain landscape. Yunak Evleri is an inspiring hotel – an ideal base for exploring Cappadocia's elaborate underground cities, hidden cavernous churches and enchanting rock terrain.
If you're tired of the normal vacations you always go on, it's high time to try something different. You'll be exposed to a whole new experience, and it's on vacation you won't soon forget!
Jack Sheamus is professional blogger and writer. He is a member of a company that provides Battersea cleaning carpets. He spends his free time travelling with his family all around the world and visiting exotic places.