GTA 5: Here's Why You'll Buy It Twice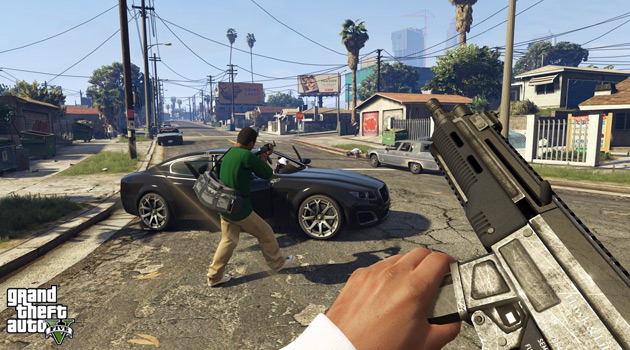 36 million people bought Grand Theft Auto V for PS3 or Xbox 360 within a year of its release, according to Rockstar Games' parent company, Take-Two Interactive. Yet there's a chance those same 36 million people will buy the same game for their new consoles. Why? The combination of superior development, marketing finesse and a one-of-a-kind concept means that Rockstar Games can douple-dip with customers when the November 18th release hits. Not convinced? Let's a take a look at what's in store for GTA fans.
…It's Still 'Grand Theft Auto V'
Grand Theft Auto V was—scratch that, is—a masterpiece. The vast yet intricate world is the largest Rockstar-created map ever. The ability to switch between a hustler, a psycho and a career bank robber at any moment was innovative. The customized bank heists where you pick between a methodical or guns-blazing approach keeps you on your toes. What really sets the GTA series apart is the endless hours of free roaming. For many, the missions become trivial as they spend hours terrorizing the streets of Los Santos.
Graphics
Take-Two Interactive CEO Strauss Zelnick told Gamespot.com that GTA V on next-gen consoles would "blow consumers away," and they wanted to take advantage of the enhanced technology. It's obvious to see the next-gen difference in released screenshots and videos. And Gamepur.com leaked an upcoming issue which made it official: The PS4 GTA V would have 1080p resolution.
Online Action
The online mode for GTA V started off buggy, with a flock of mods and glitches. Patches and updates have increased the quality, and it's expected that Rockstar focused on this aspect. GTA V will allow old users to transfer their online game file from PS3 or Xbox 360. Players will retain all their cash and reputation from the previous consoles. But the most exciting new online feature is the lobby size being increased from 16 players to 30.
Pre-Order Perks
Almost all GTA gamers have dabbled with no-hassle cheat codes at some point. Boosting the bank account was always a time-saver. Rockstar announced they would be dishing out $1 million in virtual cash for those who pre-order the game; $500K will be in the Story Mode and Online bank accounts. This means the pre-order is well worth it if you plan on buying the game, as it will likely be the only way to get that surge of cash this time around. You can pre-order the game at Walmart.com and pick up in-store, so you can avoid the holiday shopping crowds.
New Stuff for All
Rockstar strategically set up exclusive features for those buying the game a second time. These include a murder mystery with Michael's storyline, stock car races and a wildlife photography challenge. Completion allows players to earn a new rail gun and a Kraken submarine, according to Digital Trends. Rockstar also added in new features for all players. A fleet of new cars will be available and the increased online lobby size as mentioned. An inquisitive Redditor tracked down a deleted support page that apparently revealed a first-person mode for GTA V. We won't know everything new until the game is officially released on Nov. 18.
If you need more convincing, check out the side-by-side comparison videos or even watch the original GTA V trailer on repeat. We'll see you on the streets of Los Santos.