Haunting Halloween Cocktail Recipes
Part of the fun of Halloween is the creation of a spooky atmosphere, and anything and everything involved in a party can be converted from mundane to eerie very easily. Cocktails are no exception! Serve up some of these haunting Halloween cocktails at your Halloween party this year, they'll surely be a hit with your guests.
El Diablo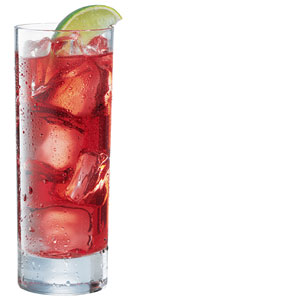 Ingredients:
1-1/2 parts Tres Agaves Reposado Tequila
1/2 part Crème de Cassis
3 parts ginger beer
1/2 part fresh-squeezed lime juice
Lime wheel for garnish
Preparation:
Pour Tequila into an ice-filled highball glass, then add the Crème de Cassis. Squeeze in the lime juice and top with ginger beer. Garnish with a lime wheel.

Hornitos Not Just Any Potion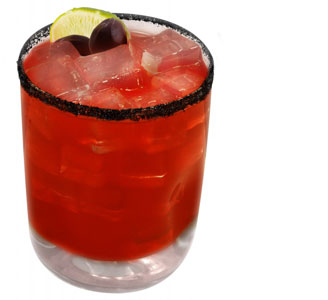 Ingredients:
1 1/2 parts Hornitos Plata Tequila
2 parts Lime Juice
1 part Simple Syrup
1/2 part Raspberry Puree
1 part Vanilla Liqueur
Preparation:
Shake and pour ingredients into a cocktail glass half rimmed with a thick layer of black lava salt. Garnish with 2-3 chocolate/salt covered raspberries.

Sauza Candy Corn Margarita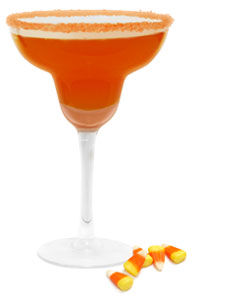 Ingredients:
3 parts Sauza Blue Silver 100% Agave Tequila
4 parts Orange or Clementine Soda
4 parts Light Beer
1 1/2 parts Orange Liquor
1/2 can Frozen Limeade
Preparation:
In a pitcher combine all ingredients. Chill and serve on a plate filled with candy corn in glasses rimmed with orange sugar. (Serves 4)

Rich and Spooky Martini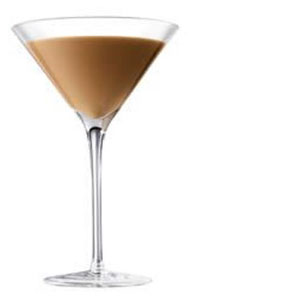 Ingredients:
1 part Three Olives Chocolate Vodka
1 part pumpkin liqueur
1 part skim milk
Dash of nutmeg
Preparation:
Pour all ingredients into a shaker filled with ice & shake vigorously. Strain into a martini glass and add a dash of nutmeg.

The Witches' Brew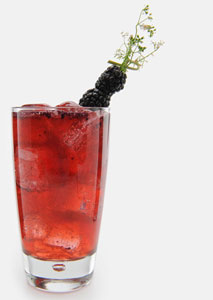 Ingredients:
2 parts Maker's Mark Bourbon
2–3 large blackberries
1/2 parts DeKuyper Razzmatazz Schnapps Liqueur
2 parts ginger ale
Preparation:
Muddle 2 or 3 large blackberries in an Old Fashioned glass with a splash of Razzmatazz Schnapps Liqueur. Add in equal parts Maker's Mark Bourbon and ginger ale. Stir gently. Top off with ice.

Skellington Sour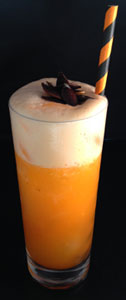 Ingredients:
1 1/2 parts BACARDĺ Superior
3/4 parts Pumpkin Spice Liqueur
3/4 parts Fresh Lemon
1/2 part Simple Syrup
1 Egg White
Preparation:
Dry Shake all ingredients for 30 seconds. Add ice to tin and shake well. Strain over fresh ice into Collins glass. Garnish with blackened pumpkin seeds.

Cruzan Haunted Cinn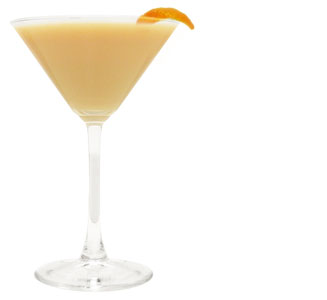 Ingredients:
1 1/2 parts Cruzan Velvet Cinn
1 parts Cruzan Aged Dark Rum
1/2 parts DeKuyper Blood Orange Liqueur
Float DeKuyper Hot Damn! Liqueur
Flamed Orange zest
Preparation:
Combine Cruzan Velvet Cinn, Cruzan Aged Dark Rum & Blood Orange Liqueur in a tumbler over ice & stir for 15 seconds. Strain into a chilled martini glass. Float a small amount of DeKuyper Hot Damn! Liqueur on top & finish with a flamed orange zest.

Kilbeggan Masquerade Mixer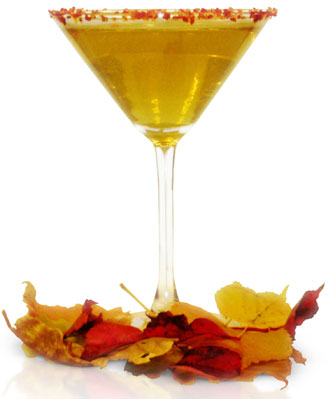 Ingredients:
2 parts Kilbeggan Irish Whiskey
1/2 part DeKuyper Mixologist Series Ginger Liqueur
1 part Fresh Apple Juice
1 part Fresh Lemon Sour
Red & Orange Sugar Mix
Preparation:
Shake all ingredients with ice and strain into a sugar rimmed cocktail glass.

And finally, a drink for those folks in the colder climates to help keep their guests warm and toasty..
Hornitos Tequila Toddy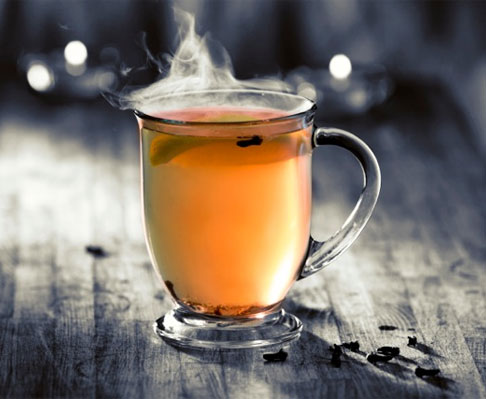 Ingredients:
2 parts Hornitos Plata Tequila
1⁄4 part Honey
1⁄4 part Agave
1 Lemon Wedge
1 piece of Cinnamon
2 Cloves
4 parts Hot Water
Preparation:
Add all ingredients to a coffee cup or heatproof glass. Stir and let steep for one minute.