Heading Back To The Brickyard 400 With Crown Royal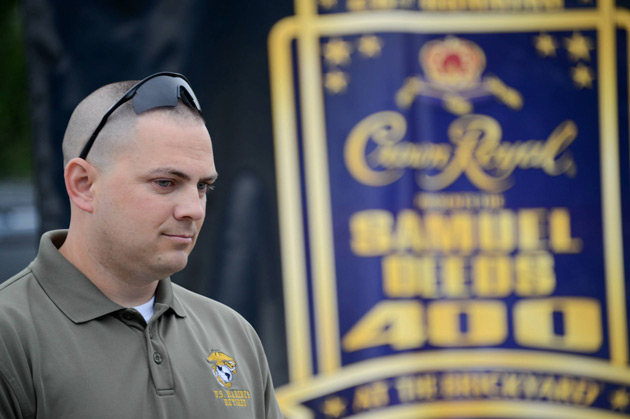 For the seventh consecutive season, Crown Royal is honoring someone with a Cup Series race named after them. The winner of this year's Crown Royal presents the "Your Hero's Name Here" 400 at the Brickyard is Samuel Deeds, a retired Marine from Independence, Kentucky.
The folks at Crown Royal are bringing us out to Indianapolis to meet him, compete against fellow bloggers in a high-stakes scavenger hunt, and to partake in all the 2013 NASCAR Crown Royal Samuel Deeds 400 festivities on July 28th. Needless to say, it should be a pretty memorable weekend!
Gunnery Sergeant Samuel Deeds is a retired Marine who's selfless actions saved the lives of many fellow Marines in Iraq. During his deployment in 2005, Deeds came across an improvised explosive device while setting up a vehicle checkpoint. When he saw two of his fellow Marines approaching the area, he exposed himself to the IED to warn them of danger. He was severely injured and underwent more than 30 surgeries and procedures following the blast.
In 2008, Deeds' heroic instincts took charge once again when he saved the lives of three individuals caught in a rip tide off the coast of North Carolina.
Deeds, a huband and father of two boys, was nominated for the program by his wife April for his unwavering commitment to his country. After receiving thousands of entries during the nomination period, five heroes were chosen as finalists, and adult fans had the opportunity to cast their votes for the person they felt was most deserving of the honor.
During a special hometown ceremony in his hometown of Erlanger KY on June 27th, Gunnery Sgt. Samuel Deeds was announced as the winner of Crown Royal's "Your Hero's Name Here" program, receiving naming rights to the 2013 NASCAR Sprint Cup Series race at Indianapolis Motor Speedway.
Surrounded by friends, family and Marines, Deeds cemented his place in the NASCAR record books by laying the final brick, engraved with the official race logo, in a ceremonial "Yard of Bricks" at Flagship Park.
As the winner of the program, Deeds will participate in a VIP race weekend experience, riding in the pre-race pace car, delivering the trophy bearing his name to the race winner in Victory Lane and participating in the "kissing the bricks" ceremony following the race.
"We could not be more honored to announce Gunnery Sgt. Samuel Deeds as the 2013 'Your Hero's Name Here' winner," said Abby Wise, brand director for Crown Royal. "His sacrifice and continued acts of heroism serve as an inspiration to all of us at Crown Royal, and we are proud to provide him with the ultimate race experience at the Brickyard."
Last year's trip to the Brickyard was pretty amazing, so I can't wait to see what they have in store for us this year. We'll be posting photos and updates on our Twitter and Instagram accounts throughout the weekend, so make sure you're following us!