How To Select A Humidor That Matches Your Lifestyle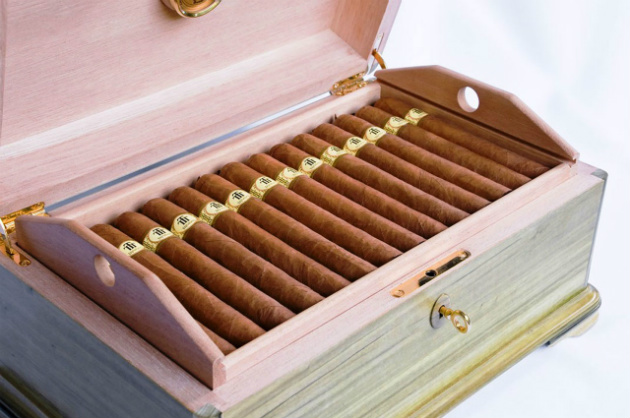 A humidor is not only a box to store cigars, but a simple beauty in life. Keeping a stogie at the optimal humidity ensures the perfect balance of fresh and flavorful. Are you in the process of choosing your humidor but don't know what to look for? To help with the buying process, you can find the factors to consider below:
The Size
The size of your humidor depends on how many sticks you want to store at a time. Are you a once a while smoker, or do you light one up every day? On average most humidors store around eight to ten cigars. As a rule of thumb you should buy one that is slightly larger than what is needed. This has two advantages: first, if you decide to store more than you thought, you will have room; and second, the cigars won't be in a cramped environment giving them more air to breathe.
If you like to smoke your cigars on the go, than a small humidor that holds three or four sticks will do just fine. Preferably this should be one that holds a few stogies and can easily fit inside a coat or trouser pocket.
The Quality of the Design
The point of a humidor is to keep the humidity of the inside air high, which means there can be no large cracks or holes. However, a small gap should ideally be present to allow the air inside to circulate. The flow of the air will help preserve the quality of a cigar and have it fresh when you are ready for a smoke.
Additionally, look at the aesthetics of the design to determine if you like the look of it. You wouldn't want to store your cigars in an ugly plain-looking box. If you choose a small pocket humidor, make sure to get something appealing to the eyes.
Inspect the Material
To ensure that you are getting the best quality, inspect what the inside casing is made of. For best performance choose one made out of cedar – this wood is known for its ability to emit and absorb moisture. Another advantage of cedar is the mildness of its aroma. Spanish cedar in particular has a very light scent which means it won't interfere with the smell of the cigars.
Will Humidity Be Reached?
You must verify that the mechanism used to obtain optimum internal humidity is of high quality. It would be a shame to have a cigar go to waste simply because internal humidifier broke down. Stogies must always be kept at the correct humidity for the perfect taste to remain.
It's best to get a humidor that has a hygrometer visible from the outside. That will allow you to see what the internal humidity is without having to open the box.
Added Features
There are a few features that can be added to a humidor to better suit your lifestyle. For example, if you often carry the humidor from one room to the next (perhaps when entertaining guest) then handles are a good call.
Also, magnets on the side of the humidor can be used to attach a cigar cutter. This will prevent the frustrating scenario where you take out a cigar to smoke, but can't find a cutter.
From all of the many different options to choose from, find the one that you love and show it off with pride.  Consider using places like JR Cigars or Serious Cigars to find the best cigar humidor to fit your needs.  No matter what you pick, having a humidor is essential to any cigar smoker, so get out there and get one today.