Introducing The 2016 Chevrolet Camaro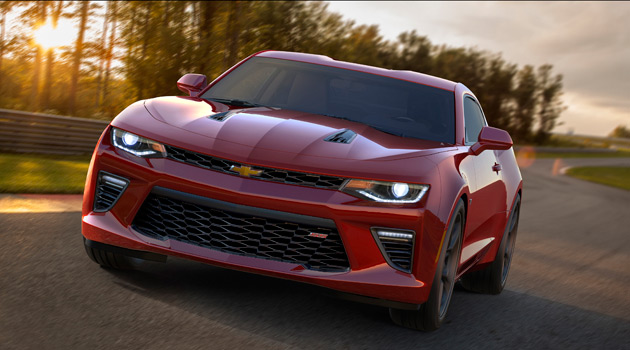 The sixth-generation Chevrolet Camaro was unveiled over the weekend, and while at first glance it might look like a minor facelift, it's actually an all-new car, one that offers higher levels of performance, technology and refinement. Watch out Mustang and Challenger, because the Camaro is gunning for you!
Perhaps the biggest news about the 2016 Chevrolet Camaro is that it rides on the GM Alpha platform that's used by the 2015 Cadillac ATS and CTS. The car's leaner, stiffer platform and slightly smaller dimensions will provide drivers with a faster, more nimble driving experience. And option your Camaro with the LT1 6.2L V-8 (which puts out 455 horsepower and 455 lb-ft of torque), and you've got the most powerful Camaro SS ever.
Six all-new powertrain combinations are offered in the 2016 Camaro, including a 2.0L Turbo, an all-new 3.6L V-6 and the aforementioned LT1 6.2L V-8. Each engine is available with a six-speed manual or eight-speed automatic transmission.
Aesthetically, the 2016 Camaro has a dramatic, sculpted exterior. Meticulously tuned in the wind tunnel, the exterior contributes to performance through reduced aerodynamic lift for better handling while enhancing efficiency. On the inside, a driver-focused interior integrates class-leading control technologies, including a new Driver Mode Selector, configurable instrument cluster and a customizable ambient lighting feature.
"Redesigning the Camaro is thrilling and challenging all at once, but the secret is to offer something more," said Mark Reuss, General Motors executive vice president of Product Development. "For Camaro enthusiasts, it retains iconic design cues and offers even more performance. For a new generation of buyers, the 2016 Camaro incorporates our most innovative engineering ideas with finely honed performance and leading design."
To make it not only the best Camaro ever, but one of the best performance cars available, Chevrolet focused on three pillars of development: Performance, Technology, and Design.
On the performance front, vehicle mass has been reduced by 200 pounds or more, creating a more nimble, responsive driving experience. Power in the SS gets bumped up to 455HP and 455 lb-ft of torque. Magnetic Ride Control active suspension is available on Camaro SS for the first time. And with improved handling and performance, the Camaro SS delivers better lap times than the fifth-gen track-focused Camaro 1LE package.
As far as technology goes, there's an all-new Drive Mode Selector, which tailors up to eight vehicle attributes for four modes: Snow/Ice, Tour, Sport and Track (SS only) settings. There's also a segment-exclusive Interior Spectrum Lighting that offer 24 different ambient lighting effects on the dash, door panels and center console. Not to mention high-definition, configurable color displays – including available dual, 8″ diagonal screens.
And when it comes to design, the Camaro has a more athletic-looking, sculptured exterior that complements the tighter, leaner architecture – and offers all-new, modern lighting signatures, including light-emitting diode (LED) technology. There's a wider range of customer personalization choices, including 10 exterior colors, 5 interior color combinations, and a slew of dealer-available accessories (wheels, stripe packages, etc). And an all-new interior with shifter-focused center console, intuitive controls, flat-bottom steering wheel, and higher quality materials throughout are all huge improvements.
Based on what we've heard so far, the 2016 Camaro's driving experience is significantly different, and you can immediately notice how much lighter and more nimble the Camaro feels. Given that was our main hang up about the last Camaro we drove, we're eager to drive the new model and see if it lives up to the hype.
The 2016 Chevrolet Camaro goes on sale later this year.