Man Trapped Overnight at Vegas Airport Shoots Ridiculous Music Video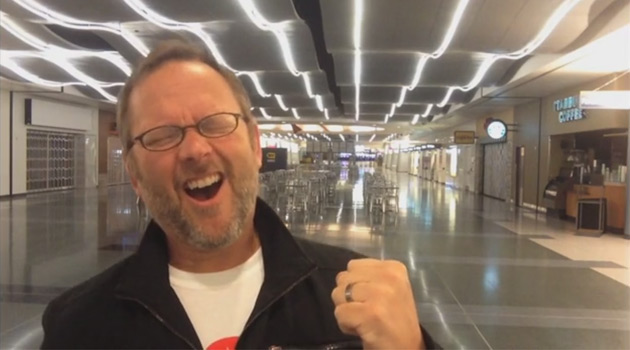 For most people, an overnight layover in Las Vegas means an excuse to party on The Strip till sunrise. But when weary traveler and lighting designer Richard Dunn found himself "all by himself" in an empty airport after getting bumped from two consecutive Delta Air Lines flights, he decided to pass the time by making an epic Celine Dion music video using his iPhone and some ingenuity!
"I thought, 'well, I don't have enough time to go to a hotel, so what do I do?'" Dunn told CBC News. "I've got my phone and an empty movie set, lets see what trouble I can get into."
Dunn found his song of choice, Celine Dion's All By Myself, and then waited until about 2am for the airport to clear. Then he got to work.
"I had a person behind a ticket counter give me a roll of luggage tape before she left. I then used a wheel chair that had a tall pole on the back of it and taped my iPhone to that. Then I would put it on the moving walkway for a dolly shot. I also used the extended handle on my computer bag and taped the iPhone to my handle. I would tuck different stuff under the bag to get the right angle. For the escalator shot I had to sprint up the steps after I got my shot so the computer bag didn't hit the top and fall back down."
It's hard to pick a favorite moment from this video, but we think the Flashdance-inspired water bottle pour at the end really gives the whole production an extra, ahem, splash.