Master The Grill With Chef Michael Symon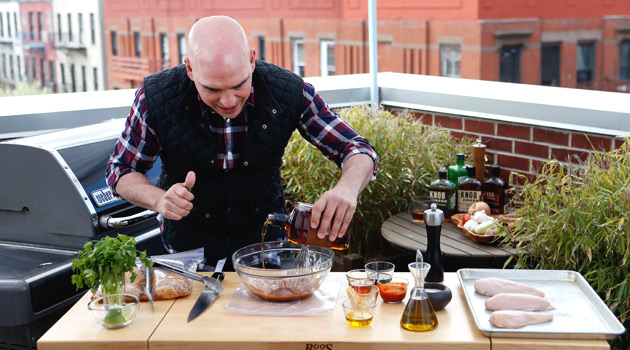 This summer, Knob Creek Bourbon and Chef Symon have teamed up to bring us an interactive web series demonstrating how to step up your grilling skills. If there's one thing every guy should know how to do, it's how to work the grill.
The Knob Creek Meat Master Class Video Series, hosted by Chef Symon himself, will provide step-by-step educational "classes" on how to create big, full flavor on the grill. From meat selection and preparation to proper grilling and plating techniques, Chef Symon will be your personal grill educator making sure you can deliver his full-flavored recipes all summer long.
Chef Symon's first class highlighting meat selection can be viewed below:

Want to look like a rock star this Fourth of July? Then serve your guests the following dish:
Knob Creek Bourbon Smokey, Salty & Spicy Grilled Chicken Thighs – Recipe by Chef Michael Symon
Recipe Serves 4
INGREDIENTS
8 Chicken Thighs (Bone-In and Skin-On)
2 Tablespoons Dijon Mustard
2 oz. Soy Sauce
2 oz. Honey
4 Tablespoons Sriracha
4 oz. Knob Creek Bourbon
2 oz. Olive Oil
2 Limes Cut into Wedges For Garnish
1 Bunch Cilantro For Garnish
PREPARATION
Whisk together Mustard, Soy Sauce, Honey, Knob Creek Bourbon, Sriracha and Olive Oil
Place chicken thighs in a zip lock bag and pour in marinade. Give it a good shake and let marinate for one to two hours
Place on grill and cook until you reach 160 degrees internal temperature
Remove from grill and garnish plate with lime wedges and cilantro
Bon appétit!