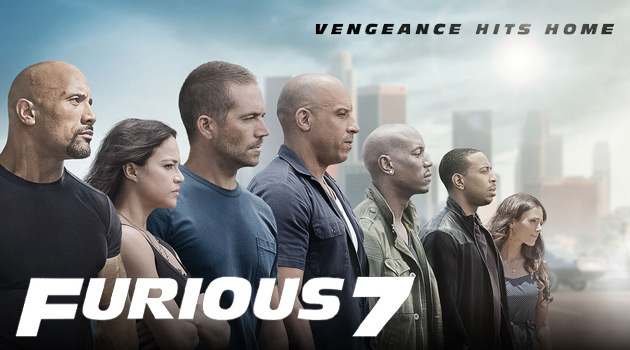 The Fast and the Furious series has always been a fascinating mesh of the most machismo of blockbuster tropes, with the genuine emotion and chemistry that comes from having a cast that has spent years together, and as such loves each other as much as the characters they're playing do. This dynamic has been what separates it from other blockbusters that some would claim are just as superficial, and it plays into what will always be so tragic about this particular installment. The tragic loss of Paul Walker in November 2013 not only affected the production of this film, but it also deeply scarred the close-knit cast, who promised to give us the absolute best film, and send off for their fallen brother that they could. In some ways, Furious 7 acts as a climax of about fourteen years of history. No pressure.
We pick up almost instantly after the events of the previous film, with defeated criminal Owen Shaw's (Luke Evans) brother Deckard (Jason Statham) seeking revenge against Toretto (Vin Diesel), O'Conner (Paul Walker) and their crew after murdering one of their own. Being that Deckard is Special Forces, he could be anywhere at any time, as the crew quickly finds out through the hospitalization of Hobbs (Dwayne Johnson), and the destruction of their home. Luckily, it seems like they may have a way to find him, as a mysterious government agent (Kurt Russell) offers them a way to track Shaw down, offering them use of a tracking device that hacks into any security camera it can find, if they can recover it from a group of terrorists.
At this point, if you're going into one of these movies, you should know exactly what you're getting – High intensity action sequences with absolutely no realism or limits, along with the group dynamic that we've come to love. This film delivers exactly that, in perhaps the most over the top, fun fashion in the series to date, while still adding enough of an emotional element to give everything stakes, something that the previous film lacked.
The cast perhaps won't be up for any Oscars next year, but they are reliable as ever. Diesel in particular shows a great deal more humanity here than normal, really selling us on his utter heartbreak at the loss of his friend, and his drive (see what I did there?) to get the job done no matter what. He also has affable chemistry with Walker, who has always acted as a great straight man to all the madness. Bryan O' Conner is so much a part of who he is, that it's especially clear here that the character needed to be retired here, and not replaced. The rest of our players do what they've been doing before to equally solid effect, Tyrese Gibson and Ludacris acting as wry comic relief, Michelle Rodriguez giving us a nice emotional arc with Dom as she tries to remember the years of love with Dom that she lost to amnesia, and Dwayne Johnson giving the most cheesy action hero lines the spice that only The Rock could cook up. It also helps that Statham is by far the best villain of the series so far, icy and intimidating, he's more a force of nature than anything else, and he makes it seem as though our characters are genuinely in danger.
Director James Wan, who comes from making some of the absolute best horror films of the past decade (The Conjuring, Saw) faces not only the challenge of moving to something of a much larger scale with massive expectations behind it, but the logistical nightmare of covering up the material that Walker was unable to finish. Fortunately, he ascends to both challenges with grace and style, giving us by far some of the craziest stunt sequences we've seen in these films to date, done practically whenever possible, and it looks fantastic. There's a fluid mix of car chases, stunts that seem pulled out of a comic book, hand to hand combat (with some particularly fascinating camera-work), and shootouts, with enough variety where it does not start to feel repetitive until deep into the last act of the film. As for his treatment of Walker, it's immaculate. The replacement of his body with that of either of his two brothers, Caleb and Cody, along with some CGI touch ups here and there is hardly even noticeable unless it's really looked for, and is not distracting in the least. Along with that, the movie ends with a send-off of Bryan O'Conner that is so touching, that it'll be hard to hold back tears, particularly in a final frame that is simply beautiful filmmaking.
The film does run into problems with it's length though. At a hefty two hours and twenty minutes, it becomes easy (especially towards the end of the film) to feel the bulk of sheer stimulation overload. With a bit of trimming, perhaps to an even two hours, the already tight pacing would have felt just right. Also, there ends up being so many sub-villains, that some of them just feel like excuses to throw fight scenes in, particularly characters played by Rhonda Rousey and Tony Jaa. It's just a bit too much of a good thing. Also, I wish that Wan had been allowed to put a bit more of his own stamp on this, incorporating less of his affinity for long takes and old school sensibilities than I would have liked, there are moments that just feel like Justin Lin is at the helm again.
Furious 7 not only acts as yet another blazing installment of pure mayhem, but also as a resonant goodbye to one of the franchise's key players. Perhaps it would be best to end the franchise on that final, beautiful frame, but seeing how much people love this gear-head version of Mission Impossible, I doubt that'll be the case. As it is though, this is one of the best rides this series has ever given us, and I suggest you take it.

Rating: B+