Movie Review: Horrible Bosses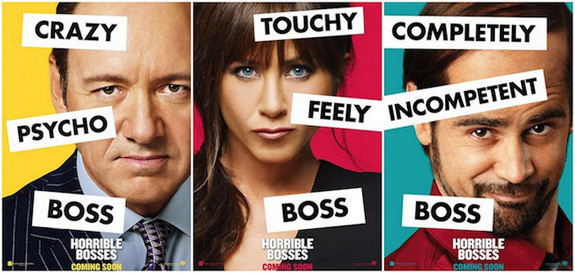 For Nick, Kurt and Dale, the only thing that would make the daily grind more tolerable would be to grind their intolerable bosses into dust. Quitting is not an option, so, with the benefit of a few-too-many drinks and some dubious advice from a hustling ex-con, the three friends devise a convoluted and seemingly foolproof plan to rid themselves of their respective employers…permanently. There's only one problem: even the best laid plans are only as foolproof as the brains behind them.
Sounds good? Check out the trailer below:
It's a familiar concept, but it's the cast that really makes this movie shine. Jason Bateman, Jason Sudeikis, and Charlie Day were hysterical, and the audience was laughing throughout.
And then there's Jennifer Aniston, who plays an oversexed dentist – A real departure from her regular roles, and I really loved seeing this new side of her! But it's hard to hate her in the movie, when all you can think of is her deep-throating a banana.
Tell you what, I'd like to bend her over a barrel and show her the fifty states, you know what I'm saying?
The other two bosses (played by Kevin Spacey and Colin Farrell) are total scumbags, and you'll never look at them in the same light again.
Honestly, I haven't laughed that hard in a long time.. If you're looking for something light-hearted and funny, definitely check out Horrible Bosses!