Neutrogena Men Wants You To Respect Your Face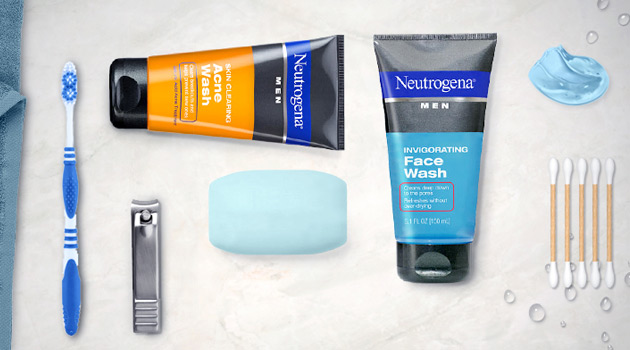 Let's face it.. Unlike women, most men don't give much thought when it comes to washing their faces. Who's wash their face with the same soap that they use on their body? I'll admit, I've been guilty of this myself. To combat these rookie mistakes, Neutrogena Men has teamed up with soccer star Landon Donovan to get men's faces in gear and to #RespectYourFace.
Now it's important to understand that a man's face requires specific care to look and feel its best. That's why Neutrogena Men has created skincare solutions for men that go beyond the basics, so you can take your grooming game to a whole new level.
Since men's skin is oilier than women's, you've got to make sure you're washing your face with the right stuff. Neutrogena Men Invigorating Face Wash is a foaming gel cleanser with a cooling lather that works down to your dirtiest pores without over-drying. Feel refreshed with a face wash that removes excess surface oil and dirt to improve your skin's overall healthy look.
56% of guys say they have sensitive skin, and almost 59% suffer from razor burns, bumps, or cuts. Face hurt from shaving? It might not be your blade that isn't cutting it. Neutrogena Men Sensitive Skin Shave Cream is specially formulated to work on contact to help calm, soothe and protect sensitive skin from regular shaving irritation. Pro-Soothe Technology also provides superior protection against razor bumps and ingrown hairs.
And lastly, almost 40% of guys say they have dry skin. But many of them aren't using a men's facial moisturizer to protect against dryness – not to mention sun damage. Neutrogena Men Triple Protect Face Lotion is the award-winning #1 moisturizer for men. In one easy step, it works to soothe razor irritation, heal dry skin and help fight the signs of aging. The lightweight formula contains SPF 20 sunscreen also helps to reduce the appearance of lines and rough texture for smoother, healthier looking skin.
With these three simple changes (that'll cost you less than $20), you can take your grooming game to the next level. Visit www.neutrogena.com to learn more about Neutrogena Men skin products.