Nissan 360 Event Highlights
A few weeks ago, Nissan hosted journalists from around the world for a 360-degree immersive experience of their products, company, heritage, and future direction at an event called Nissan 360, and I was fortunate enough to be invited out to this amazing event.
It's hard to cover everything I experienced in a single post, so you're going to see a number of posts from me in the coming weeks talking about the different cars I drove, the technologies I experienced, and the direction that Nissan Motor Company is headed.
The event was held at El Toro, a retired Marine Corps Air Station located near Irvine CA, and for two days we were able to drive 130 vehicles from Nissan's global portfolio on seven dynamic tracks. The different tracks ran the gamut, everything from an adventure off-road course to a high-performance course to an actual street course so you could see how the cars would handle in everyday situations.
My first stop was the Performance Course, a purpose-built 0.7 mile track that really lets you get a sense of what these cars are capable of. I was able to drive the Nissan 370Z Coupe, Nissan 370Z Roadster, Nissan 370Z NISMO, Nissan LEAF NISMO RC (a crazy zero-emission race car), Infiniti Q50S 3.7 and Hybrid, and Infiniti Q60 IPL Coupe and Convertible.
All of these cars performed amazingly well, but for me the biggest surprise was the Infiniti Q50S 3.7. Despite being an automatic, this car was an absolute BEAST on the track! It handled even better than the IPL, and if I had to choose between the two, I'd pick the Q50S without hesitation. The Nissan 370Z NISMO was TONS of fun as well, the NISMO package completely transforming the regular 370Z into something else entirely. Some might find the styling a little too Fast & Furious for their tastes, but I totally dug it.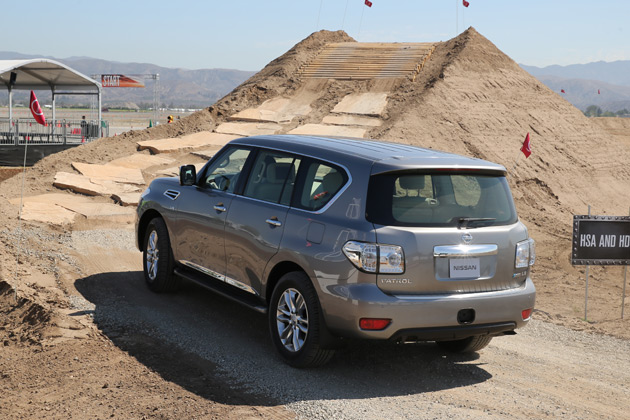 After that, I decided to shift gears and get a little muddy with the Adventure Course. Here, I got to drive five vehicles across a rugged half-mile course, maneuvering over, under and through obstacles that tested these vehicles most robust features and capabilities. We climbed steep inclines, eased down sheer descents using the hill descent feature, maneuvered in mud and sand, crossed through water that was crazy DEEP, and towed more than 9000lbs at full acceleration. The course really showcased each vehicles' off-road abilities, and it was an impressive demonstration for sure.
My favorite vehicle of the bunch was the Nissan Patrol, a luxury SUV that isn't afraid to get dirty. It's too bad that the Patrol isn't available in the US, because I think this truck would absolutely kill it over here. I was also really impressed with the Pro4X packages on the Frontier and Xterra. Aaron Turpen recently did a review of the Nissan Frontier Pro4X and told me how great it was, and now I'm a believer as well.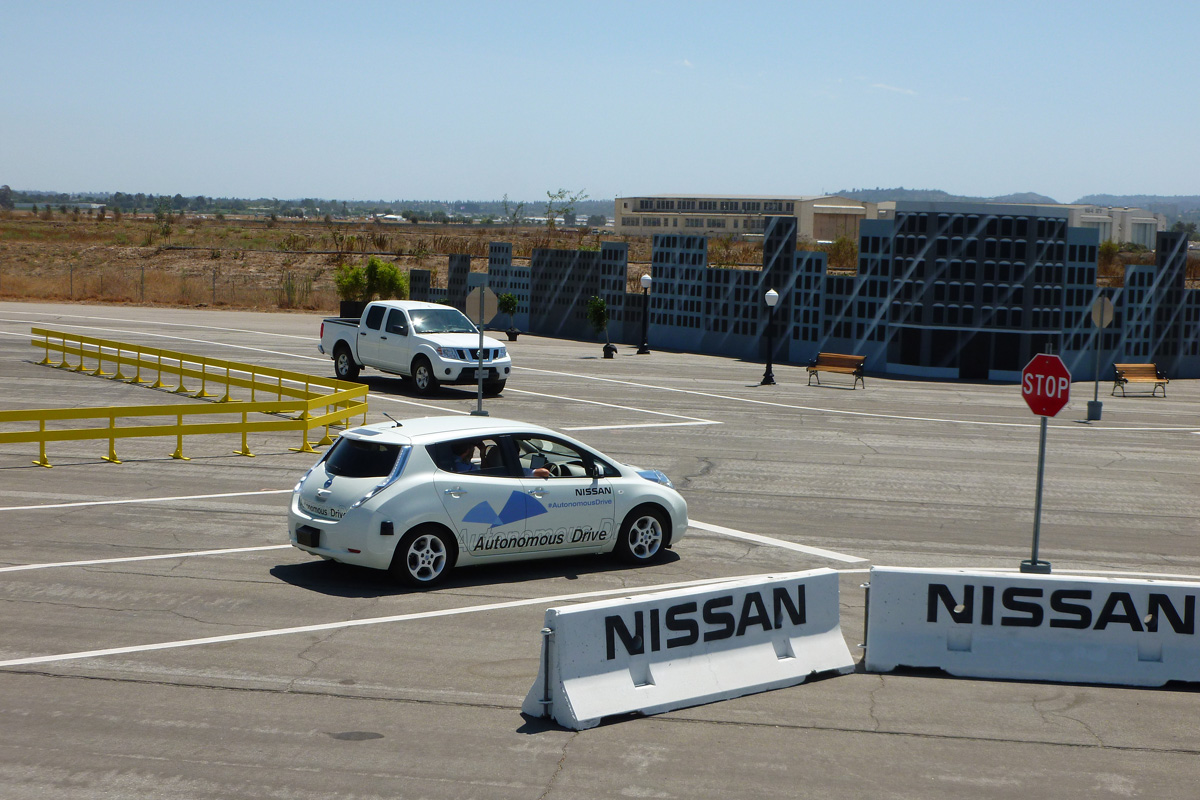 After lunch, I made a beeline for the Autonomous Driving course, where I got to ride in a self-driving Nissan LEAF. Nissan plans to bring self-driving cars to market by the end of 2020, and after getting to ride in one and see it first-hand, I'm a true believer. They setup a city course complete with traffic intersections, double-parked cars, and other driving hazards you can expect to find in daily driving, and the LEAF handled them all perfectly. It was a pretty surreal experience, and I posted footage from the ride-along on our Facebook page.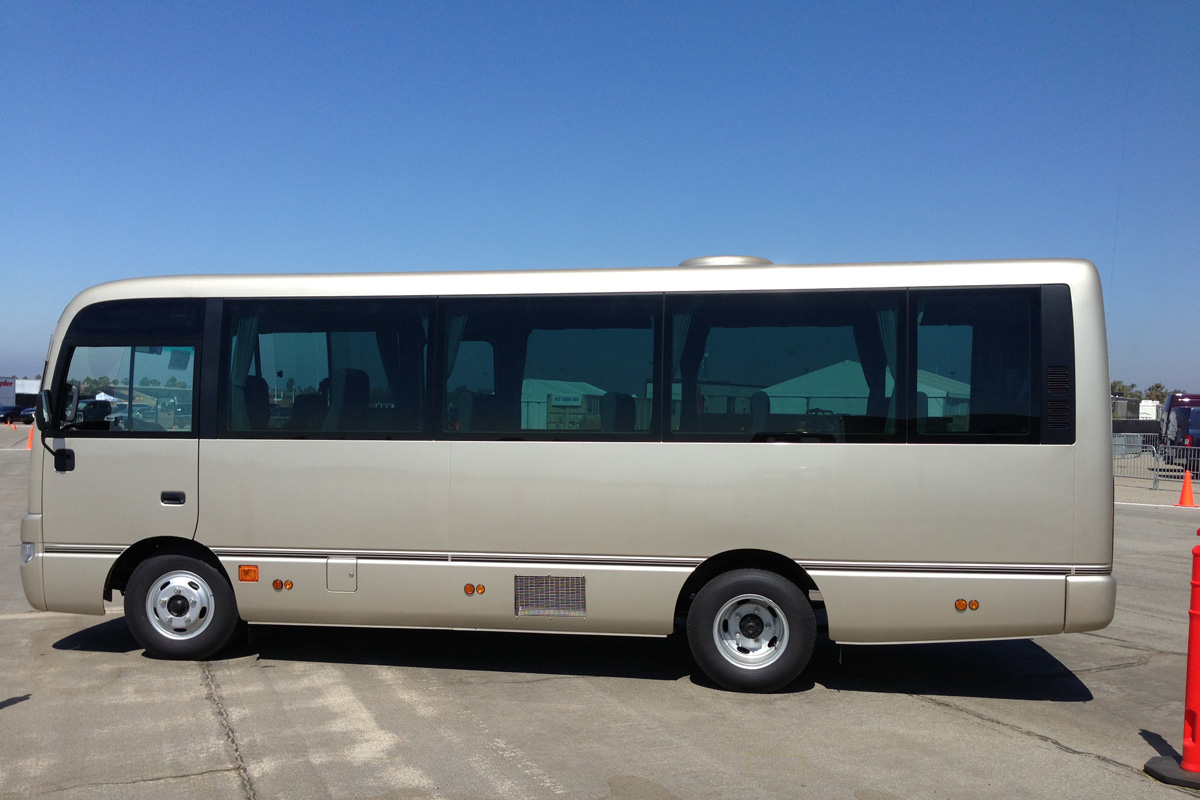 Up next was the Commercial Vehicle course, where I got in line for the Nissan Civilian, a 30-passenger bus that's used across Africa and Asia as a 'bloodmobile, school bus [and] presidential transportation', according to Nissan. This Civilian was powered by a 4.2-litre diesel with a five-speed manual. Most of the Nissan folks were surprised that the bus was so popular, but most people figured this would be their one and only time being able to drive a bus, so why not give it a shot. It was pretty cool..
I also took this opportunity to drive a RHD pickup truck with a 5-speed, just so I could see how the rest of the world drives. Turns out, it wasn't too hard at all, though I kept my hand on the shifter throughout the drive so I wouldn't forget. Again, it was a unique opportunity, so I decided to go for it. 🙂
The last cars I drove at the Commercial Vehicle course were the Nissan NV200 NYC Taxi and the Nissan Cedric Sedan Taxi. Talk about polar opposites here, these two taxis couldn't be more different. Step inside the Cedric and you're immediately time-warped back to the 80's. It's wild that these cars are still in service today. The one cool feature I liked about the Cedric was the dash-mounted handle that automatically opened the passenger door using hydraulics. Super trick, not sure why that feature never caught on.
As for the NV200 NYC Taxi, there's so much to say about it that I'm going to do a separate post about it. For now, let's just say that New Yorkers will be blown away by their new accommodations when they get into one of these bad boys come October. The shape might seem a little odd at first glance, but step inside and you'll become a believer in a hurry.
After that, I went to the El Toro World Drive, where I got to drive a number of cars that I hadn't driven before. Cars of note for me included the Nissan Altima, Nissan JUKE NISMO (so much cooler than the regular JUKE, inside and out), Nissan LEAF, Infiniti Q70 5.6 AWD (Infiniti's best kept secret, the Q70 is the successor to the M56, and it's a wolf in sheep's clothing), and the Nissan Lafesta Highway STAR (a distinctly Japanese van).
Finally, I wrapped things up at the High-Performance Course, where I got to drive the Nissan GT-R and Nissan JUKE-R on a 1.5 mile course that was designed to showcase the incredible power and handling of these vehicles. This is what I'd been waiting for all week! I drove the GT-R first, and riding shotgun was a pro-driver who gave me instructions as I made my way around the course. Apex up on the right. Brake. Brake harder. Gas. Gas. Gas. BRAKE! Before I knew it, the lap was over, and my adrenaline was still pumping. Wow, that was something else!
I then jumped into the Nissan JUKE-R, a menacing matte black beast with the heart of the GT-R, only in a MUCH lighter package. Still amped up from the GT-R run, I gunned it out of the pits, and I took the first turn a smidge too fast. Before I knew it, the JUKE-R was getting sideways on me, and it took all of my driving skills to keep it on the track. After that little episode, I dialed it down a notch and made my way through the course. That was a wild ride I won't soon forget.
All in all, Nissan 360 was one of the best automotive events I've ever attended, and it's really changed the way I look at the brand. Before this event, I honestly thought Infiniti had lost their way. But after driving their new models and looking at their concept vehicles, I'm really excited about Infiniti's future. Sure, I'm still not thrilled about their stupid naming convention, and I do wish their styling was a bit more edgy, but baby steps. As for Datsun, I really think they're onto something with the Go, it should be interesting to see how emerging markets like India take to it.
Congrats to Nissan on 80 years, and here's to the next 80!