The 2013 Nissan Frontier Pro4X Is A Party On Four Wheels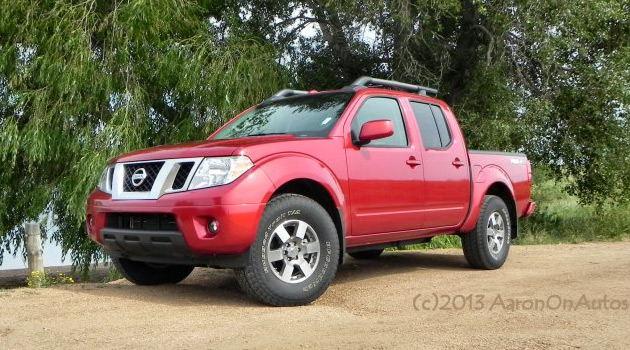 What seats five, can carry all the camping gear you can muster, is capable of going just about anywhere (no matter how remote), and looks damn awesome doing it? The Nissan Frontier Pro4X.
If you and your friends enjoy the outdoors and aren't afraid of a little mud, sand, or whatever else nature puts in the way, then this is the truck for you. The 2013 Nissan Frontier Pro4X is one of the best off-road machines you can buy without sending your personal economy into a recession. Plus, it looks great clean or dirty and exudes awesome 4×4 prowess and capability too.
Under the hood of this beast is a powerful 4.0-liter V6 that puts out 261 horsepower from its 24 valves and 281 pound feet of torque through the six-speed manual or five-speed automatic transmission. There is a four-cylinder option, but it doesn't save much fuel given the hundred or so horses you'll have to give up for it. The V6 also gives a massive 6,500 pound towing capacity so you can bring that trailer with your toys on it too.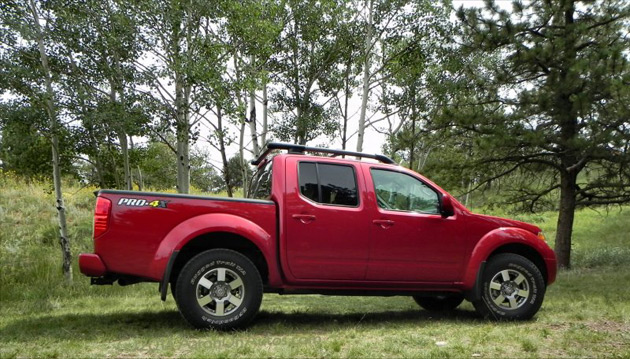 One must that every 2013 Frontier Pro4X buyer has to have, even if you don't opt for the full quad-cab version (recommended, as it adds a lot of room for the rear seats), is the Rockford Fosgate premium sound system. Whether you twangle away with Bluegrass or shout at the devil on Ozzy's Boneyard, this premium system will blast it with excellence.
The Pro4X is made for off-road. It's capable on the road and a comfortable ride for everyday driving and road trips to get to the good mud, but once it's off the pavement, the Nissan Frontier Pro4X is capable of serious badassery. In our off-road testing, which we extensively (and happily) conducted, the Frontier proved itself to be legendary. It's just as content to rally down the dirt trail as it is to crawl up or down the wash or blast through the mud in a shower of brown loveliness.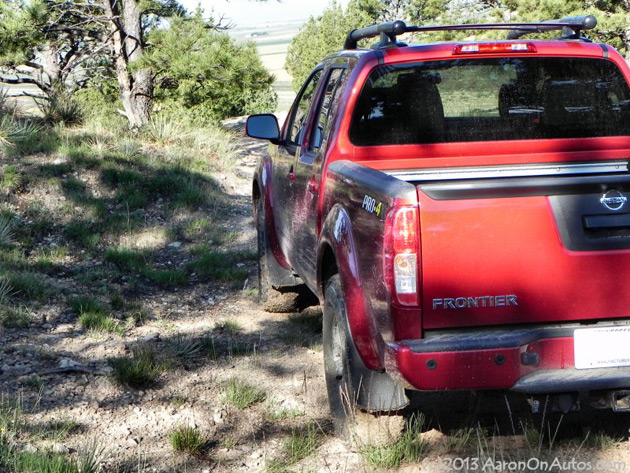 Without any modifications, the factory Pro4X package on the Frontier makes it a powerful, capable, and well-rounded off-road tramp that's ready for anything. That package includes driver-controlled locking rear differential (electronic), hill slant assist, Bilstein high-pressure off-road shocks, driver-controlled hill descent control, and a full spare. Add in the power of the aforementioned V6 and you can plainly see the Frontier Pro4X isn't fooling around.
Honestly, the only competition for the Frontier Pro4X off-road are its brother, the Nissan Xterra, and the Jeep Rubicon. The Xterra is an SUV and quite capable on its own, being a mirror of the Frontier in everything but body style. The Rubicon lacks the payload and the good looks of the Frontier's pickup build, though it does have a slightly more powerful engine offering.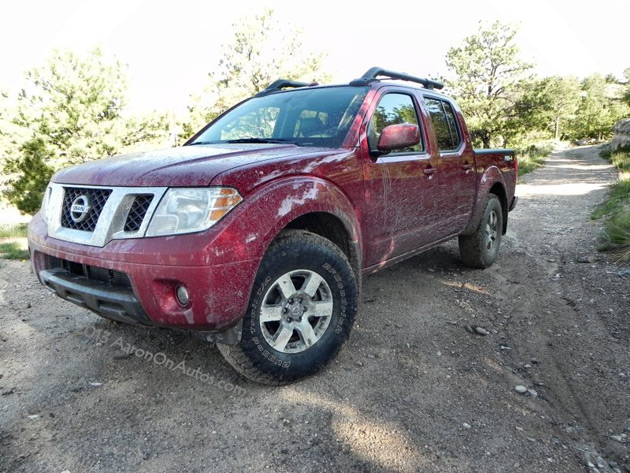 Everyday, though, the Frontier is a great vehicle to own. The 2013 Frontier Pro4X doesn't have the best fuel economy, but it's on par for the segment at 16/22 MPG city/highway (V6 4×4). In our week long drive, we packed in car seats, friends and family, gear, and even some hay bales for some llamas (shout out to Craig on that one). The Frontier is a practical pickup truck with some great options like built-in load locks and a tailgate load cage. It's also practical as a people mover, being able to haul five in reasonable comfort (in its quad-cab configuration).
Make sure to watch the video I compiled of the Frontier Pro4X being driven out here in Wyoming.