Overweight Man Calls Police After Being Cut Off By All-You-Can-Eat Restaurant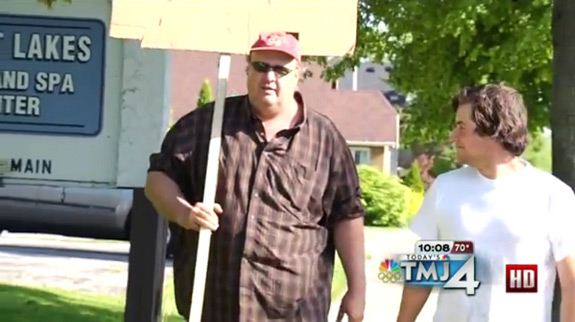 350-pound fatty Bill Wisth called the police after Chuck's Place, an all-you-can-eat buffet restaurant in Wisconsin, decided he'd had enough fried fish and cut him off at 20 pieces.
According to TMJ4-TV, the restaurant cut him off after watching Wisth eat 12 pieces of fried fish last Friday. The restaurant management claimed that they were running out of fish. They gave Wisth eight more pieces, for a total of 20, and sent him on his way.
Wisth left the restaurant and called the police. He returned two days later with a protest sign, and he says that he plans on picketing the restaurant every Sunday until his demand for an endless supply of fried fish is met.
He told TMJ4-TV: "It's false advertising. I think people have to stand up for consumers."
Oh the humanity!