800-Pound Bride Fitted in World's Biggest Wedding Gown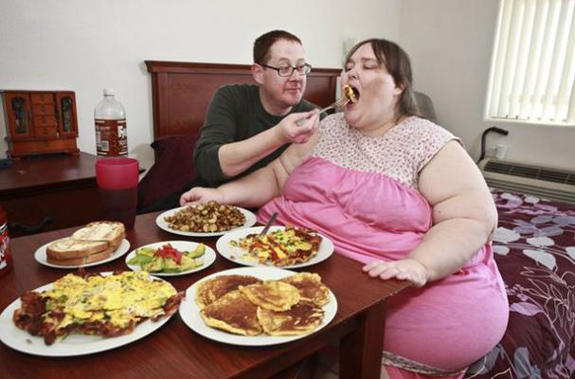 800 pound bride-to-be Susanne Eman told TV show 'Inside Edition' that she was nervous about wearing an all-white wedding gown: "I like an off-whitish, not completely white. Because if I wear completely white, I guarantee I'm going to spill something on it."
The 32-year-old single mom eats 30,000 calories a day and is trying become the fattest woman ever, beating 1200-pound Rosalie Bradford, who passed away in 2006.
Even though she's still 400lbs shy of her goal, she's got a great "support system" on her side, since she's engaged to Parker Clack, a chef who she met on the web: "Oh, he's wonderful. He loves to cook. That helps out. His food is soooo good."
So how does one going about consuming 30,000 calories a day? Check out her lunch order from Carl's Jr. – Three guacamole bacon cheeseburgers, two orders of chili cheese fries, nine tacos, a chocolate shake and a large Coke. Yikes!
Seamstress Judy Goff said that the wedding gown will have to fit around a 107-and-a-half inch waistline (nine feet). WTF?!