Pizza Hut Gives Fans The Chance To Star In Ad On Day Of The Big Game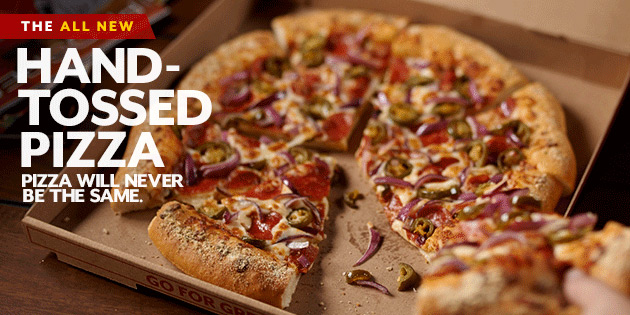 This week, Pizza Hut is launching its Go For Greatness campaign, a year-long search for one-of-a-kind talent that starts in New York City.
What is Go For Greatness? It's not settling for good, but being passionate enough to go for great. It's why Pizza Hut introduced its all new one-of-a-kind Hand-Tossed pizza and why they'll celebrate greatness all year long by providing opportunities for real people to be featured "taking things up a notch" in its marketing.
To support the initiative, Pizza Hut will play host to live auditions in New York City this week for fans to show off their one-of-a-kind greatness for a chance to appear in a Pizza Hut commercial that will air just hours later on the day of the Big Game. The auditions will occur on January 29 & 30 near Times Square, on 46th Street between 8th Avenue and Broadway. More information is available on the Pizza Hut YouTube channel.
Auditions in New York City will take place from 11am to 3pm on January 29th & 30th, and they'll feature one of the great young quarterbacks in pro football, Cam Newton. Newton will join Pizza Hut as an ambassador of greatness, helping the brand with the auditions by identifying the unbelievable and undiscovered talents. Pro football studio host Trey Wingo will act as event emcee.
"I'm thrilled to be a part of a program like this because I do believe there's greatness in all of us," Newton said. "I can't wait to see what people come up with. It's cool that Pizza Hut is looking for greatness anywhere and everywhere, and there's no better place to start than New York City."
Auditions will be captured live, and one lucky entrant will be selected to be featured in a commercial airing just before the championship matchup between Denver and Seattle on February 2nd. Examples of Go For Greatness commercials, all of which will air on game day, can be viewed now at www.youtube.com/pizzahut.
Pizza Hut will use hash tag #GoForGreatness to track the activity across all social media channels, as well as showcase some of the submissions from throughout the country shared online.
To complete the one-of-a-kind experience in New York, fans will have the opportunity onsite to try the all new Hand-Tossed pizza from Pizza Hut, which features a lighter, airier crust topped with real cheese made from Mozzarella and brushed with a buttery garlic flavor. The new recipe produces varying textures within the crust and cheese sprinkled to the edge, making each pizza truly one-of-a-kind.
The new Hand-Tossed pizza will be the top-selling style of pizza leaving Pizza Hut kitchens on the day of the Big Game, the brand's busiest day of the year. In fact, Pizza Hut expects to sell more than 2 million pizzas on February 2nd – That's more than any other pizza company in America and could be one of the biggest single-day sales total in the long history of Pizza hut.
So what exactly does the busiest day of the year look like for Pizza Hut? Check out just a few ways to put more than 2 million pizzas in perspective:
Going the distance. Pizza Hut will dish out approximately 442 miles of pizza – enough pizza to finish 17 New York marathons.
America's sweetheart goes by…Pepperoni. 80% of Big Game orders will include pepperoni; that's 14 billion pepperonis – enough to circle the Earth 13.5 times.
Tons of dough. Well, 1,200 tons to be exact. That's more than five-times the weight of Lady Liberty (but don't tell her we told you!).
It takes an army. 120,000 Pizza Hut employees are expected to be working the Big Game to handle the 2.5 million phone calls and online orders received by Pizza Hut. Over 57,000 Pizza Hut delivery drivers will be on the road during the Big Game, covering more than 7,000 miles.
For more information or to order the new Hand-Tossed pizza, visit PizzaHut.com.