Previewing The 2014 Maserati Ghibli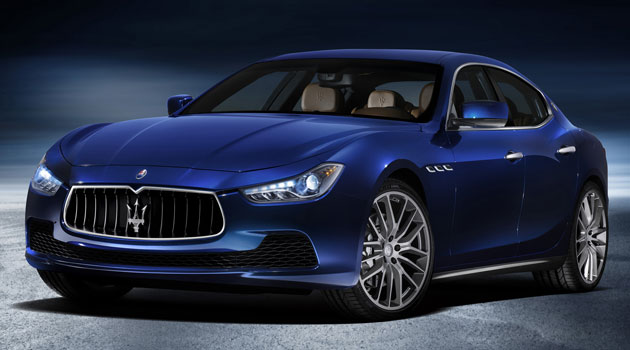 Last Tuesday started like any other day. But it took a turn for the better when my editor asked if I could cover a media preview of the 2014 Maserati Ghibli being held in Manhattan later that night. Seriously?!
Now we posted photos of the Ghibli back in April just before the Shanghai Motor Show, but this was my first time actually seeing the new Maserati in the flesh. And let me tell you, it's a looker for sure, with curves in the right place, and an overall luxurious feeling about it.
The literal meaning of the word "Ghibli" is a hot dust bearing wind of the North African desert. Now let's take that word and apply it to the Maserati Ghibli. Is it hot? Most definitely! Is it dust bearing? No…but it will make you eat it's dust!
The new Maserati Ghibli will be available in the US with 2 different turbocharged 3.0 liter V-6 Ferrari engines, while overseas they will also have a third option, a diesel engine. This will be the first diesel engine Maserati has ever put into any of their vehicles, and it's also the first diesel engine ever built by Ferrari.
The 3.0L engine in the base Ghibli produces 325 horsepower and 368 pound-feet of torque, averages about 24mpg, and rockets the car from 0-60 in about 5.6 seconds. The Ghibli S shares a similar 3.0L V-6, but this one puts out 404 horsepower and 405 pound-feet of torque, propels the car from 0-60 in 5 seconds, with a top speed of 177mph! Both Ghibli models are mated to an amazing ZF eight-speed transmission.
Maserati has introduced a new all-wheel drive system called the Q4, which is only available for the Ghibli S. In normal driving, 100% of the Ghibli's power is sent to the rear wheels, but 50% of it is capable of being sent to the front wheels when conditions demand it – in just 150 milliseconds! That is insanely fast, considering it takes the average human being 300 to 400 milliseconds to blink their eye.
The Ghibli shares most of it's underpinning with the new Maserati Quattroporte. Even though it shares it's double-wishbone front suspension and multi-link rear setup with the Quattroporte, we expect the Ghibli to deliver sharper handling, considering almost a foot shorter than the Quattroporte (195.6 inches vs. 207.2 inches). All Ghibli models come standard with a limited slip differential and Brembo brakes. Standard wheels are 18 inches, while the S model gets a staggered, more sportier setup which can measure up to 21 inches.
Here are a couple of photos from the event. Unfortunately large crowds and poor lighting prevented us from getting better pictures, but we're sure Maserati will be releasing more photos in the coming months.

Neither pricing nor a release date have been specified, but expect to see the car on showroom floors before the end of the year.
What do you think of the 2014 Maserati Ghibli?