Retro Sneaker Style Meets Sanuk Slip-On Comfort
A few months ago, I started seeing these odd television commercials for a "shoe" from a company called Sanuk. After seeing the commercial a few times, curiosity finally drove me to their website. And a few minutes later, I decided to get a pair of them!
Founded by Southern California native Jeff Kelley, Sanuk provides creatively inspired yet distinctively designed footwear products for the global outdoor community. Taking its name from the Thai word for fun, Sanuk strives to make innovative products that are as much about funk as they are about function.
The brand is best known for its Sidewalk Surfers, often referred to as "Not-A-Shoes", for their patented sandal construction which allows your feet to bend and flex in natural comfort. Imagine a lightweight canvas upper sewn onto a thong flip-flop bottom, and you get the idea. They call this approach Barefoot Un-Technology, which allows all the muscles in your feet to work as if they're bare.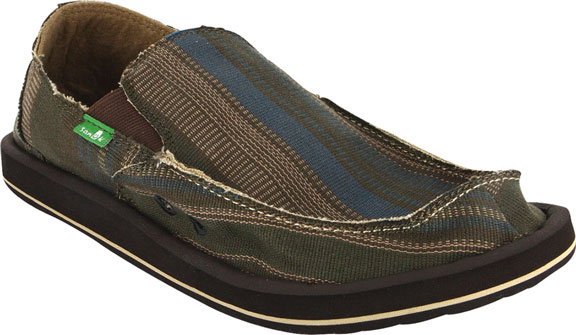 A number of Hollywood A-listers have been spotted rocking Sanuks, including Matthew McConaughey, Brad Pitt, Zac Efron, and Julianne Hough!
But that's not why I got them, it was the design really sold me – Stylish yet casual! And the fit is just perfect, they were immediately comfortable without any break-in period. That's a huge plus in my book, as I hate breaking in new shoes!
These sandals are great if you're a surfer, rock climber, or someone who just likes walking around barefoot. They provide an extra level of protection for your feet, while still giving your foot freedom to move about. (But if you're someone who needs arch support or a more rigid sole because of foot problems, this isn't the right shoe for you)
Overall, I was really impressed with the Sidewalk Surfers. Everyone who sees them asks me about them, they really get noticed.. Find a dealer near you and check them out!
(And while you're there, try out the Sanuk Beer Cozy Primo Sandals, my new favorite sandals. Insanely comfortable and cushy, you won't believe it when you slip them on!)