Review: Arby's Arby-Q Sandwich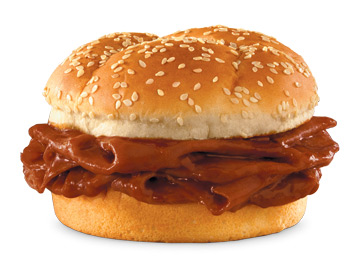 When I walked into my local Arby's, I was greeted with a sign for the Arby-Q sandwich. I wasn't sure what to think of it, so I asked the girl working the counter if she'd tried it. She said it was awesome, and that it tasted like a pulled pork sandwich. That sealed the deal for me!
At $2.69, it's not exactly the cheapest thing on the menu, but it's still quite a deal compared to some of their overpriced chicken sandwiches that cost nearly five dollars!
After ordering the Arby-Q, the girl asked if I wanted to add a slice of cheddar cheese to it for an extra $0.49. It sounded good, why not?
O.M.G.
Words just don't do this sandwich justice! The Arby-Q consists of Arby's trademark roast beef smothered in a tangy, sweet barbecue sauce and served on a toasted sesame seed bun. It might not sound like much, but it tastes AMAZING. I devoured the Arby-Q in record time, and even contemplated getting another one. But I resisted the temptation..
I've heard that the Arby-Q will only be available for a limited time, but I'm hopeful that they'll keep it on the menu if it sells well. So head on down to your local Arby's and try the Arby-Q before it's too late!