Serve Planters Nuts At Your March Madness Party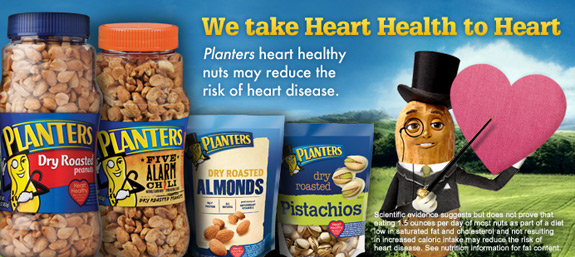 With March Madness right around the corner, party hosts everywhere are looking for a smart, healthy snacks to serve. One popular healthy option that basketball fans grab to keep them full and satisfied is nuts – and Planters offers nutritious, tasty and convenient snacks to serve during the big games. Besides, what's a party without Mr. Peanut?!
Planters has been America's favorite brand of peanuts for over 100 years. Whether you love Planters Peanuts for their delicious peanut taste or their satisfying crunch, there's a heart healthy variety just for you:
Planters Lightly Salted Dry Roasted Peanuts: Deliciously seasoned, dry roasted USA grown and harvested peanuts with 50% less sodium than the original.
Planters Five Alarm Chili Dry Roasted Peanuts: Brings real bold flavor to dry roasted peanuts. We use real spices and natural flavors to add some heat to an old favorite.
Planters Unsalted Dry Roasted Peanuts: Delicious dry roasted, USA grown and harvested peanuts.
Planters Dry Roasted Peanuts: Deliciously seasoned, dry roasted USA grown and harvest peanuts.
On March 28th, Mr. Peanut will officially launch the "Peanut Butter Doug's Peanut Butter Challenge" on www.facebook.com/mrpeanut. You can submit a photo, video, recipe, or written entry that proves how much you love peanut butter, and the top 16 submissions (as voted on by fans) will win a case of Planters Peanut Butter.
The grand prize winner will receive two lifetime supplies!