Review: Rocky Mountain Popcorn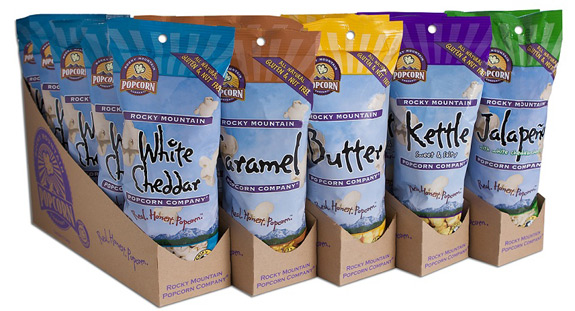 Rocky Mountain Popcorn started over 20 years ago in the eastern foothills of the great Rocky Mountains near Denver, CO. Long known as a great local product, the company grew by reputation until 2007, when it exploded onto the national scene, bringing the bold taste of the Rockies to a nation hungry for wholesome snacks.
Popcorn is one of my guilty pleasures.. On my last trip to Chicago, I ate a ridiculous amount of Garrett's popcorn while I was there! So I was eager to try out Rocky Mountain Popcorn and see how it compared.
Rocky Mountain Popcorn sent us a generous sampling of all their current popcorn flavors to review on Guys Gab, as you can see in the picture below: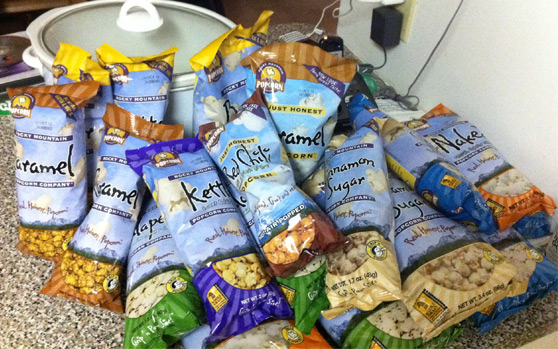 We got bags of White Cheddar, Caramel, Cinnamon Sugar, Kettle Corn, Jalapeno, Butter, Red Chili, and Naked. So many bags to choose from, where to start?!
Honestly, it's a bit of a blur what happened next.. Bags were ripped open in short order, and everyone started chowing down.
I really liked the Butter and Caramel flavors. Butter tasted just like movie theater popcorn, with the perfect balance of butter and salt. Caramel reminded me of my favorite boardwalk spot, Johnson's Popcorn in Ocean City NJ!
Nicole liked them all, but her favorites were Naked and White Cheddar. Her exact words: "This is the best popcorn I've ever had!" A pretty bold statement from another popcorn aficionado.
Trent likes the spicy stuff, so he went to town on the Jalapeno and Red Chili bags. I'm not one for heat, so I stayed away from them. But judging from his smile, I'm guessing he liked them.
Overall, we were all REALLY impressed with Rocky Mountain Popcorn.. If you've got a store nearby that carries them (use their store locator to find retailers), definitely head over there and grab a couple of bags. If not, you can order online and have the popcorn shipped to you.
Want free popcorn? Get 3 of your friends to like their Facebook page, and you'll get 3 bags of Cinnamon Sugar popcorn! This offer's good through the end of March, so don't delay!
Rocky Mountain Popcorn – Real. Honest. Popcorn.
http://www.rockymountainpopcorn.com/