Review: Pizza Hut's $10 Dinner Box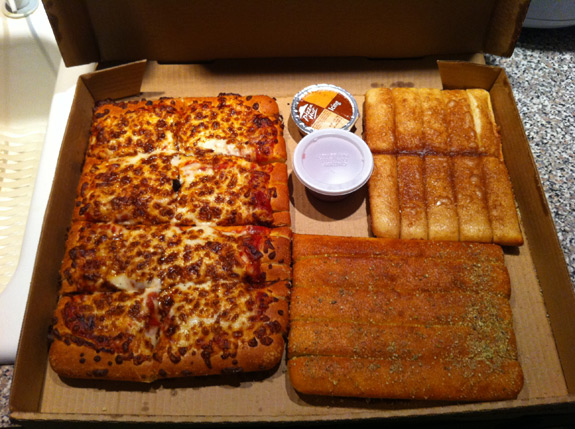 Ever since Sujeet posted about Pizza Hut's $10,010 Engagement Party Package recently, I have had their Pizza Hut $10 Dinner Box on my mind, and I finally caved in last night and ordered it. Damn you viral marketing!!
For those of you who haven't heard about it yet, the Pizza Hut $10 Dinner Box comes with a medium rectangular 1-topping pizza, 5 breadsticks with marinara dipping sauce, and 10 of their cinnamon sticks with icing – All in one convenient box. Sounds like a good deal, right?
As you can see from the photo above, the "medium" pizza wasn't all that big, it was more like a smedium. Upon further inspection, we discovered that the pizza was actually made from 10 breadsticks, covered with sauce and cheese. Sure, it still tasted like a regular Pizza Hut pan pizza, but it would have been easier to eat if they weren't cut into 10 breadsticks.
My guess, that's probably how the dough is shipped to them, pre-cut for breadstick duty, and they are just making do so they don't need to invest in new pans or anything, especially since this is a limited-time offering. As for the cinnamon sticks, I had never had them before, so this gave me a chance to try them. Personally, they were too sweet for me, but kids will love 'em!
Overall, for $10, this is a pretty good deal, especially if you want to mix things up with some pizza, breadsticks, and cinnamon sticks.. There's no telling how long this deal will last, so if you're interested in taking advantage of this deal, don't wait too long!