Review: Baxter of California Skincare and Shaving Products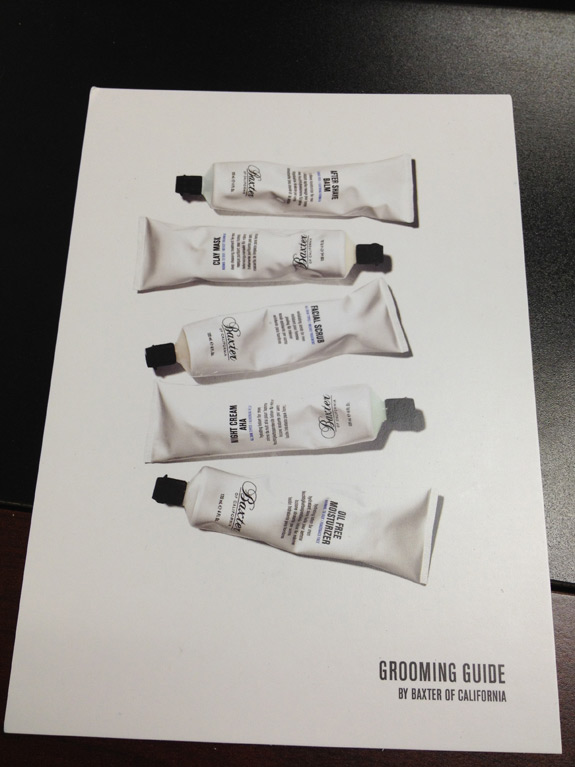 Baxter of California offers cutting-edge men's products that target very specific skincare needs, and formulations that combine the trusted traditions of science with fine ingredients with nature. Ideal for all men's skin types, the high-tech assortment works alone or in tandem, providing intelligent skincare solutions to anti-aging, shaving, cleansing and basic skincare.
Curious to see if the Baxter products lived up to the hype, I requested their free sample pack, which comes with a wide variety of products, as outlined below: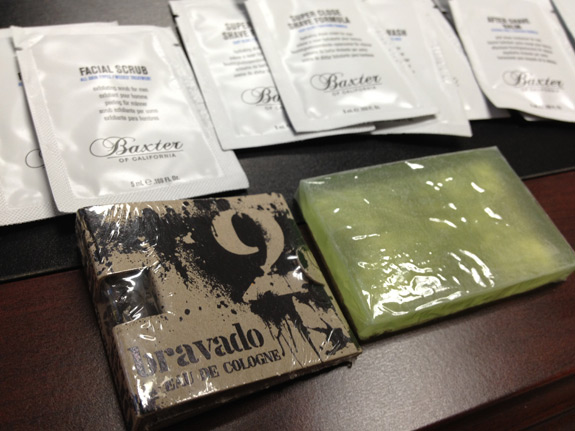 Daily Face Wash is a gentle, non-oily cleanser that lathers well and is easy to apply. It leaves a very refreshing feeling without any scent. I also tested this with a Clarisonic style scrubbing brush. The rotating bristles dig deep to exfoliate and the daily face wash is even more effective with this tool. I like this wash, but unless you're already ordering something from Baxter, I wouldn't pay shipping for this alone.
Vitamin E-D-A Soap Bars – The sample comes with Lime and Pear flavors. They are both small, but solid bars of soap that should be lathered in your hands before being applied to your body. I'm generally a body wash type of person, but these soaps may turn me over. They smell great, subtle, but enough of a lingering trace for women to know you've showered recently. I prefer the pear scent, but if you're looking for one area to upgrade your personal care–soap is the way to go. People who may be used to Irish Spring or some cheap soap by the pound won't know what they are missing until you've tried a high quality glycerin soap. The mostly clear brick also provides an interesting piece if you have company in the shower. They come with vitamins might be a great pickup line!
Super Close Shave Formula was smooth, but did not stick well to a damp face. I always shower first before shaving and wipe my face dry with my hand only. I found it difficult to get a good test since there was so little in each packet. A badger brush would likely provide a better application and the instructions suggest using one, I will have to buy a good badger brush and re-test this product. The end result was no different than my $0.89 can of Barbasol.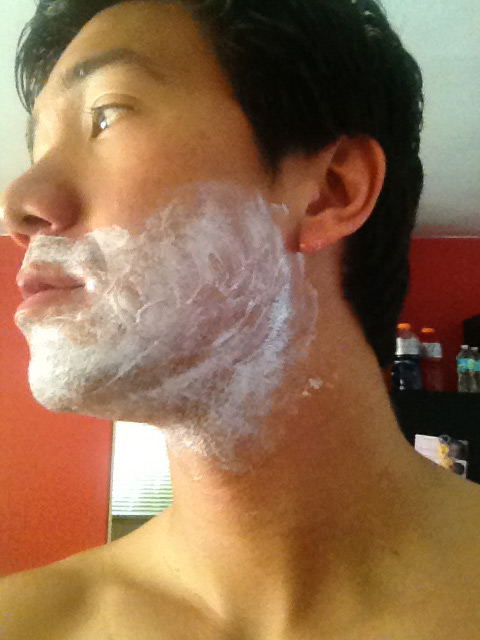 After Shave Balm – The aftershave stung a bit, but nothing like a slap in the face to start your day. It is fairly gooey, with a runny consistency that will spread easily in your palm. Little to no scent. Nothing extra-ordinary here, stick to the drugstore specials.
Facial Scrub is a rough cutting true exfoliating product. It has bits of ground up walnut shell to remove layers of dead skin and really polish your mug. I compared my face before and after when using this product and my regular St. Ives Apricot scrub and could discern no difference visually or physically. My advice: save your dollars and get a generic scrub.
Oil Free Moisturizer – This is a fantastic product. I'm not suggesting you need to spend 15 minutes preening in front of a mirror everyday, but use this if you are aware of your face being dry or showing wrinkles. This nourishing lotion applies quickly and won't run into your eyes. I can notice a difference after I've spent a day out on the beach or when the wind was hitting my face all day. This lotion is a quick pick me up that is fragrance-free and will pay dividends in the future. They also suggest applying lotion on your neck since it takes a lot of abuse and wrinkles can be highly visible.
Bravado Cologne 2, 3 – I typically wear Chanel (Bleu de Chanel) as my daily wear with special occasions calling for Creed or Odin. Overall, I was indifferent towards this cologne. It has a citrusy scent which I wasn't really able to distinguish between the two. They are both very light and can be worn anytime of day. I did feel it was more of a summery/spring smell which is definitely easier/safer to develop and to wear. At the end of the day though, I wouldn't buy any cologne over the Internet without smelling it in person first.
The Verdict:
Overall, I am impressed with the Baxter products. They truly represent an "upgrade" over drugstore specials, but I'd only consider the soap as a "must have." Throw in an additional product or two if you're already paying for shipping because its one flat rate!