Review: Dreadnought Shaving Products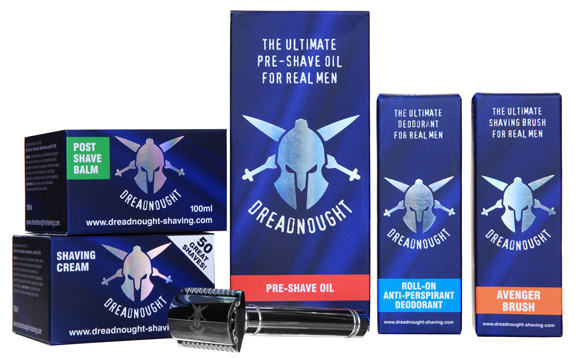 Dreadnought was developed for use by problem shavers – Those testosterone charged men for whom the toughest of stubble is an everyday fact of life. And that's me to a T. So when Dreadnought asked if I'd like to try out their line of shaving products, I immediately jumped at the chance to try it out!
Dreadnought shaving products not only contains the finest ingredients you would normally expect from a premium brand, but they also feature this miracle ingredient called Decelerine, a scientifically proven marvel that within a few months use claims to reduce the appearance of hair, which in turn makes your shave closer and more comfortable.
They sent us the Dreadnought Luxury Shaving Cream, Dreadnought Post Shave Balm, and the Dreadnought Avenger Shaving Brush. I've always wanted to try a shaving brush, so that was a nice little bonus that I was psyched to try out! The instructions said to add an almond sized a dollop of shaving cream onto the brush and whip up into a fine lather on your face. It doesn't seem like a lot of shaving cream, but it's amazing how far it goes when you apply it to your face. The 100ml container says it's good for 50 shaves, which sounds about right.
Dreadnought designed and engineered their products to tackle the toughest of beards whilst reducing razor rash, burn, cuts, nicks and ingrowing hairs. And after using it for a few weeks, I can honestly say that it delivers on all fronts.
No longer do I suffer from razor burn or ingrown hairs, which has long been a problem for me. And the scent of the shaving cream / aftershave has elicited a number of positive comments from the ladies, which is a huge plus!
If you want the Shaving Cream ($19.00), Post Shave Balm ($19.00) and the Avenger Brush ($15.00), you're looking at a total cost of $53.00. Considering that you'll get 50 shaves from it, that breaks down to roughly $1 a shave, a relative bargain!
I highly recommend all three products, which can be purchased through the company's website at www.dreadnought-shaving.com.