Review: Hard Rock Hotel & Casino Las Vegas
We recently came to Las Vegas for a week-long adventure, and we spent the first few nights at the Hard Rock Hotel & Casino Las Vegas, where we gambled, partied the nights away, and took in the sights and sounds at Vegas' original pool party, Rehab!
Many people tend to forget about the Hard Rock, as it's located about a mile from the strip, off Paradise Road and Harmon Avenue. But head south from Planet Hollywood, and you can't miss the bright neon guitar that marks the entrance to the Hard Rock Hotel & Casino. I hadn't been to the Hard Rock in ages, and I was surprised at how much had changed over the years.
We stayed in the boutique HRH All-Suite Tower, a spacious and modern luxury tower where sophistication and fantasy reign supreme. This tower offers an exclusive arrival, valet, check-in, lobby, bell desk, concierge, sundry shop, and spa and services only available for HRH Tower guests. Combining a little rock 'n roll with a lavish atmosphere, the HRH Tower offers guests the ultimate experience of supreme indulgence.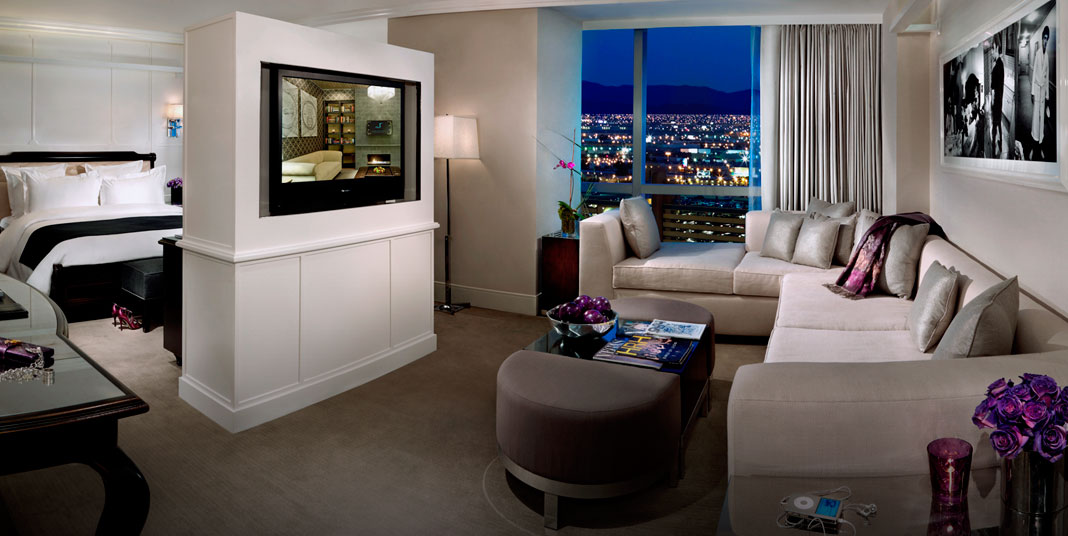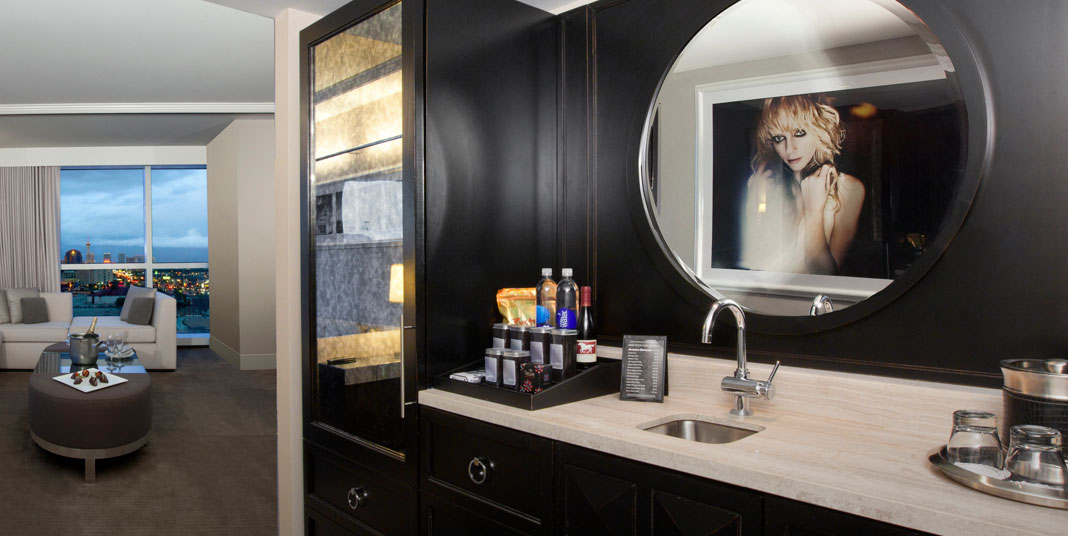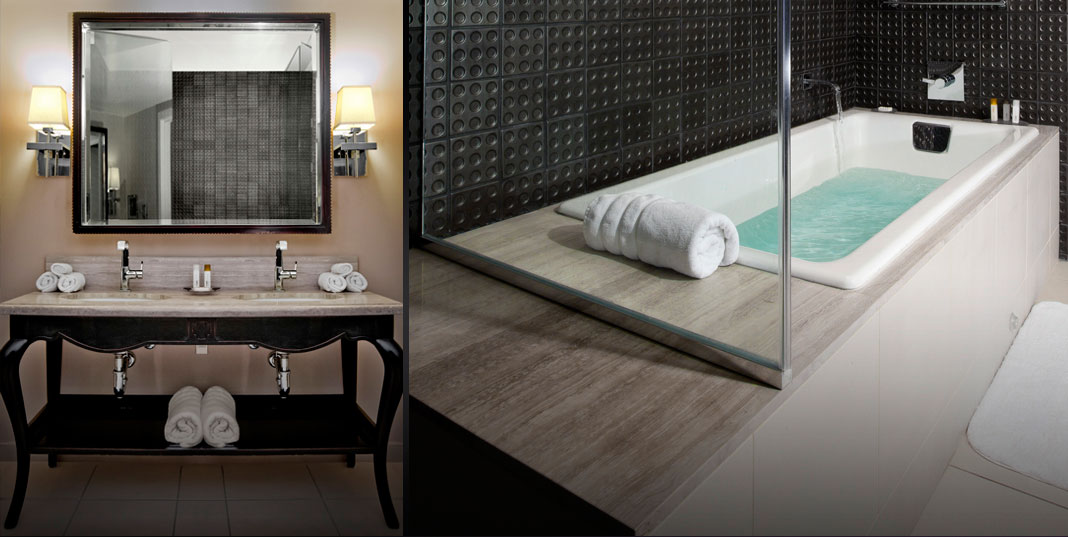 As the name suggests, every room in the HRH All-Suite Tower is a suite. We stayed in a Pool King Suite, a 701-square-foot king room with a sweet pool view that includes a separate living and sleeping area, two 40″ LCD TVs, a fully stocked mini bar, and an oversized bathroom featuring a playful, inviting cast iron "Tea for Two" tub. Ultra luxurious designer bedding and black out drapes made of raw linen silk ensure a deep rest.
Judging by the pictures, you might think a room like this would be out of your price range, but price it out for yourself, and you'll see that it's very reasonable priced for what you get. A room like this on the strip would cost you 2-3 times as much!
The Hard Rock Hotel & Casino has numerous dining options to choose from, everything from the swanky 35 Steaks + Martinis to the distinctive gastropub Culinary Dropout to the iconic Pink Taco. The hardest part is trying to decide where you want to eat. During Rehab on Sunday, we noticed that Mr. Lucky's was selling hot dogs for $1.75 in the lobby, and they were delicious! This is seriously one of the best deals in Vegas, though it's apparently only offered on certain days.
While there's no shortage of entertainment at Hard Rock Las Vegas, be sure to check out the subterranean Body English, a nightclub and afterhours spot that features a retro industrial ceiling, glowing violet tables and green vinyl booths. If you're a hotel guest who enters before midnight, the cover charge is waived. Locals always get in free, and that's why it's THE industry party for afterhours on Friday/Saturday with all the hosts, bartenders, cocktail girls ready to party after a long nights work. It's a hot chick Shangri-La!
Rehab is an event like no other, attracting Las Vegas' most sinful and tantalizing gods and goddesses every Sunday for a pool party the likes which you've never seen. For years, I watched Rehab: Party at the Hard Rock Hotel, and I always wondered how "real" it really was. Turns out it was 100% authentic, as people get absolutely CRAZY here. It's a pretty surreal experience for sure, with so much eye candy that you're liable to get whiplash if you're not careful.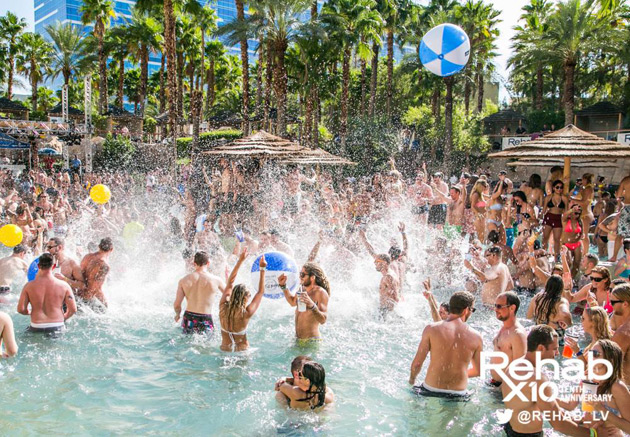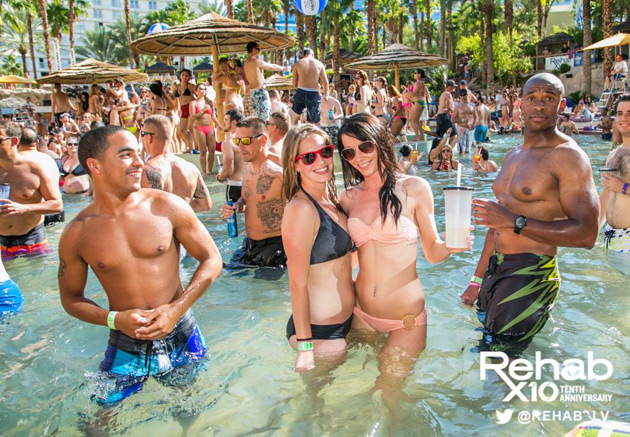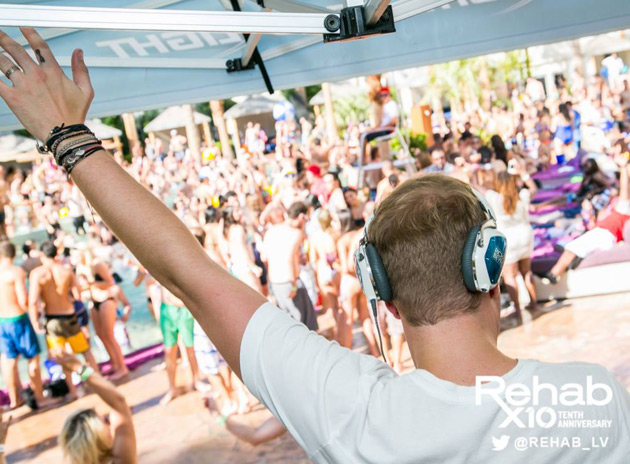 Residents Richard Beynon, DJ Shift & Wellman kept the pool party going all day long, and the crowd was just loving it. For me, the craziest moment of the day was when they played Martin Garrix's Animals. People in the pool started splashing in time to the bass hook at the 1:30 mark, and it was just pure insanity.
Rehab was definitely one of the highlights of our trip, and it's easy to see why the party's been going strong for over 10 years now. They put on a pool party that's unrivaled, and while it's certainly not cheap, it's so worth it. Go there with a group of friends, rent out a cabana, and prepare for a day you won't soon forget.
All in all, we really enjoyed our time at the Hard Rock Hotel & Casino in Las Vegas. The casino floor wasn't overly crowded like some other casinos, they had great entertainment and food options, and the HRH Tower Suites were absolutely stunning. But one word of warning – If you've got a pool view, don't expect to get any sleep in the afternoon, as you can hear the music from the pools, even all the way up on the 9th floor. Then again, who sleeps in Vegas, let alone in the afternoon?!
Are you ready to book your stay at the Hard Rock? Then visit http://www.hardrockhotel.com.