Review: Panchero's Steak Burrito

Panchero's Mexican Grill is a chain of fast casual Fresh Mex restaurants. The chain started back in 1992 with just two locations in the Midwest – Today, there are more than 55 locations throughout the country! Panchero's is known for making their tortillas on site, at the time the order is placed. Pancheros' main national rivals are Chipotle, Moe's Southwest Grill, and Qdoba. But in my opinion, there's just no comparison, the food at Panchero's is 100x better!
Panchero's keeps their menu short and sweet. They serve burritos, tacos, quesadillas, burrito bowls, and salads. You start off by selecting an entree. Next, the tortilla is pressed fresh on a tortilla press. Then you choose what ingredients you want mixed in.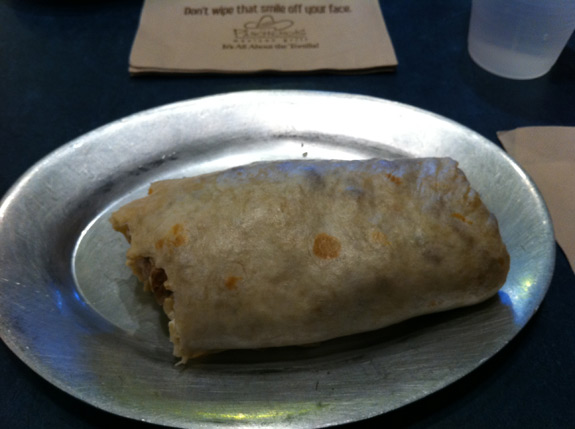 I always order the same thing when I go – A steak burrito with cilantro lime rice, pinto beans, shredded cheese, and sour cream. There are a bunch of other ingredients you can add (salsa, pico de gallo, corn, hot sauce, jalepenos, etc), but I keep it relatively simple.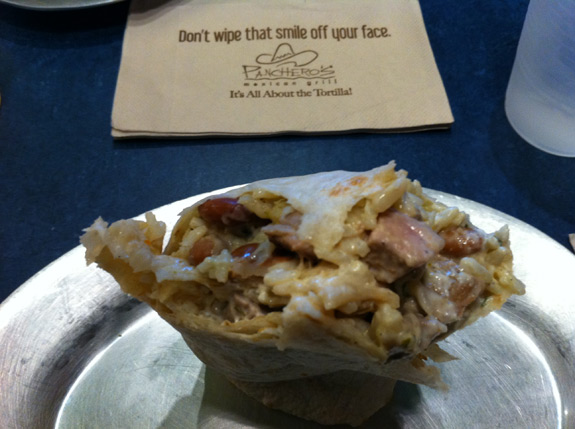 So why do I prefer Panchero's over Chipotle? Their tortillas are made fresh right in front of you, their cilantro lime rice is delicious, and all of the ingredients are fresh. Give me a blind taste test, and I could pick out the Panchero's burrito every time!
A burrito costs around $6.50, which is expensive. But you get a LOT of food for your money, as this sucker weighs in at nearly two pounds!
If you're a fan of burritos and you've got a Panchero's nearby, I wholeheartedly encourage you to go try one today. Afterwards, let us know what you thought of your Panchero's experience!