RIP: Mazda RX-8 (2004-2011)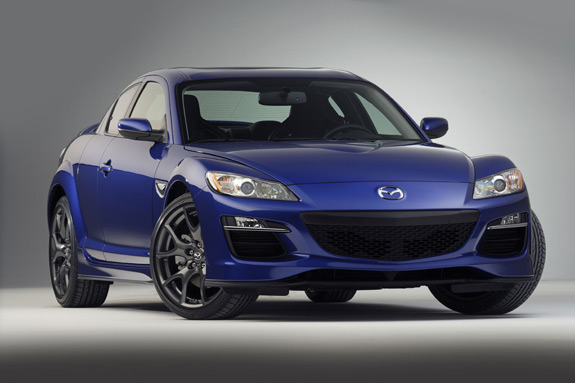 It's official. Mazda has stopped production of its RX-8 sports car due to lackluster sales and ever tighter global emissions standards. Mazda only moved 1,134 RX8s last year, and 2011 hasn't been any better. Sales are down 21% through July. Mazda was forced to remove the model from European showrooms last year after it failed to meet emissions standards, and the company says that it simply can't justify continuing to manufacture the vehicle without sales in the old country.
I can't say this really surprises me.. The RX-8 had great potential as a four-door successor to the RX-7, but lackluster performance and REALLY bad fuel economy doomed the RX-8 from the get-go. I test drove an RX8 shortly after it debuted, and I was underwhelmed.
Mazda should have offered a turbocharged engine like they did with the FD RX-7, even if just for a Mazdaspeed version. 250HP, 15MPG, and a $32K pricetag spelled certain doom. But if it had 350HP and a $35K pricetag? Now that's something that I could have gotten behind.
Mazda claims that it's not giving up on its rotary heritage, and I think that's a huge mistake.. The rotary caused much of the problems with the RX-8, and the FD RX-7 before it.
There's a reason people are stuffing LS1s into old RX-7s instead of rebuilding the blown rotaries. Price and reliability. Wake up Mazda!