Sapphire Releases New Video Card
Do you need a great new toy to blow all that Christmas money on? Did you happen to get a ton of new games for Christmas and your aging computer is struggling to play them? Maybe you just decided that it is time to treat yourself to some better graphics in your favorite games, but you don't want to break the bank. Sapphire has come to your rescue with its brand new HD 7870 XT video card.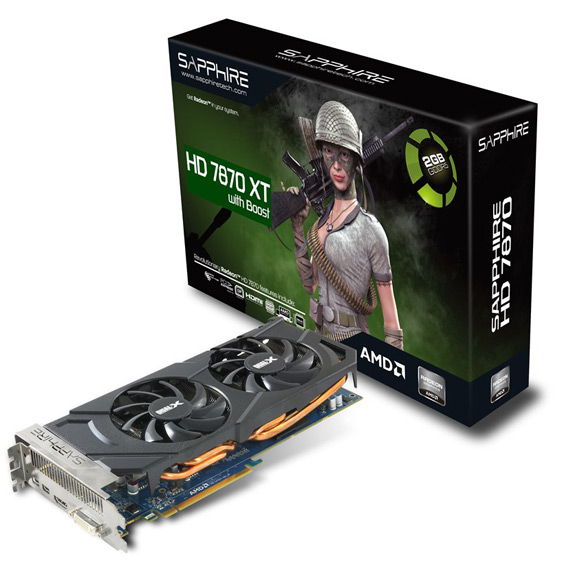 This new card comes loaded with impressive features including Boost technology. Boost technology allow the card to actively increase its speed when playing demanding games, giving you the boost in power when you really need it.
This new card is built on the Tahiti architecture, giving this card a distinct advantage over every other 7800 series card that uses the old Pitcairn architecture. The card comes loaded with 2GB of GDDR5 Memory and a core clock 925 MHz.
We haven't had the chance to run test on one of these cards yet, but expect gains of at least 15% over the base 7870. For more info, check out the full press release below:
SAPPHIRE Technology has announced a new graphics card in its HD 7000 series, the SAPPHIRE HD 7870 XT with Boost. Like the other cards in the HD 7000 series, the new card is based on the highly acclaimed Graphics Core Next architecture from AMD.

The SAPPHIRE HD 7870 XT with Boost delivers a new price:performance point to the series. It is based on AMD's Tahiti architecture with its 256-bit memory interface, and 1536 stream processors and 96 Texture units, unlike the remainder of the HD 7800 series that uses the Pitcairn architecture. Configured with 2GB of high speed GDDR5 memory running at 1500 MHz (6GHz effective) the SAPPPHIRE HD 7870 XT has a core clock of 925MHz which dynamically rises to 975MHz with PowerTune Boost, AMDs dynamic performance enhancement for games.

This new model also features SAPPHIRE's latest Dual-X cooler technology, with its graduated heatpipes and two aerofoil fans with dust repelling bearings for efficient cooling and low noise operation. Output configuration is Dual Link DVI-I (supporting VGA with dongle supplied), HDMI and two mini-DisplayPorts, allowing a wide range of monitor types to be connected. AMD's multi-monitor SLS technology, Eyefinity is supported.

For enthusiasts wishing to maximise performance of this graphics card, the latest version of the SAPPHIRE overclocking tool, TriXX supports this technology and is available free to download from the SAPPHIRE website. SAPPHIRE TriXX allows tuning of GPU voltage as well as core and memory clocks, whilst continuously displaying temperature. Manual control of fan speed is supported, as well as user created fan profiles and the ability to save up to four different performance settings.

The HD 7000 series is the third generation of DirectX 11 compatible solutions from the graphics division of AMD – formerly ATI. The SAPPHIRE HD 7870 XT is ready for DirectX 11.1 and the new Windows 8 operating system as well as delivering all the features of the current DirectX 11 such as DirectCompute11 and multi threaded communications with the CPU. Communication with the host PC is optimised with the implementation of the latest high speed PCI-Express Gen3.0 interface, and multiple cards can be used to further enhance performance in CrossFireX mode on a suitably specified mainboard.

HDMI specifications have also increased in the HD 7000 series. Fast HDMI 1.4a supports Stereoscopic 3D with enhanced frame rates of 60Hz per eye – 120Hz total. It is also ready for the next generation of 4K displays that can be driven from a single high speed input of 3GHz HDMI 1.4a or DisplayPort 1.2 HBR2.

APP Acceleration is the name given to the enhanced performance of a wide range of applications using the stream processing capabilities and specific hardware features of the graphics architecture. The HD 7000 series has been optimised for this type of task. Typical applications include Video encoding and decoding, compression and multiplexing for media distribution, gaming or video conferencing.  APP acceleration can also enhance everyday tasks such as Internet browsing, Office applications and file compression with supported software suites.

All trademarks acknowledged.

For more details please visit www.sapphiretech.com