Taco Bell Is Bringing Back It's Fan-Favorite Mexican Pizza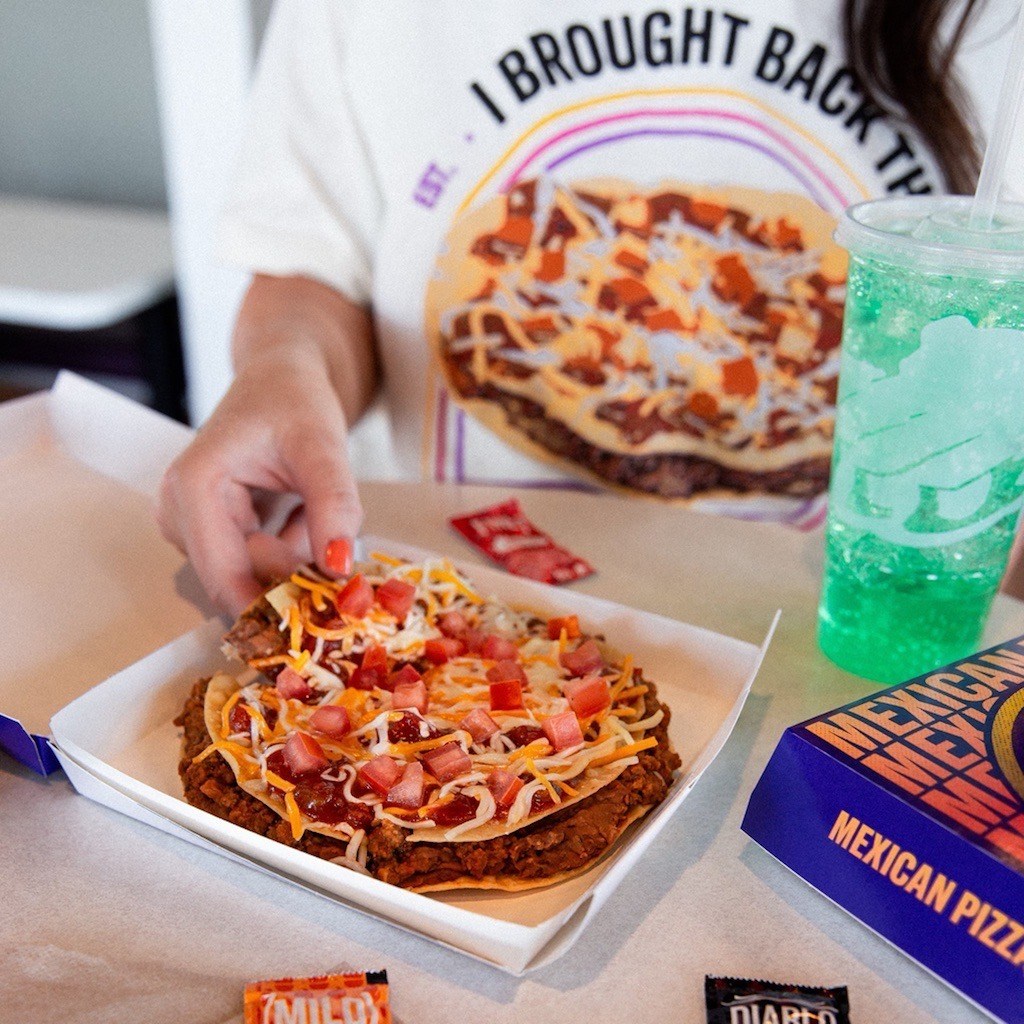 When Taco Bell dropped its Mexican Pizza from menus in November 2020, they probably did not anticipate the kind of pushback they would receive. But fans were outraged at one of their favorite items being pulled from the menu, a Change.org petition almost immediately popped up, and celebrities like Dolly Parton spoke out, telling Taco Bell that they should bring it back.
Now you might be wondering, if the Mexican Pizza is so popular, why would they get rid of it in the first place? Apparently, the brand was in the midst of a major menu streamlining campaign to make kitchens more efficient, while boasting that removing Mexican Pizza from the menu would significantly cut down on packaging waste.
Clearly, people didn't care about packaging waste, they just wanted their damn Mexican Pizza back. And with nearly 200K people signing the petition that was spearheaded by superfan Krish Jagirdar, it convinced Taco Bell to bring back this fan favorite item, with Mexican Pizza returning on May 19 (loyalty members will be able to score one earlier, starting on May 17).
"Like many Indian-Americans who grew up vegetarian, we had limited access to the 'fun' fast food, so Taco Bell became a bridge to belonging in American culture for many kids like me who grew up in immigrant households. That's what made it especially devastating when the Mexican Pizza was pulled from menus in 2020, but fast forward two years later and I found myself on a conference call with the Taco Bell team as they shared news of the return of the Mexican Pizza, showing that listening to their fans is clearly embedded in their DNA. It's one of the many reasons Taco Bell is more than just another fast-food restaurant," said Krish Jagirdar, superfan and organizer of the Change.org petition.
For those of you like me who've never had a Mexican Pizza before, it's made up of two crispy flour shells, layered with beans, pizza sauce, seasoned beef, tomatoes and a melted 3-cheese blend all for $4.49, and is available vegetarian without the seasoned beef. Fans can make it a combo with a Mexican Pizza, 2 Crunchy Tacos and a Large Fountain Drink for $8.99.
Touching on the chain's previous reasons for dropping the product, Taco Bell says changes have been made to the menu item behind the scenes, streamlining operations to keep kitchens moving quickly, altering their ingredient sourcing, and tweaking the packaging to leave a lighter footprint. Sounds like a win all around to me!
"Our menu is full of fan-favorites, but the Mexican Pizza is at the top of that list," said Mark King, CEO of Taco Bell. "From its flashy introduction to menus in 1985 as 'Pizzazz Pizza' to its inspiration behind the creation of infamous jingles, Mexican Pizza has a long history with the brand and I'm glad we could give fans what they crave and bring our classic Mexican Pizza back home where it belongs."