The $140,000 F1 Race Simulator For Your Living Room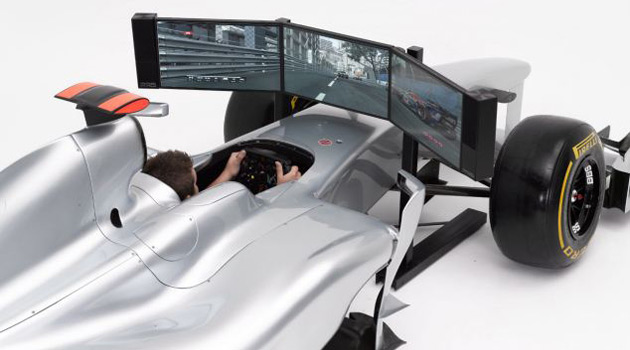 Is $140K a ludicrous price to pay for the ultimate boy's toy? We take a look at the FMCG International F1 Race Simulator.
We can probably all agree: No sport oozes testosterone and unadulterated cool quite like Formula One. In a world where petrol heads are surrounded by glamorous ladies and spend their spare hours on super yachts, the Formula One lifestyle reads like every man's dream. Although let's face it, there's no foolproof way of becoming the next Jenson Button or Lewis Hamilton.
The Next Best Thing?
In the absence of true skill, talent and experience, there is a solution. For a mere $140,000 (no, that's not a typo), FMCG International offers a pretty attractive alternative – A full-size F1 race simulator for your living room. Ok, so it may be a very fast way to throw a very healthy sum of money down the drain, but bear with us.
Combining the joys of Formula One with video gaming, the FMCG F1 race simulator provides you with the full Formula One race experience, without leaving your home or putting your body through the strains of real-world motor racing. Granted, the heady F1 lifestyle will still be out of reach, but surely this is the next best thing. If you have the space to put it, that is.
FMCG International know what they're doing when it comes to simulation – They've been in the business since 1986. As the F1 race simulator is fully made-to-order, you can choose the fine details including the color of the body work. Complete with head rest, brake disks, gearbox, exhaust and Pirelli F1 show tires, this beast means business. In fact, it's rumored to be indistinguishable from the real thing.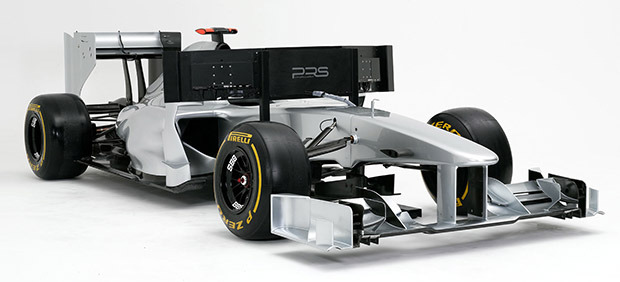 As for the on-screen driving action, that's handled by a custom, super high-end digital PC powered by Windows 7. You'll be transfixed by three 23" TFT (that's thin film transistor) screens, with a 5.1 digital speaker system providing the necessary audio and sound effects. There's even a sub-woofer positioned behind the driver.
At $140,000, this could accurately be described as a ludicrous purchase even by the most impulsive among us. But while it takes the phrase 'boys and their toys' to a whole new level, there's no real harm in window shopping. Here's a photo gallery for your viewing pleasure.
For the rare few who are able to free up the capital, there is one other barrier. Convincing your other half it's a sensible purchase will likely be an entirely different ball game. Try such lines as 'it's much safer than going on a track day' and 'it's basically a zero-emissions ECO scheme', and see how that works out for you.
While you may expect to see an item of such extravagance for sale in Harrods or another similarly opulent store, the FMCG F1 race simulator can in fact be purchased from Costco UK. If you do take the plunge, you'll have to be patient, as it won't arrive for 12-18 weeks.
Duncan has been writing for over five years. His marketing and business development background has helped him write informative articles about the latest technology, including developments for the disability sector that can help make a real difference to the way we live.