The 2018 Ford F-150 Is Tougher, Smarter, And More Capable Than Ever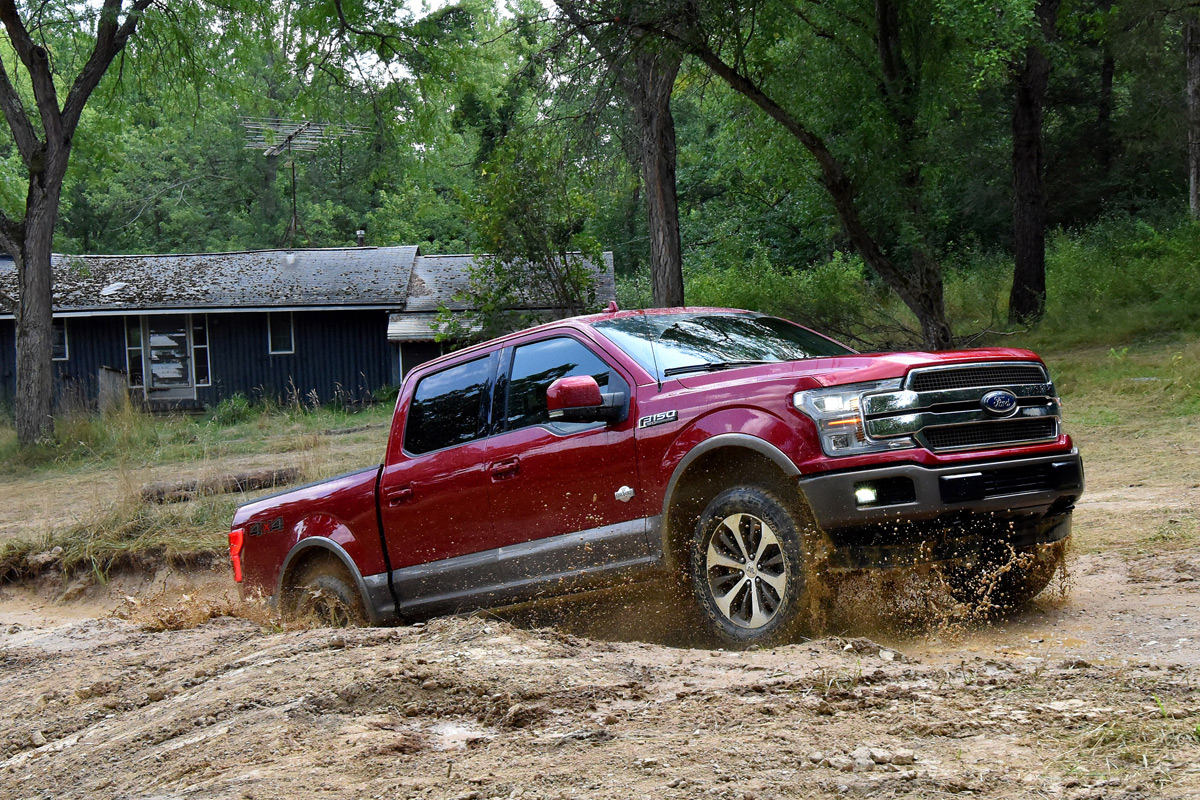 At first glance, it's easy to dismiss the new 2018 Ford F-150 as nothing more than a facelift. But there's more than meets the eye, as got to see (and experience) for ourselves during a recent media event in Michigan.
Visually, the 2018 F-150 enjoys a rugged facelift, receives new grilles, headlamps and bumpers that create a visually wider and more planted stance and maximum differentiation between the series, while harmonizing with the all-new Super Duty lineup. A new sculpted tailgate with deeper accent form and stamped "F-150" are flanked by new tail lamps. King Ranch, Platinum and Limited series feature a satin chrome tailgate applique.
While there's no question that the 2015 F-150 was a game-changer for the company, the one thing that really bothered me about the truck was the headlight/grille design, so I'm thrilled to see Ford finally address it.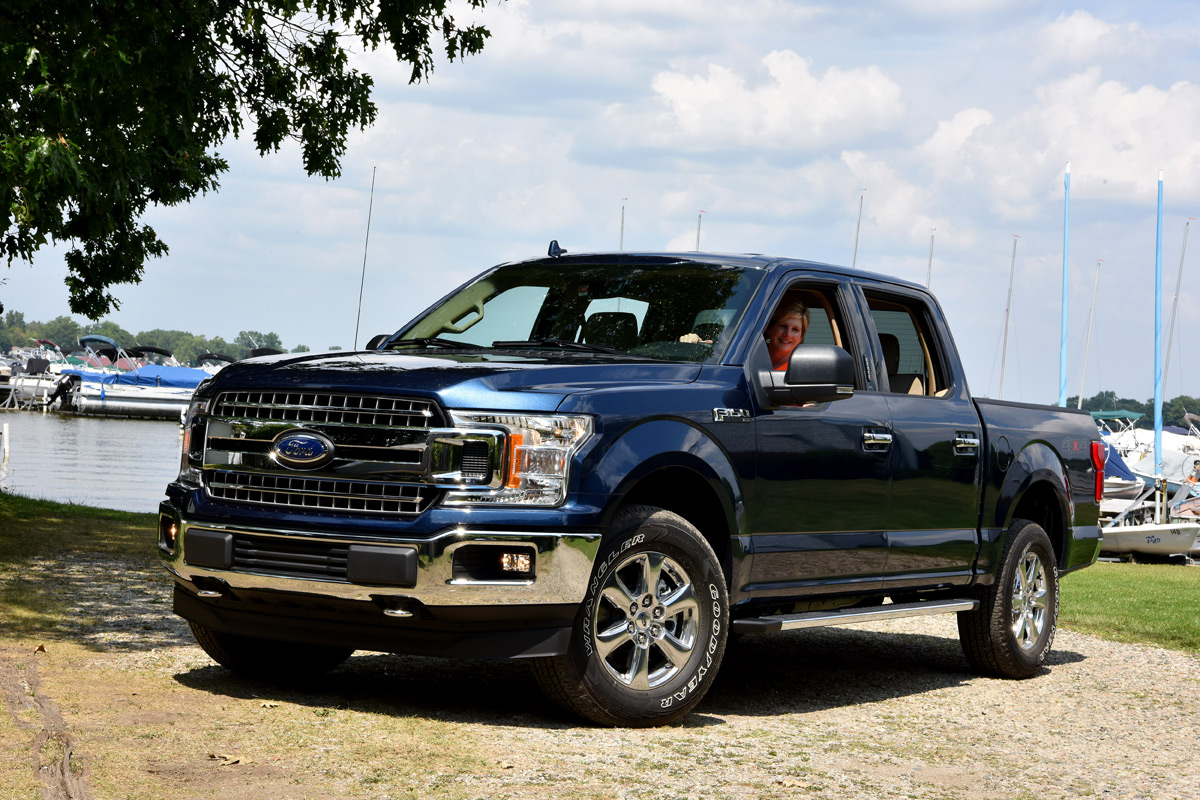 But the changes to the 2018 F-150 extend far beyond aesthetics. The new F-150 delives best-in-class towing (13,200 lbs. with the 3.5-liter EcoBoost V6), best-in-class payload (3,270 lbs. with the 5.0-liter V8), and best-in-class fuel economy (20 MPG city / 26 MPG highway / 22 MPG combined with the 2.7-liter EcoBoost V6), thanks to improvements across the entire F-150 powertrain lineup.
The "base" 3.3-liter V6 engine adds dual port and direct-injection technology to deliver 8 more horsepower and 12 lb-ft more torque than the previous 3.5-liter V6 (for a total of 290HP and 265 lb-ft of torque), plus a slight improvement in gas mileage. This is a solid workhorse that won't break the bank.
With advanced dual port and direct-injection technology, the all-new second-generation 2.7-liter EcoBoost engine delivers a 25 lb-ft increase in torque (for a total of 325HP and 400 lb-ft of torque) and is paired to a segment-exclusive Ford SelectShift 10-speed automatic transmission.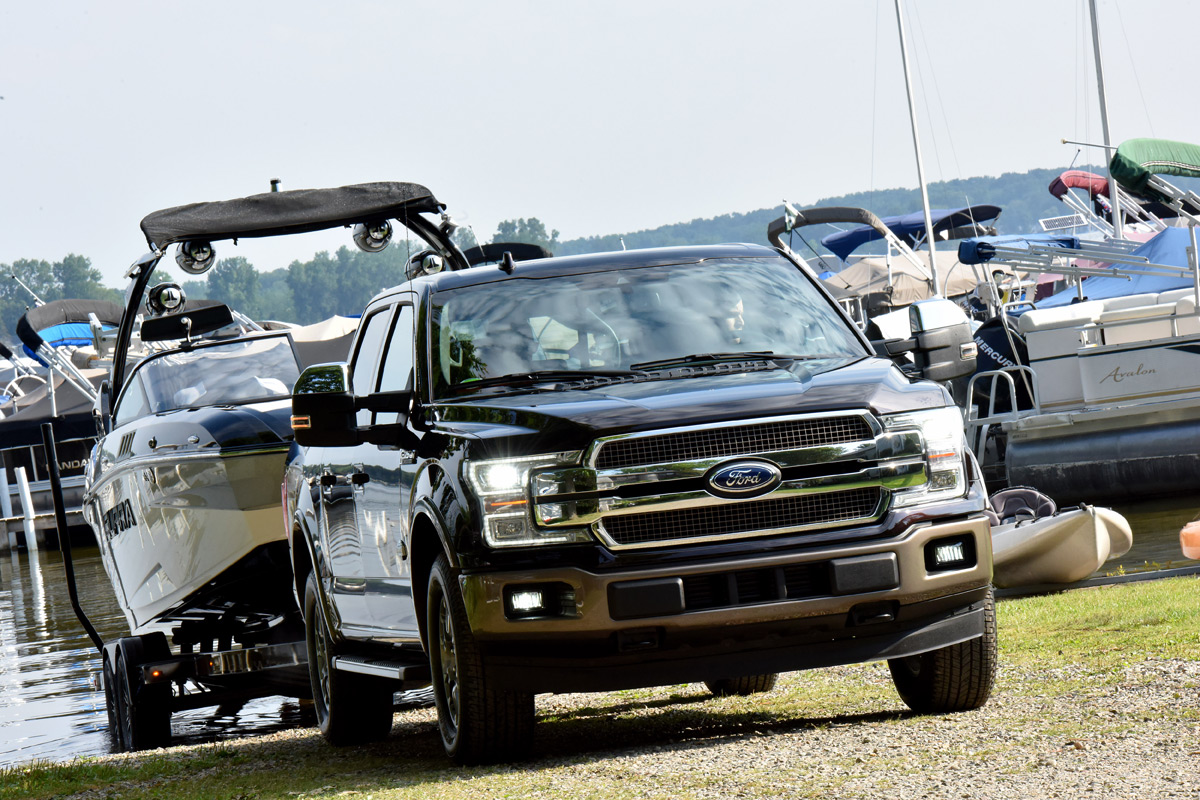 The 5.0-liter V8 receives significant changes for 2018 as well, borrowing some tech from the Shelby GT350 Mustang, including advanced dual port and direct-injection technology for 10 more horsepower and 13 lb-ft more torque (for a total of 395HP and 400 lb-ft of torque). For the first time, the 5.0L V8 engine is paired with Ford's 10-speed automatic transmission, and shifts are smooth and seamless.
The top-tier engine is the second-generation 3.5-liter EcoBoost V6, and it's an absolute beast, with 375HP and a whopping 470 lb-ft of torque! Thanks to dual port and direct-injection technology, the twin-turbo engine provides ideal low-end and peak engine performance for hauling heavy payloads and towing heavy trailers.
We had a chance to drive F-150's with all of the different engine choices, and while the 3.5L EcoBoost V6 is an absolute blast to drive (second only to the Raptor), we found the 2.7L EcoBoost to be the best all-around choice for most buyers, given it's performance, price and fuel economy.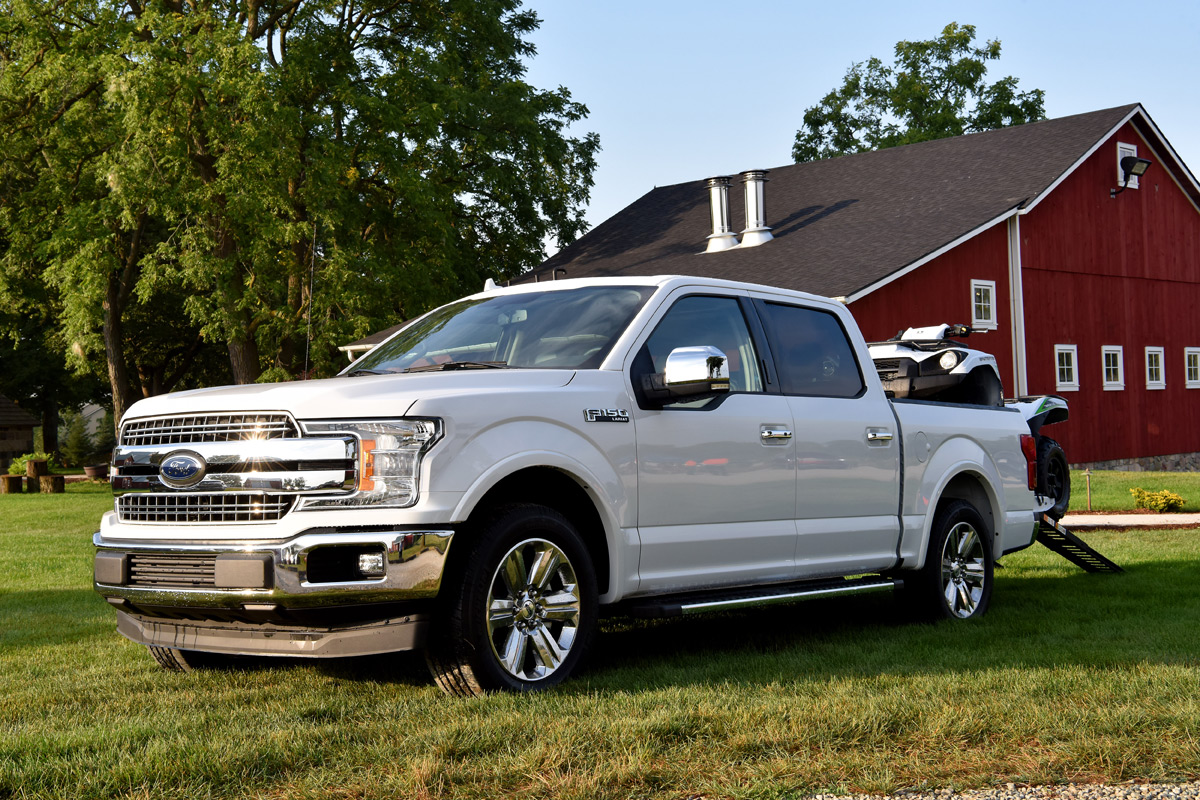 It's 2018, and Ford knows that buyers are looking for the latest and greatest in tech for their trucks, and Ford delivers this in spades. Just look at some of the noteworthy features that are available on the 2018 F-150:
Enhanced adaptive cruise control system features stop-and-go functionality, using radar and cameras to monitor traffic ahead and maintain a set distance between vehicles – even following a vehicle down to a complete stop.
Autonomous emergency braking with pedestrian detection and improved night visibility helps drivers avoid collisions with other vehicles and pedestrians.
Pro Trailer Backup Assist allows drivers to steer a trailer instinctively using a center console-mounted dial to back-up a boat launch or park in a driveway.
Embedded 4G LTE with Wi-Fi hotspot enables customers to connect up to 10 mobile devices at one time, virtually anywhere.
New B&O PLAY audio system takes advantage of high-end speakers, sound and tuning to deliver a richer, more engaging listening experience.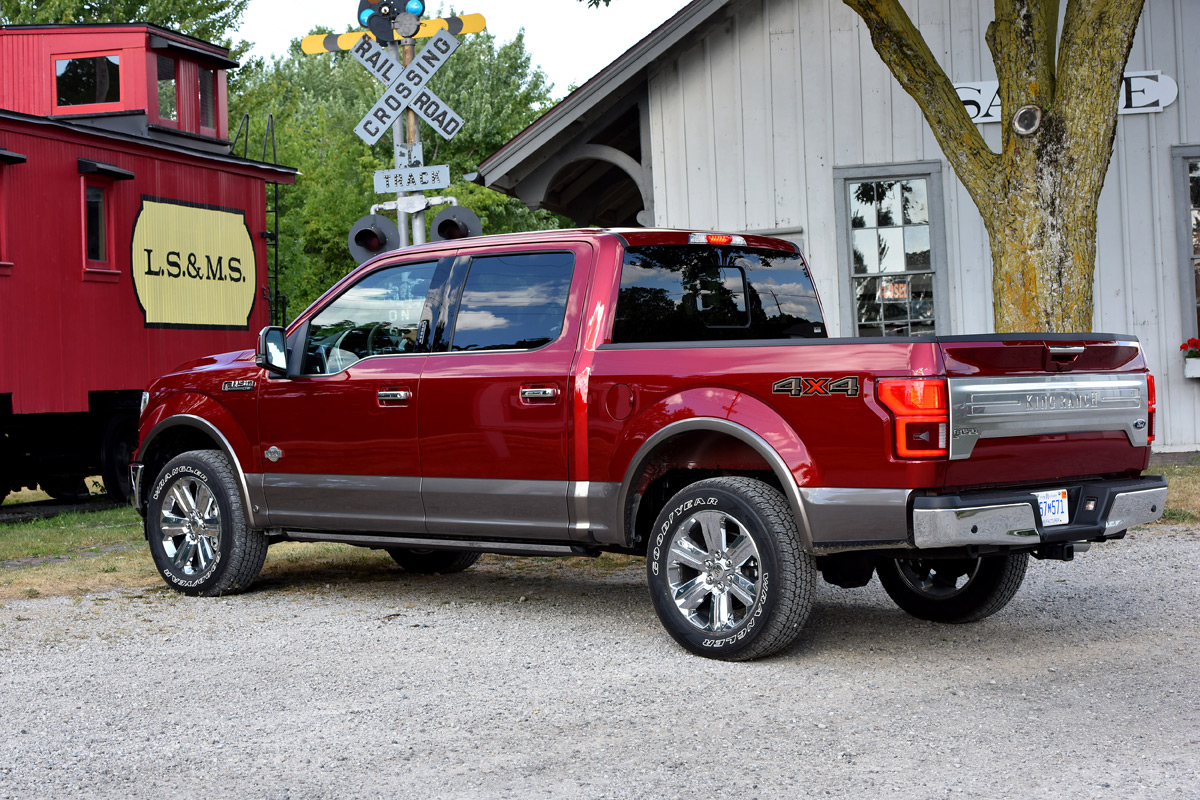 We had a chance to test out the Pro Trailer Backup Assist during our drive, backing up a massive boat to a launch without any prior training like it was nothing. If you are a frequent tower, you know how challenging this can be. This system takes out all of the guesswork, utilizing a dial and your brakes to line up your trailer.
As for the B&O Play system, it's REALLY impressive, putting the old Sony system it replaces to shame. The 2018 F-150 is the first Ford vehicle to feature the new B&O Play system since Ford and B&O's partnership was first announced last year, and we can't wait to see it extended to the rest of their lineup.
There are also a slew of cameras, giving drivers a 360-degree view around their truck. This proves to come in handy when parking or when connecting a trailer, but we also used it when doing some light off-roading on a highly technical course, where we relied on the cameras to avoid rubbing up against any trees in our $70K Platinum F-150. Worked like a charm!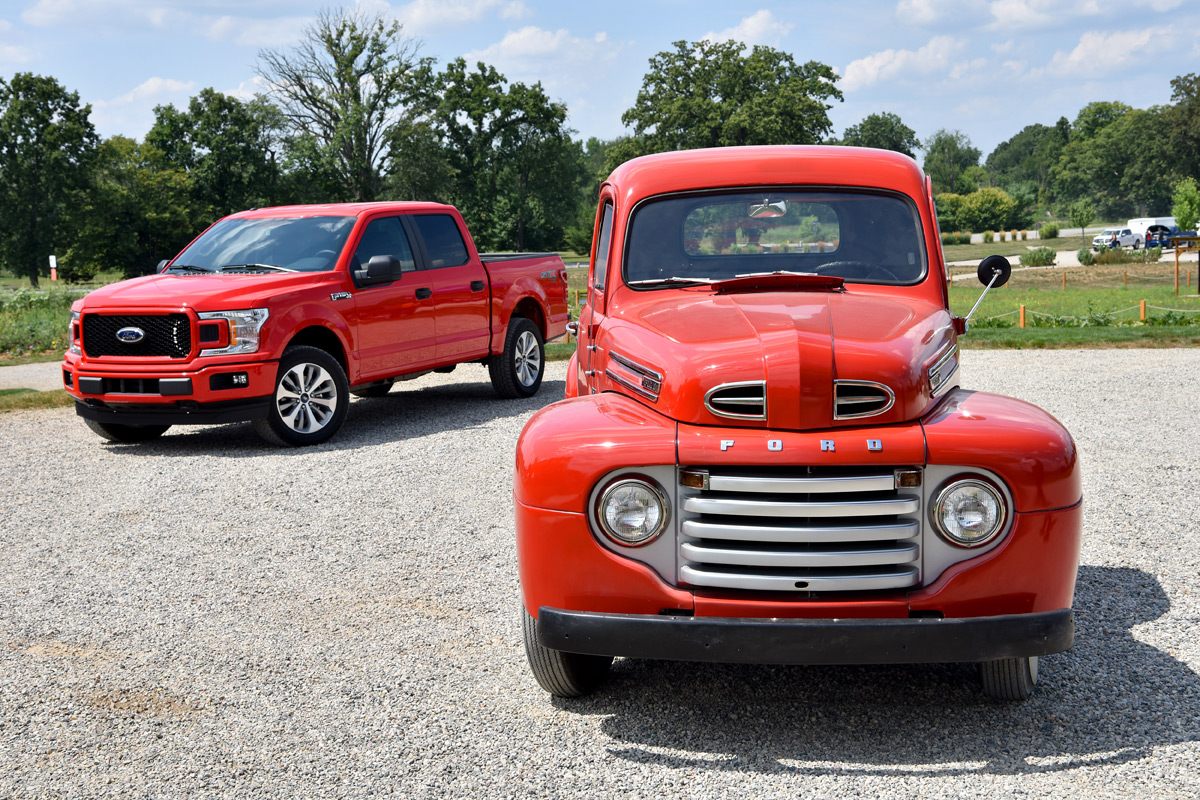 Some people might claim that a "work truck" doesn't need all of these bells and whistles. But considering how much time people spend in their trucks, we see no harm in offering advanced technology that makes for a more enjoyable (and safer) ride. And the available massaging seats? Amazing after a hard day's work!
All in all, we think Ford really knocked it out of the park with the 2018 F-150, improving the best-selling truck in every way. With a variety of different models and engines to choose from, there's one that's sure to meet your needs and price point.
The 2018 Ford F-150 should be hitting dealerships as you read this.