The Arnette Change Up : Two Pairs Of Sunglasses For The Price Of One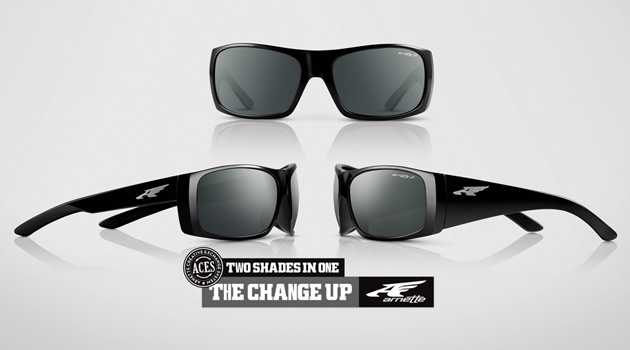 The Arnette Change Up is a new sunglass offering that will have you seeing double, as it's really two pairs of sunglasses in one! The Change Up utilizes Arnette's Creative Exchange System (A.C.E.S.), which allows you to swap out the arms of your sunglasses.
Previous A.C.E.S. models resembled wayfarer styles and simply featured different colored arms. But the Change Up takes things a step further. Their wrap-style frame features arms of different profiles, thick and thin, allowing you to truly change the way the frame looks on your face.
At a quick glance, you may miss it, but the two different arms give two very distinctly different looks when you compare the frame on the left to the frame on the right in the photo above.
While I went with a traditional Gloss Black pair with Polar Grey lenses, you can definitely go for a more wild combination if you want to stand out from the crowd. Order a pair in Fuzzy Black Thick / Translucent Purple Thin with Purple Mirror lenses, and no one would ever believe that they're the same pair of sunglasses!
You can see how the A.C.E.S. system works here:

What's unique about Arnette's A.C.E.S. system compared to other sunglasses with interchangeable arms is that it uses a lever/sleeve mechanism to remove the arms, versus twisting the arms to remove them, which can wear out the hinges.
I've been wearing these non-stop for the last month, and I absolutely love 'em. They look great, and I love the fact that you can change up the look (hence the name) depending on your mood. Highly recommended!
The Change Up ($89.95 / $119.95 Polarized) features a durable Grilamid frame, lightweight polycarbonate lenses and is available in a variety of colors. It's available online and at better retailers nationwide, a list of which can be found at www.arnette.com.