The Kia Cadenza Experience At Sbraga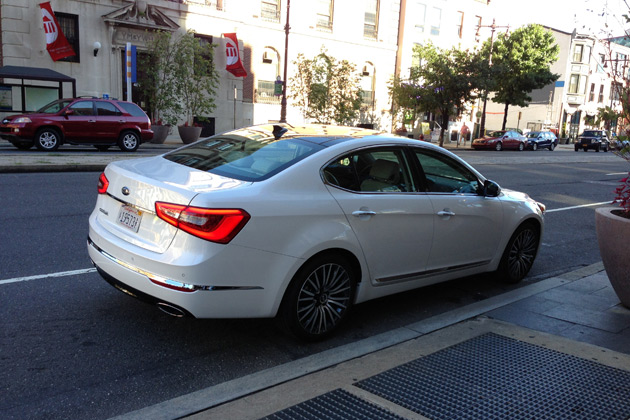 Last night, Kia Motors and Open Table invited Guys Gab to join them for a one of a kind dining experience at Sbraga in Philadelphia. Sbraga is a modern American restaurant located in Philadelphia's theatre district that is owned by Chef Kevin Sbraga, the winner of Top Chef Washington D.C.. Zagat gave Sbraga a food rating of 27, so I knew we were in for a real culinary treat!
There was also a Kia Cadenza on hand for us to drive, so after snapping a few pics, I jumped into the drivers seat and headed out for a quick spin around the city. For those of you unfamiliar with the Cadenza, this is Kia's new flagship sedan, designed to compete with the likes of BMW, Mercedes, and Lexus. No, seriously.
A few years ago, this would have been inconceivable, but Kia's really turned things around, putting out great looking and driving cars that are chock full of technology – All while delivering exceptional value.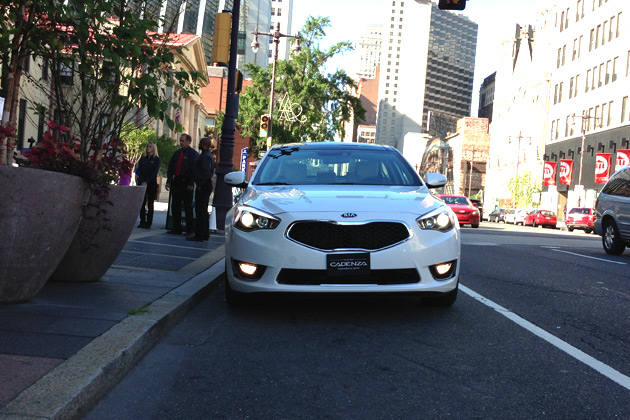 The Cadenza offers first-class appointments, advanced technology, and European-inspired design. The car is stunning inside and out, with a sophisticated appearance that is sure to appeal to both the country club crowd as well as the sports sedan enthusiasts. At the heart of the beast is a 3.3L engine that puts out 293HP and 255 lb-ft of torque. It gives you the power you desire, yet it still delivers an impressive 28MPG highway.
The price of entry? The 2014 Kia Cadenza starts at just $35,100, with a fully loaded model costing $41,900.
Loaded up, this car includes more tech and luxury features than you could possibly imagine, including smart cruise control, blind spot detection, lane departure warning, hydrophobic front windows, 19″ alloy wheels, panoramic roof, HID headlights, Nappa leather, ventilated drivers seat, heated rear seats, heated steering wheel, power rear window sunshade, and more.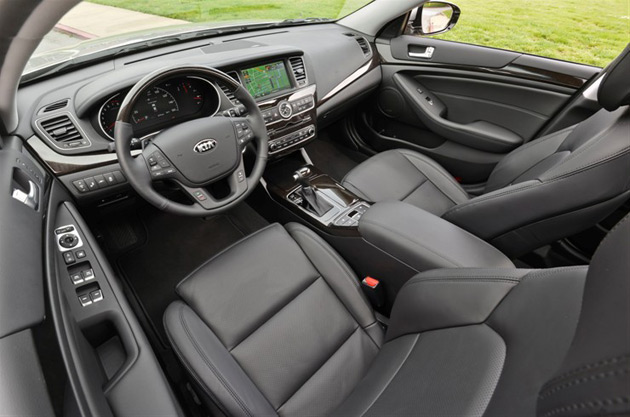 A comparably equipped BMW 5-Series or Mercedes-Benz E-Class would easily run you an extra $15K or so. It's hard to argue with the value proposition that Kia presents with the new Cadenza. If you're in the market for a mid-size luxury sedan, you should definitely check the Cadenza out!
As for dinner, if you're an adventurous eater that lives in the city, make sure you check out Sbraga. I couldn't stop eating those delicious fried risotto balls, but I had to save room for the main course. The roast pork with provolone bread pudding (pictured below) absolutely BLEW MY MIND. And the pistachio bread pudding with olive oil ice cream for dessert was equally delicious. All in all, a pretty amazing meal.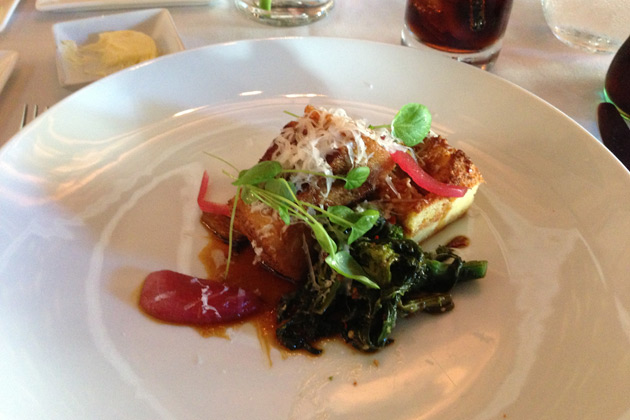 Thanks again to Kia for a great night!