The Onion's Take On The Recent Chick-Fil-A Drama
Chick-fil-A has found itself at the center of a firestorm over company president Dan Cathy's views on traditional marriage. As a result, there have been numerous boycott threats against Chick-fil-A, most notably from The Office star Ed Helms. And as expected, it's ignited a social media wildfire. The Onion took a slightly different […]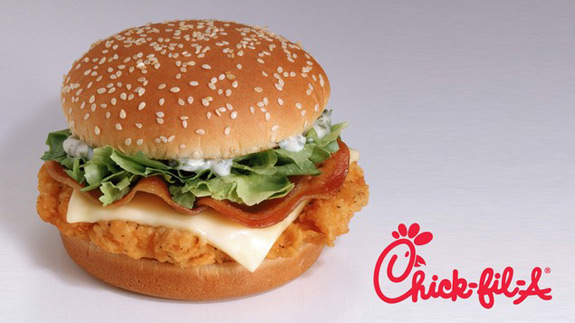 Chick-fil-A has found itself at the center of a firestorm over company president Dan Cathy's views on traditional marriage. As a result, there have been numerous boycott threats against Chick-fil-A, most notably from The Office star Ed Helms. And as expected, it's ignited a social media wildfire.
The Onion took a slightly different approach with this matter, publishing a story on their site today titled "Chick-Fil-A Debuts New Homophobic Sandwich". Here's a blurb:
As part of its recent efforts to publicly align itself with fundamentalist Christian values, the Chick-fil-A restaurant chain announced today the debut of its new Queer-Hatin' Cordon Bleu sandwich that would be on sale in all of the company's 1,600 restaurants this Wednesday.

In a press conference to reporters, company representatives said the homophobic new sandwich will include the national fast food chain's trademark fried chicken filet wrapped in a piece of specially-smoked No Homo ham that would be topped with a slice of Swiss cheese and lathered in a creamy new Thousand Island-based Fag Punching sauce.
A humorous response to a serious matter, this is why I'm a loyal The Onion reader!
And to the idiots who are boycotting Chick-Fil-A, do you really think you're going to change this old man's belief system? Absolutely not!
If anything, you should be boycotting the restaurant until they open on Sundays!