The Scale Goes High Tech : Withings WS-30 Wireless Scale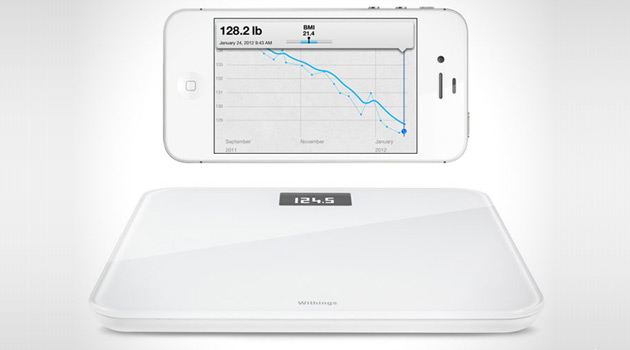 Withings brings weight measurement into the 21st century with the Withings WS-30 Wireless Scale.
The Withings Wireless Scale offers a new way to accurately monitor your weight. This Wi-Fi and Bluetooth-enabled scale wirelessly syncs your measurements and allows you to visualize your weight trends on your iPhone, iPad, or iPod Touch using the free Withings Health Companion app or one of 60+ other apps. Set goals, monitor your progress, and get motivated to reach your ideal weight.
I got this scale a few weeks ago, as I thought it'd be a great way to monitor my progress as I work to shed the weight in time for summer. The scale not only measures your weight, but also your BMI (body mass index).
I've found the scale to be a great motivation tool, helping to keep me on the straight and narrow. If you're really feeling gutsy, you can even have the scale publish your weigh-ins to Facebook and Twitter, Biggest Loser style. Knowing that your peers are watching, it might just help you put down that cupcake!
The scale supports up to eight users with automatic recognition, is powered by 4 AAA batteries (which should last about 1 year), and can store up to 116 readings if it can't sync wirelessly. It supports Wi-Fi 802.11 b/g/n, Bluetooth 4.0, and it's compatible with iOS devices. All this for just $99.95.